Five Nights at Freddy's 3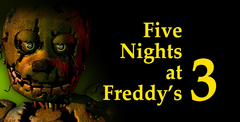 Click the "Install Game" button to initiate the free file download and get compact download launcher. Locate the executable file in your local folder and begin the launcher to install your desired game.
Can't even do 1 night at Freddy's
Back in 2014, the first Five Nights at Freddy's was released and terrified a lot of people, but it was still a hit. As it stands, it's a whole game series at Five Nights at Freddy's 3 it's at the fifth game including spin-off games. It's developed by Scott Cawthon, a solo developer who makes all these wonderful horrors we get to play and cry over.
Chuck E. Cheese with an actual Chucky
A game like Five Night at Freddy's doesn't usually have a deep plot, but this series has a weird and engaging story. This game is set 30 years after the events of the first game. You play as a newly hired security guard looking after a horror attraction built after the unresolved mystery of the originally hunted pizza restaurant. The actual attraction is built from the original restaurant's parts not the smartest idea but yeah. You play small mini-games which goes into more detail on what's happening in the series and why the animatronic animals are going crazy and attacking people. The story although in-depth is very scary, this would be a great game for the horror fans out there.
Don't close your eyes
The graphics here are very realistic making the game even more terrifying. Even if the game was pixelated, this game would be very frightening. The animatronic animal-like furry status is crumbling after being battered by time making them even more horrifying than in past games. When the being was fully covered in fur and looked slightly cute before they killed you. It's looking like every installment of the game the being lose more fur and become more frightening. The graphics of the Five Nights at Freddy's 3 make the game it is today, the perfect balance of fear and cuteness.
Disneyland will never look the same…
The gameplay is very simple but doesn't take anything away from the Five Night at Freddy's 3. The whole way through the game you're trying to survive for 5 days as the name; Five Night at Freddy's. The gameplay consists of you looking through different cameras seeing if anything is moving in the building. You can also control the doors and vent systems to close and open. The catch is can't just close all the doors and wait it out for 5 days. You have an energy bar and if it runs out you can close the doors. The game is a kind of management game as you have delegated the energy to the doors and vents to stop the beings from getting in and killing you. If the beings get to you, it's a jump scare moment and you're dead.
Come prepared for a scare.
This is an amazing, frightening experience with a great balance of realism and paranormal. The gameplay although simple doesn't matter due to great storytelling and the horror of playing this game. You must play this game if you're someone who enjoys playing or looking for a horror game.
Download Five Nights at Freddy's 3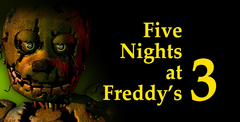 System requirements:
PC compatible
Operating systems: Windows 10/Windows 8/Windows 7/2000/Vista/WinXP
Game Reviews
Five Nights At Freddy's 3 is the third game in the Fazbear series of horror point-and-click games. This saga developed by the indie developer Scott Cawthon, completely blew up after the first game went viral. Later on, the series has seen great numbers, and while it's not as big as it once was, it still has an immense fanbase. And the internet really does love these games.
But making more games with the same mechanics could be too repetitive, that's why the series always finds ways to keep on evolving. But this evolution can be tough, even though the fans are loyal to the series, these changes can be a bit troublesome sometimes. So, what's different in this game, and how come they keep on making games in the series with such a simple premise? Let's talk about Five Nights At Freddy's 3 for a moment and find out.
About the game
Five Nights At Freddy's 3 takes a few different steps for the series in many ways, one of them is that it actually represents a time-skip to 30 years after the ending of the first game. Keeping in mind that the second game was actually a prequel. In this time, Freddy Fazbear's Pizza has become more of an urban legend.
You no longer play the role of a security guard, and it is not a pizza restaurant anymore. Instead this time we're dealing with a fair attraction created by a businessman looking to monetize on the legend. This means you're not a security guard, but rather an actor, playing the role of a security guard. And yes, for some reason even though you're an actor playing the role of a security guard, you still have to stay there the 6 nights and take care of the post until the official opening of the attraction.
Five Nights At Freddy's 3 changed the formula from the first two Five Nights at Freddy's games. Instead of having a whole gang of animatronic animals coming to get you in your security post, this time there's only one animatronic haunting you called Springtrap. The other animatronics will only be out there as phantoms, but won't be able to hurt you. This new one-animatronic perspective for the game can be a game-changer, literally. Aside from this, the plot thickens for the series, while being less clear at the same time.
Horror friends
Five Night At Freddy's 3 feels a little rushed, and it might just be launched too early. It really does feel that the developer is trying to get every last drop of juice they can from the successful animatronic series. But a little more innovation is always required to launch a sequel. Like Amnesia: The Dark Descent, and how the sequel made it different and big enough to be a justifiable second game.
6.5
IT is much easier than previous games of the series, as there's only one animatronic you need to worry about. It¿s easier to stay organized and once you figured out the trick to keeping Springtrap busy, you're all set for surviving all 6 nights without much trouble.
Pros:
Great new designs
The story gets more interesting
Still scary
Cons:
Little-to-no innovation
Easier than previous titles
Repetitive
See Also
Viewing games 1 to 6