Ultimate Custom Night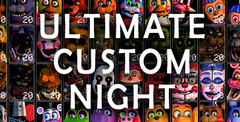 Download Ultimate Custom Night and face your worst nightmares in this Five Nights at Freddy's spin-off. Customize your night by selecting from 50+ animatronics, each with unique mechanics, and try to survive until 6 a.m. Can you outlast the relentless onslaught of terror? Play now!
If you are a fan of Five Nights at Freddy's then I am sure you will love Ultimate Custom Night. This is a spin-off from the main series and as Five Nights at Freddy's World was so well done and such a lot of fun, I was very excited to get to grips with this second spin-off. While FNAF World took things in a different direction, what we have here is a game that is offering more of the same, but giving you all the control!
The Fab Six
If you have played, experienced or just watched one of the 10 million YouTube videos that are online about FNAF then you will have an idea of what is in store for you with, Ultimate Custom Night. The goal of the game is the same, you are stuck in a nightmare with a bunch of creepy and crazy animatronics that want you dead! You need to keep an eye on what is going on and try to survive the night. Nothing is new in the game in that regard, but it is the level of customization that makes this stand out.
The game has 50 plus animatronic monstrosities for you to pick from. They have them all from the first six games in the series and you are free to pick which ones you want to try and hunt you down.
Always Watching
As is the case with the other games, Ultimate Custom Night has you keeping an eye on things like the ventilation system, the doors and so on to keep away from the animatronics. You can also purchase upgrades to help you survive the night thanks to the Faz-Coins.
What Is Different?
That is probably what you are asking right now, but this game is a chaotic mess and I mean that in a good way. You see, you are free to customize your night of terror anyway that you want. While picking the animatronics is great, you can also do things such as selecting their difficulty. The game has a nice reward system where you can take part in 16 different challenges. Unlock new costumes and some fun cut scenes. Seriously for a game that is free, they have certainly gone above and beyond to make sure you will be kept busy with this.
I had a lot of fun with Ultimate Custom Night. It may lack the structure of one of the traditional Five Nights At Freddy's games, but that is what I feel many people are going to love about it. Being able to pick what animatronics you want is kind of fun and something I really did enjoy. As the game is 100 percent free, you really have nothing to lose giving this one ago.
Final Score: 8/10
Pros:
Tons of animatronics to pick from
The game is very, very addictive
You can select the difficulty of each animatronic
The game has some cool unlockables for you to earn
Great if you love FNAF!
Cons:
I do wish it had more challenges
It still will scare the heck out of you!
Download Ultimate Custom Night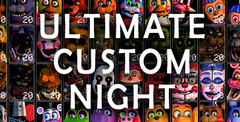 System requirements:
PC compatible
Operating systems: Windows 10/Windows 8/Windows 7/2000/Vista/WinXP
Game Reviews
Get ready for the ultimate point-and-click survival horror game with Ultimate Custom Night. Created by Scott Cawthon for the Five Nights at Freddy's video game series, this game takes that sweet scary nectar and lathers you up for another round of fear-inducing, pant-staining goodness. Take control of the game and set up your own worst nightmare in this genius next step for the franchise. I hope you're wearing your brown pants; let's get into it.
Gameplay
Get yourself ready for the ultimate Five Nights at Freddy's experience in Ultimate Custom Night. This time its up to you how scary it is. If you found the other games to be a little to easy or not very freaky then you are in for a treat. Here you an choose from 50 different characters from the FNAF series and set their difficulty from 0 to 20 and see it all hit the fan. You have to get through the night and earn Faz-Coins to purchase power ups, plushies and more. You can select the office, choose your power ups and get cracking.
Your objective is to survive the night which lasts from 12AM to 6AM with each hour lasting around 45 seconds. Although you set the challenge, new challengers can enter the game at random times and add a whole new problem to sort out. With an incredible amount of replay value and an Easter Egg or two, there is a lot to enjoy in this title. You have to learn the ropes of the establishment and keep all of your eyes open to make sure you survive. Master the equipment but don't act too hastily or you might wind up in trouble much faster than expected.
Plot
The plot of the game appears to be pretty simple; the player character, whose name remains unknown, has to keep the monsters at bay from his office by utilizing the controls available in said office. There is so much in the dialogue that reveals the situation of the player and who it may be. I won't say any more to avoid spoiling it but if you are a fan of the franchise, you will find it's a very interesting suggestion as to who it is.
Atmosphere
This game has absolutely mastered atmosphere. It's easily one of the spookiest games that has ever been released. It doesn't matter that you, essentially, set the game up; you are still going to be spooked by every animatronic monster that makes its way to you. Like Alien: Isolation or Resident Evil 7: Biohazard, this game captures you in its frightening charm and keeps your eyes glued to the screen every second. I don't think is a franchise out there that handles itself as well as this one. If you like it scary, you're going to love this.
10
This is an absolute masterpiece of the genre and a genuine terrible delight to play. Play it in the dark for the best experience.
Pros:
Incredible Atmosphere
Amazing character design
A fantastically well-realized world
Cons:
Maybe could have had more game modes
See Also
Viewing games 1 to 8