Viewing games 1 to 7 (of 7 games)

See also:
Knights of the Round

A side-scrolling beat 'em up based loosely on the legend of King Arthur and the Knights of the Round Table, the game...
In this sequel to the arcade and Genesis hit Golden Axe, new skills and magic have been added to each character to help your chances of survival.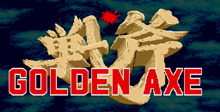 In Turtle Village the children are fleeing for their lives! The invaders are brutal, ugly, and 12 feet tall, with huge arms and bellowing laughs. They love pounding you into the dirt! It's a spellbinding age of magic, fire-spewing dragons, and skel..
Discussion

3