Grand Theft Auto V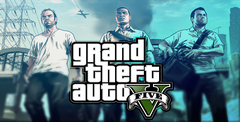 a game by
Rockstar North Ltd.
Platform:

PC

User Rating:

8.4

/

10

-

16

votes
Rate this game:
See also:
GTA Series
What else at this point can be said about Grand Theft Auto V? This is truly one of the best video games to be released over the last decade… maybe of all time! It is an absolute masterpiece, a masterpiece that was made even better when Rockstar made improvements to the original PS3/Xbox 360 version of the game.
Meet The Gang
The story in Grand Theft Auto V is truly amazing stuff. What Rockstar did is nothing short of amazing. Rather than just having one main character who interreacts with a bunch of other characters. GTA V switches things up but allowing you to play as three different characters and boy are these three characters different. Franklin, Michael, and Trevor are three very likable and different characters that you get to experience. The whole story is amazing and the back story of Michael and Trevor is really the "main event" and Michael taking Franklin under his wing is also pretty great. Like other GTA and Rockstar games, the story is massive in its scale and it will have you laughing and wincing as you watch it all unfold.
On The Fly
Eventually, you get to a point where you can switch between the characters on the fly. Some characters are required for certain missions so keep that in mind. What I like about switching characters is the way that the characters go about their daily lives when you are not playing as them. This is a lot of fun and when you switch back to, let's say Michael and he is chilling in his pool it is kind of cool.
GTA Your Way!
There is more content in Grand Theft Auto V than any other game in the series. The world that they give you to play in is massive and very diverse in its design. This take on LA is fantastic and just exploring is something I have spent countless hours doing. Seriously this is a game where you can play it for three hours and not actually do anything!
There are tons of side missions for you to do and trouble that you can cause. You can just screw around, play a round of golf or go on a rampage so epic that SWAT is called in to take you down. While just messing around is fun, Rockstar has made sure that the main missions are also awesome. One thing in particular that I really liked was the heists. You have to pull off these epic heists and this starts by hiring a crew and then pulling off the actual heist. It is awesome stuff when you are able to pull a heist off perfectly. If you are like me, more often than not all hell will break loose and you end up in a gunfight.
GTA Online
A big part of this Grand Theft Auto is, of course, GTA Online. This is a lot of fun to be part of and you can just play this on your own if you like. For me, the real fun is playing with a friend and starting up your own gang to go to war with other gangs! Even if you are not a hardcore online gamer, I do feel that GTA Online is worth checking out as it is very close to what the main game offers.
It has been talked about to death, but Grand Theft Auto V really is an amazing game. It is the kind of game that I am legit struggling to find anything negative to say about it at all! It looks great, the city is massive and the three characters you play as are each great in their own way. Then we, of course, have GTA Online which is also excellent.
10/10
Pros:
One of the greatest GTA games ever made
So much for you to do
Three playable characters
The heists are awesome
GTA Online is a lot of fun
Cons:
GTA Online might not be for you
Nothing at all!!!!
Download Grand Theft Auto V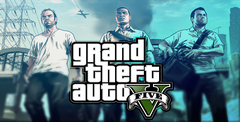 System requirements:
PC compatible
Operating systems: Windows 10/Windows 8/Windows 7/2000/Vista/WinXP
Similar Games
Viewing games 1 to 6