Jackie Chan's Action Kung Fu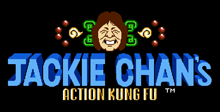 Click the "Install Game" button to initiate the free file download and get compact download launcher. Locate the executable file in your local folder and begin the launcher to install your desired game.
Type: Adv.
Release: Nov. 1990
Levels: 7
Difficulty: Avg.
Jackie Chan and his sister Josephine are two of China's best Kung fu fighters. Josephine has just been kidnapped by the mysterious Sorcerer and Jackie must journey to the Sorcerer's castle to save her. Defeat the evil henchmen along the way and pick up bonus bells, and psycho waves, to renew your life energy and weapons. Use your special spin kicks and sky attacks to take out the bad guys.
People say:
7
While the name may not ring a bell at first, it shouldn't shy you away from what is, in reality, a quite good game. Mixing elements from both action games and other popular games, Jackie Chan puts together a challenging assortment of enemy characters and Bosses. Give it a try!
6
Jackie Chan is another average punch and kick game. Nothing really out of the ordinary here and although it is an interesting game it just doesn't have the uniqueness or contain anything out of the ordinary to make it stand out from the rest.
8
Jackie Chan is a totally cool game with decent graphics, a good level of challenge and enough action to carry you through the multiple levels of play. It's not highly original, but the game plays better than most similar titles and boasts a variety of unique features!
7
The flying feet of Kung Fu Maste are back! Jackie Chan! The Greatest martial artist since Bruce Lee is somehow stuck in Super Mario Land. Fighting game meets comical game and results in a good adventure anyway! Eat sushi and get this strong!
Download Jackie Chan's Action Kung Fu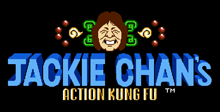 System requirements:
PC compatible
Operating systems: Windows 10/Windows 8/Windows 7/2000/Vista/WinXP
P-200, 32 MB RAM
Game Reviews
Manufacturer: Hudson Soft
Machine: NES
Nine-year-old Jason Lund of Sioux Falls, South Dakota, wrote in to tell us of an egg he found. In the instruction booklet it tells you how to get 99 continues, but if you follow these directions, you can get a stage select as well. First, put the game into the NES, and press start repeatedly until you see Jackie Chan sitting down in the first stage. Then press RESET. On the title screen you should see five continues. Next, press U, U, D, D, U, D, B, A on Controller 1; on Controller 2 press B; START on Controller 1; and, finally, press B on Controller 2. You should now have a "1" by the word "start" and 99 continues on the screen. Press U or D to select the stage you would like to start on. Thanks for this great Easter egg, Jason.
TurboGrafx-16 - Turbo Tech
Theme: Action
Available: 1992
No. of Levels: 7
Looking similar to those popular Japanese movies, Jackie Chan's Action Kung Fu provides all the kick and punch action you could ever want! Play through seven levels in search of your kidnapped girlfriend. Since you are a master of the martial arts, you should have no problem defeating the hordes of creatures, but they will test you nonetheless. Just try to take on the humongous bosses without getting hurt!
People say:
5
There's nothing inherently wrong with this title, but the look and feel of the action just isn't right. The pace and movements of the characters are just out of sync with reality in a way that annoying. If there were something wholly unique to Jackie Chan I would give it a thumb's up, instead I rate this game as passable at best.
7
Strange is the best way to describe the game. Once you get used to the unusual looks of the characters and get involved in the game, you will find a well designed cart with a lot of game play built in. Although the graphics are only average you should still give it a try... you won't be disappointed.
7
Here's an original action game that really offers a lot in terms of game play and a unique theme. The enemies are weird and colorful and the bosses are huge in some levels. Bonus rounds and hidden items add to the game play as well as power-ups and new techniques. Solid kung-fu action with a weird theme.
4
This is the type of game I've learned to avoid ever since I was a little kid. Jackie Chan's one saving grace is that a young child may find it fun, but I sure don't. The 'head bigger than body' phase is long since gone, and I see no appeal for this. This type of game just doesn't make the Japan to U.S. transition very well.
Difficulty: Moderate
Available: August 1992
No. of Levels: 7
Theme: Action
SAMURAI SUNDAY GOES TURBO
Remember those voice-over samurai movies? Well, here comes Jackie Chan, one of those heroes, and he is heading for Turbografx screens!
During the game, you will come across several frogs that can give you special power-ups that enable you to take out the enemy with ease! There are also plenty of hidden items to keep you busy for a long time. Get ready for one kung-full adventure!
Ready... Set... POW! It's a Black Belt Blowout with JACKIE CHAN'S ACTION KUNG FU.
Punch. Kick. Flip. Dive. Hurl fire bolts at legions of demons! Who knows? You just might last long enough to face the Prince of Sorcerers.
Battle your way past molten lava pits, creep by the skull and crossbones tomb, slay man-eating tigers!
And NO wimpy graphics. Everything's big, splashy, exploding with color through hundreds of levels!
JACKIE CHAN'S ACTION KUNG FU. Look for it wherever you buy super video games.
NES/Famicom/Dendy Screenshots