Journey to the Savage Planet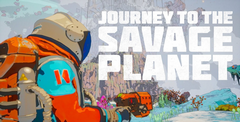 Journey to the Savage Planet invites players on a colorful and hilarious journey through space as they explore an uncharted planet full of cosmic oddities. With its vibrant visuals and wacky storyline, the game takes a different approach on the concept of space travel. Playing as a fresh face in the world of otherworldly exploration, you'll scavenge and research an alien world packed with mystery and intrigue. As you discover new information and interactive elements, you'll unlock new items to craft that help you reach new areas. By presenting players with a consistently interesting environment to explore and a fun progression system, Journey to the Savage Planet offers a compelling and morbidly humorous adventure for gamers to enjoy.
Main Game Features
Detailed world full of interesting creatures
Dozens of craftable weapons and equipment
Irreverent humor and witty dialogue
Story
In Journey to the Savage Planet, you play as an unnamed astronaut working for Kindred Aerospace, the self-proclaimed "fourth-best space company in the galaxy". As a part of the Pioneer project, it's your job to investigate possible planets for human habitation, as the Earth has quickly become volatile due to climate change. During your first voyage, your ship steers off course, landing on a planet with much more alien life than expected. In need of fuel and desperate to repair your ship and find a way home, you'll have to brave the untamed landscape of planet ARY-26. Along the way, you'll learn more about the planet and its native inhabitants, as well as Kindred Aerospace and the motivations behind the Pioneer project.
Gameplay
Your adventure on ARY-26 starts out slowly, with you learning the ropes as you make your first steps onto the hazardous planet. Armed with a simple pistol and a scanning visor, you'll explore your surroundings, gathering information on the various plants and creatures you find. Some of the fauna can be exterminated or harvested for resources like carbon, silicon, and aluminum, which can be used to craft new items back at your ship. As you progress further into the game, you'll discover more fearsome enemies and extremely dangerous environments, requiring you to upgrade your gear and weaponry. Journey to the Savage Planet has a well-designed world, which guides you from discovery to discovery at a relaxed but enjoyable pace.
A lot of the fun in Journey to the Savage Planet comes from its lackadaisical attitude and surprisingly dark humor. Many of the creatures you find are cute and cuddly, which makes dispatching them laughably morbid. As you bounce around the planet searching for new resources, you'll smack and kick the colorful creatures to your heart's content, locating hidden secrets along the way. There are a variety of collectibles to find that increase your player level as well, granting you higher health and stamina. Generally speaking, Journey to the Savage Planet offers players a compelling gameplay loop of exploration and crafting, combined with laugh-out-loud moments and a feeling of personal discovery.
Conclusion
If you enjoy games like Fallout 3 and Borderlands because of their interesting worlds, you'll likely find similar enjoyment in Journey to the Savage Planet. While its gameplay is more reminiscent of franchises like Metroid Prime, there's still plenty of leveling up and crafting to satiate your RPG needs. The colorful graphics and funny dialogue give the game a unique tone that's both lighthearted and exceptionally dark, resulting in a gleefully violent experience. Clocking in at around 8 – 10 hours and playable as both a solo and cooperative experience, Journey to the Savage Planet is an adventure well worth embarking on.
Pros
Consistently funny and wacky
Addictive progression system
Exciting and compelling to explore
Cons
Combat is a bit simple
Sense of humor might not be for everyone
Lots of backtracking
Download Journey to the Savage Planet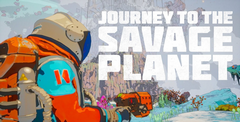 System requirements:
PC compatible
Operating systems: Windows 10/Windows 8/Windows 7/2000/Vista/WinXP
System requirements:
PC compatible
Operating systems: Windows 10/Windows 8/Windows 7/2000/Vista/WinXP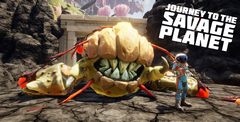 System requirements:
PC compatible
Operating systems: Windows 10/Windows 8/Windows 7/2000/Vista/WinXP
Playstation 4 Screenshots
Similar Games
Viewing games 1 to 6