LMA Manager 2007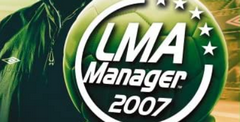 Click the "Install Game" button to initiate the file download and get compact download launcher. Locate the executable file in your local folder and begin the launcher to install your desired game.
It is crazy to think that LMA Manager 2007 would be the last full game to be released in this series. The series started all the way back in 1999 on the original PlayStation and I remember getting it for requiring the full number of blocks on a PlayStation memory card! So how did the series go out? Did it go out with a bang like a Ronaldo free-kick? Or did it limp over the line like an own goal?
Give Me 20 Years!
The main career mode of LMA Manager 2007 sees you pick a team from a club from one of eight countries. This is a very small amount in comparison to the Football Manager game from Sega. The idea is that you are on a 20-year career to win as much as you can and cement your legacy as one of the greatest managers of all time.
This Is England
If you ask me the game is really intended for those who are fans of English football. I say this because all the leagues are represented and in general there seems to be much more attention focused here. While it may sound cool to jump right in as a Manchester United, Liverpool or Arsenal. A huge part of the fun of playing LMA Manager is starting out in one of the lower leagues and taking your team all the way to the Premier League.
Be My Fantasy
One of the coolest aspects of the game is the way you can take the reigns of a fictional team. The game will give you a lot of money to spend on players and it is up to you how you spend it. You created your dream team and then you can decide which league you want to join. This is really cool and I think it was actually a missed opportunity as well as they could have made an online mode around this and it would have been awesome.
Play The Game Your Way
I would say that LMA Manager 2007 is not trying to be as in-depth as some of the other football manager games out there. It gives you a ton of options in regards to how you want to play. You can take full control of the club and have your hand in pretty much every aspect. Or you can leave some of the other parts such as training and scouting to an AI helper. I really like this as it makes it a game that is accessible for everyone.
3D Baby!
While this was not the first game in the series to have the 3D game engine, I do feel that the PC and Xbox 360 version really kicked the graphics up a notch. The games look great and watching the matches is a lot of fun. The overall presentation is great, but man would it have killed them to put a few more music tracks in the game? I swear, this is a game that I played on mute most of the time.
I think that LMA Manager 2007 is a solid football management game. They did a really good job here and I actually do wish that they stuck with it and gave it another try. I do feel that it is geared more towards fans of English football, but as that is the most popular league in the world I can kind of see why they did that.
Final Score: 8/10
Pros:
I like the emphasis on English football
The game is very addictive
I like the 3D match engine
It gives you different ways to take control of your club
I liked creating my own dream team
Cons:
I feel they could have had more leagues here
The soundtrack is pretty damn painful!
Download LMA Manager 2007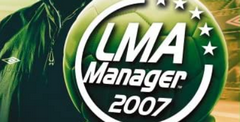 System requirements:
PC compatible
Operating systems: Windows 10/Windows 8/Windows 7/2000/Vista/WinXP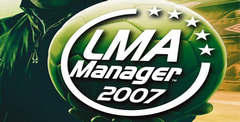 System requirements:
PC compatible
Operating systems: Windows 10/Windows 8/Windows 7/2000/Vista/WinXP
Game Reviews
This Is Getting ridiculous. It's now seemingly impossible for a football management game be sent in for review without it being accompanied by protestations that it's not trying to compete with Football Manager. What this actually means is: 'We know our game is nowhere near as good as FM. so please don't piss all over it' While LMA07 isn't anywhere near FM's league, it's a huge improvement over the risible LMA Professional Manager 2005 and boasts a host of improvements that manage to make it a vaguely viable alternative to Sports Interactive's all-conquering series.
There's a decent number of leagues to be played, player stats are passable, while wheeling and dealing in the transfer market is a fairly entertaining affair. What's more, the presentation is slick and some great news reports help bring the world to life.
The basic team, tactical and training options are perfect for the less hardcore management enthusiast despite the poor layout of player stats and the slightly clunky interface. In fact it's not till you get on the pitch that the real problems arise.
While the 3D matches are vaguely novel for the first ten minutes and feature plenty of nice TV-coverage touches, you simply can't escape the feeling that your tactics - and more importantly your tactical changes -have little or no bearing on the proceedings. And after watching a few games, you soon realise that the action is about as thrilling as watching The Dog & Twat vs The Hairless Badger Inn on a rainy Sunday morning.
There's certainly some promise here, but even as an alternative to the Football Manager series, it still only just warrants your attention.
Similar Games
Viewing games 1 to 10