Metal Slug Tactics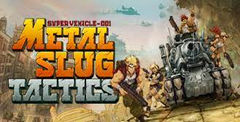 Download Metal Slug Tactics and lead your squad in strategic battles! Use unique abilities, devise winning strategies, and overcome challenging missions. Can you secure victory in this epic tactical combat game? Play now!
When I heard that Metal Slug Tactics was going to be a thing, I was sure that there must have been many more spin-offs from this long running franchise. I am surprised that there is not, I am a big fan of this series and I would see ads for the original Neo-Geo games in video game magazines with their astronomical price tags and only dream. Then when the series came to the PlayStation, I was all in. Taking a run and gun style of game and putting a tactics spin on it is very interesting so I am excited to talk about this today.
The Donald Is Back
While the series is not super story drive, I have always got a kick out of the war story that Metal Slug has told. Metal Slug Tactics features a story that feels like it is part of the main series which is something I like and I do not, I think this could have been an opportunity for them to do something different and weird! What we have is Donald Morden back in action after taking over a country he now has a new arm to try and take over the world again and destroy the Peregrine Falcons.
Planning Your Assault!
The "normal" Metal Slug series has you with your finger always on the trigger, but as Metal Slug Tactics is a tactics based RPG, things are slowed down considerably. You now have to plan what you are going to do, before you do it. I like how you can organize different attacks at the same time so you can dish out a more intense assault on different fronts. This is a game that is going to be challenging, but from what I have seen they have not lost sight of the fun factor that we love about Metal Slug. You can build your squad from classic characters from the series which is really cool.
Always Moving Forward!
There are some really great ideas at play here in Metal Slug Tactics. For example, as you play a match you have an adrenaline bar, and once filled, you can use it to unleash a more powerful attack, but you may want to save it for the right moment! There is a progression system in the game as well as in between rounds you can use the XP you have earned to unlock new weapons and abilities. You can even call in heavy artillery if things are getting a little out of hand!
That Metal Slug Style
The visuals are awesome and very much have that Metal Slug style that we all know and love. Even though Metal Slug Tactics is played from an isometric point of view, it still looks great and features that amazing hand-drawn art style from the series that we have known and loved for so many years.
8
If you enjoy the Metal Slug series then Metal Slug Tactics has to be a game that you keep a close eye on. It takes what we love about the running and gunning action of the series and puts a tactical RPG spin on it and it does it very well. It has much of what we love about the Metal Slug series, but they have just done it in a new and very interesting way.
Pros:
I love how it has a similar art style
It is more about being fun than frustratingly challenging
They pay a great deal of homage to the series
The way you can unleash more than one attack at a time is awesome
Cons:
I wish they did more with the story
No word on when the full release will be yet
Download Metal Slug Tactics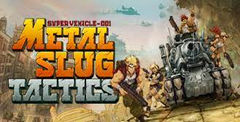 System requirements:
PC compatible
Operating systems: Windows 10/Windows 8/Windows 7/2000/Vista/WinXP
See Also
Viewing games 1 to 8