Fire Emblem Echoes: Shadows of Valentia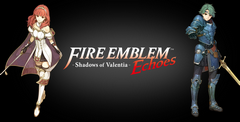 Click the "Install Game" button to initiate the file download and get compact download launcher. Locate the executable file in your local folder and begin the launcher to install your desired game.
With a series that is as deep as this, there are bound to be a few misses and I would say that Fire Emblem Echoes: Shadows of Valentia verges on being one of them. This is actually a remake of a game that was released all the way back in 1992 in Japan for the original Famicom. Released for the Nintendo 3DS I was very excited when this game was announced as Nintendo did an excellent job showcasing the game with these epic cinematic trailers. While I would not say that the game is bad or anything like that, it just feels like it is lacking something to make it truly exciting.
Two People Go To War
One of the best things that Fire Emblem Echoes: Shadows of Valentia has going for it is the story which I thought was excellent. I do not want to go into spoilers as the story is one of the main things that makes this game worth playing! Valentia is war torn and the two gods who made this land are not exactly helpful and as a result, things have really gone to hell.
Our main two protagonists are Alm and Celia who were childhood friends and both want to stop the war and bring peace. The thing is, they have very different ideas about how to go about this. Alm wants to fight and bring the war to an end through battle. Celia on the other hand wants to use diplomacy and her words to make things better. Honestly, the story and the relationship with the characters is quite excellent and what drove me to keep playing.
Who Needs Substance When You Have Style?
The presentation of Fire Emblem Echoes: Shadows of Valentia is some of the best that the Nintendo 3DS has to offer. From a presentational point of view, this game is phenomenal. To start with it has an epic soundtrack, but the amazing sound design does not stop there. This game is fully voice acted and it is done incredibly well, some of the performances here are outstanding and really do get you more invested in the story.
The game also features this very well-done anime style cut scenes that just like the voice acting, make you more interested in what is going on. Even the in-game visuals are very well done, with finely detailed environments and great looking characters.
Maybe I Do Need A Little Substance
The gameplay on offer in Fire Emblem Echoes: Shadows of Valentia is… ok. Gone is the weapon triangle system. Things feel a lot more basic this time around with the class system and the support system feeling quite simple and the things that your units can do as well also feel a tad on the basic side. Do not get me wrong, this is still a very challenging game and it has that tactics-based combat you would expect from a Fire Emblem game, I just feel that following on from the epic Fates series, this never quite lives up to that.
I played the game on casual as I did not want to deal with the permadeath, but if I am being honest with you had I started playing this on hard. I do not think I would have had it in me to gut it out all of the way until the end, even with the story being as good as it is. Some stuff is great, like the dungeon-crawling sections, but things, in general, just felt a tad lacking to me.
7.5
I know that I may seem a little harsh with this review, but at the end of the day, Fire Emblem Echoes: Shadows of Valentia is not a bad game at all An average Fire Emblem game is still usually a really decent game and that is the case here. I think that this is a game that gets by on its fantastic presentation and story. That was what kept me playing until the end as I wanted to see how the story unfolded and those amazing cut scenes and voice acting made me feel like I was in this world.
Pros:
The story is very interesting
This is one of the best-looking games on the 3DS
It has amazing voice acting
I do like some of the things they added like dungeon crawling
Cons:
The whole gameplay system here feels kind of flat and uninteresting
Even after all these years, the permadeath thing is not for me!
Download Fire Emblem Echoes: Shadows of Valentia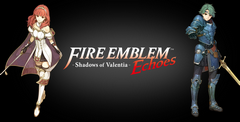 System requirements:
PC compatible
Operating systems: Windows 10/Windows 8/Windows 7/2000/Vista/WinXP
Similar Games
Viewing games 1 to 8