Micro Machines 2 - Turbo Tournament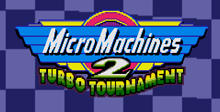 Micro Machines II: Turbo Tournament is a video game part of the Micro Machines series, featuring toy cars and developed by Codemasters. It was published on many platforms, such as Nintendo Entertainment System (NES), Amiga, Sega Mega Drive/Genesis, Super Nintendo Entertainment System (SNES), Game Boy, PS2 and Sega Game Gear. The games were released between 1991 and 2006 and were fairly popular. The video game series is based on the Micro Machines toy line.
The game featured tracks based on household settings. Kitchen tables and desktops were some of them. The tracks contained different obstacles, and falling off the track was a possibility all the time.
Micro Machines II was the follow-up of the first game, and featured cars that required other handling techniques for each course. Hovercrafts and helicopters were not missing from this sequel. The game featured several playing modes, with the "head to head" mode being one of them. Each player can earn points by driving a full screen ahead of the opponent in this mode. The version for PC featured a track editor as well.
The Sega Mega Drive/Genesis version featured the J-Cart, which was a cartridge with two control ports. This way the 4-player adaptor wasn't needed. The pad sharing feature was available as well, meaning two players can just share the same pad. This meant up to eight players were able to compete in the same time, which was quite unique at that time.
The game was followed by lots and lots of follow-ups, with Micro Machines Turbo Tournament '96, Micro Machines Military, Micro Machines V3, Micro Machines 64 Turbo, Micro Maniacs, Micro Machines (2002) and Micro Machines V4 coming on the market in the following years. Micro Machines II was an excellent single player game, but even better when played in multiplayer. Codemasters made the ultimate multiplayer experience out of this game.
In the Party Play mode, which can be played with up to eight players simultaneously, the cars automatically hit the wheel, the players only have to steer. But even if the game can be played with so many cars in the same time, the most fun of all is with four players. It is also the most recommended that each player has its own pad.
Thanks to how many players could have played it, but also to the graphics and gameplay, the game was very appreciated back in the 90s. The fact that it was developed until 2006 is also a proof of this. Critics rated the PC game with 7.0, while users on GameSpot offered an overall feedback of 7.7 out of 10. The game for Sega Mega Drive/Genesis was rated even better. Critics offered a 9.0 feedback, while users offered an overall of 8.7 out of 10.
Download Micro Machines 2 - Turbo Tournament
Sega Genesis/Mega Drive Screenshots
Similar Games
Viewing games 1 to 4