NHL Hockey 94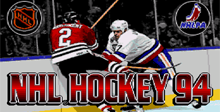 Click the "Install Game" button to initiate the file download and get compact download launcher. Locate the executable file in your local folder and begin the launcher to install your desired game.
EA Sports has improved upon the best hockey series ever to hit the Genesis rink. The stats, as one example, are spectacular. With both the NHL and the NHLPA licenses, you get real teams and real players of the 1993-94 season, including two expansion teams and two All-Star squads. Players are rated according to last season's performances, plus starters have a new random hot or cold streak. A battery-save feature keeps tabs on your stats for challenges among friends.
ProTip: Utilize players on hot streaks, and sub for players on cold streaks.
The playing options, though, are similar to its predecessor. You can still choose one- or seven-game play-offs, penalty options, and line change options. Improvements include Shootout Games (based on penalty shots) and individual player records, which can be saved to the battery.
One of NHL '94's best options, uses EA's new 4-Way Play adapter. Although it only takes two to tango, four-player games are more exciting and unpredictable. You can only choose two-on-one or two-on-two, but look for a four-player team capability in the future.
For a guaranteed takedown, use your goalie to check the puck handler. Don't leave the net open, though.
EA has also finally figured out that a defense is only as good as its goalie. This latest-in-the-series has added a goalie-control option to perform glove and stick saves, dives, kick-outs, and even goalie movement out of the crease.
This installment preserves all of the best moves from previous versions and adds some great new ones as well. You can now flip passes, arching the puck high above the ice, and shoot One- Timers, which are quick, one- touch shots at goal straight from the pass. One-Timers provide an awesome thrill.
The previous NHL Hockey games were definitely too easy to beat in the one-player mode. Fortunately, the computer is a bit harder in '94, especially since it can mirror your shooting moves and learn from your consistencies.
Hitting Hard But Hardly Hitting
Ever been watching a fight and a hockey game suddenly breaks out? Well, that won't happen here. NHL '94's biggest flaw is the removal of blood and fighting, due to NHL regulations. However, there are some harder hits that'll knock your skates off and push opponents right out of the rink. Players can still be injured for a period or an entire game.
During a power play, skate around the corners until you see a teammate near or in front of the goal, but away from the goalie's view. Then try a One-Timer.
To kill an opponent's power play, clear the puck with flip passes. Icing won't be called if you're short-handed, and the passes are harder to intercept.
Home Sweet Home
NHL's traditionally superb graphics look better than ever. The crowd is more involved in the game. (Spectators now walk down the aisles.) There are added player animations, too, such as the goalie slamming his stick in frustration.
Plus, the instant replay has also been improved, enabling you to select the reverse angle for a different point of view.
The sounds of a hockey arena are brilliantly recreated with enhanced realism in crowd cheers and new-and-improved pipe organ music leading the home team. The 72 musical pieces include standards like "Charge!," as well as regional favorites like "When the Saints Go Marching In" in St. Louis.
Down to the Wire
While casual hockey players who own the '93 version may not need to upgrade, hard-core fans will definitely want to grab NHL '94. It's the hottest thing on ice.
Download NHL Hockey 94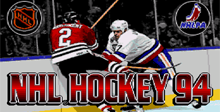 System requirements:
PC compatible
Operating systems: Windows 10/Windows 8/Windows 7/2000/Vista/WinXP
Game modes: Single game mode
Player controls:
Up, Down, Left, Right - Arrow keys
Start - Enter (Pause, Menu select, Skip intro, Inventory)
"A" Gamepad button - Ctrl (usually Jump or Change weapon)
"B" button - Space (Jump, Fire, Menu select)
"C" button - Left Shift (Item select)
Use the F12 key to toggle mouse capture / release when using the mouse as a controller.
Game Reviews
Machine: Genesis;
Range: Ea Sports;
Manufacturer: High Score Productions
What could Electronic Arts possibly do for an encore to its NHLpa Hockey '93? That Genesis simulation had all the features of Nhl Hockey, plus a player's license, battery backup. 14 player-statistic categories, player injuries, and an "Edit Line" option. The answer, of course, is NHL Hockey '94 for Genesis - and it's the answer to a hockey fan's dreams. Featuring a new NHL license and Players' Association license as well, it scores big in realism. Look for complete 92-93 rosters, team logos and uniforms, arena-specific organ music, 156 player profiles and pictures, and, of course, the two new expansion teams, the Florida Panthers and the Anaheim Mighty Ducks.
Nhl Hockey '94 looks similar to last year's model, but there are several changes, both cosmetic and major. For example, even veteran puckheads will find it much tougher to score. The goalies are smarter and quicker, and your center can't fake them out with flashy maneuvers. And speaking of goalies, you can now control them manually - they can skate past their crease and dive in any direction at the touch of a button.
Player streaks are another new addition: Ranked as "cold," "neutral", or "hot", players' ratings and abilities are affected accordingly. Most are neutral and have average performance levels. You've got to be a good manager to handle hot and cold streaks - benching your icy players in favor of skilled backups. This would be more meaningful in full-season play instead of shifting randomly from game to game.
Nhl Hockey '94 offers a couple of new offensive weapons. For instance, you can "flip" the puck into a zone with the touch of an A button. This may not be a precise way to move the puck up the ice, but it clears the zone around your net. And "one-timers" let players catch a pass and shoot - all in one motion. This maneuver takes time to master, and even more practice to use as an effective weapon.
Some players won't be pleased that NHL '94 is a kinder, gentler hockey simulation - there's no fighting or blood even though the action is as hard-hitting as ever. Look for new bench and board checks, and get ready to injure opposing players.
Electronic Arts has retained all the basic game elements of its hockey simulation and added enough variations - other additions include a shoot-out game, penalty shots, multi-player games with Ea's new adapter, and an automatic line-change option - that you'll want to shell out your shekels again. It doesn't get better than this on the ice.
People say:
9
EA and sports have gone hand in hand for a long time. Now, Electronic Arts has created what may possibly be one of the best hockey games. Using all new stats of real players, and the option of having four players compete, puts this game above and beyond the previous attempts. The controls are a little bit different from last year's cart. A must for any sports fan. EA is getting closer to making the ultimate hockey game.
8
I'm not a sports game fan at all, but this game had me glued to the controller! The number of teams was completely overwhelming, and the real statistics for every player added to the hockey realism. Electronic Arts seems to make their sports games better and better every year and this one is no exception. The control is a bit tighter than last year's, too. What's in store for next year? It's great with two players!
8
Even though this game is another version of last year's EA hockey game, NHL '94 will make NHL '93 seem like pong hockey. With the addition of the 4 Way Play, multiplayer adapter, this is a total blast with either 2-on-2 or team play. New features like expansion teams, individualized rink music, crowd animation, penalty shots, and better playability make this one hot cart to put on your want list. Look out, Lemieux!
8
Hockey fans get your money out, cause this one is worth the bucks. Loads of new features have been added to NHL '94. Now there are four players with 2-on-2, or any other combination you may like. Other new features include real players' stats from the previous season, including faces and streaks. They also have the new logos and each team's rink music. The level of detail, from the crowd scenes to the control, is great!
Everything that made the Genesis version of NHL Hockey '94 is in the new Sega CD version, but best of all, this isn't any mere rehash of an already great game. It's EA Sports' best NHL yet, with more style and substance than ever.
NHL -- New Hot Look
Fans of the SNES and Genesis versions will recognize the game play immediately. You still have a quick-moving game for up to four players (using the 4 Way Play), with penalty shots and an optional shootout mode. And you still have all the real teams and players from the National Hockey League. But now the One-Timer shots are a little easier to make, and the goalies are a little easier to control, making the game smoother, better, higher-scoring, and more fun!
ProTip: If you're losing late in the third period, take out your goalie and bring in an extra skater.
The view is familiar. A clear 3/4-overhead view puts you behind the goal, with windows to get close up to some of the action. But this Sega CD also has visual extras, among them are 300 video clips of actual NHL footage. Humorous details include hats being tossed onto the ice after a hat trick.
Scoring can be tough, so master the art of the tricky One- Timer shot
When editing your line, go for the fastest players. These speedsters are usually better checkers and will beat the opposing goalie on breakaways.
This game has sonic superiority, as well. Besides the realistic voices of announcers and commentators, you get nice surprises, such as the clever organ music customized for the different rinks.
Stanley Cup Champs
Everything in the NHL is in the Sega CD -- everything, that is, except the fights, which the league had EA Sports remove. In every other way, though, this is the hockey game you always wanted to play.
NHL Hockey '94 for the SNES plays like Hockey '93, but it has a whole new look. The graphics for this year's hockey installment were completely redone, with improved character details and smoother animation. The players' mug shots are in color and seem more lifelike than the Genesis' black-and-white shots. However, the actual game's graphics during game play still aren't as sharp as the Genesis' visuals. The artificial intelligence of the computer opponent also isn't quite up to snuff.
What the SNES version lacks in graphics and challenge, it makes up for in realism and sound quality. Grunts on checks, ice sprays on sudden stops, rallying claps, and even the never-ending low hum of a buzzing crowd make you feel like you're sitting in the front row.
No Saves
Instead of a battery-save feature on the SNES, passwords are used to continue play-offs. The Genesis options of saving lines after edits, play-off statistics, and user records are not available for the SNES copy.
Cinco De Playo
Four score, but five thrive! The SNES's five-player option with the Hudson Multitap will change the face of video sports games forever. Expect some serious and fun competition with fellow video sportsmen. Unlike the Genesis version, you can divvy up the teams any way you want, even five versus the computer.
Post-Game Commentary
Overall, the SNES upgrade does an outstanding job on improving graphics, sound, and game play. However, compared to the Genesis version, the SNES game is just a bit off its game -- but don't let that stop you from hitting the ice.
Sega Genesis/Mega Drive Screenshots
Similar Games
Viewing games 1 to 7