Pro Evolution Soccer 5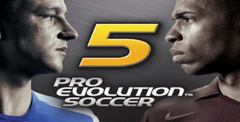 Click the "Install Game" button to initiate the file download and get compact download launcher. Locate the executable file in your local folder and begin the launcher to install your desired game.
I've Just Leapt off my rickety editor's chair in triumph. Challenging one of our freelancers, Sam Kieldsen, to a quick game of Pro Evolution Soccer 5, I've swung in a mean corner that Michael Owen has spectacularly volleyed into the top right-hand corner of the Brazilian goal. An absolute screamer - and the goal wasn't bad either (ho ho).
Pro Evolution Soccer is the game that has deafened the ZONE team, due to my daily battles with previous editor Dave Woods that once filled the office air with gutteral snorts, loud exclamations and language that would embarrass Billy Connolly (see the secretly-filmed video footage on issue 150's DVD for proof).
Now the fifth iteration of Konami's footie extravaganza is here. Like the beginning of a new season, there's excitement, hope, trepidation - maybe even a little fear -about PES5. Can it improve on last year's version? The answer is most definitely yes, but like any successful team, you're going to have to work hard to achieve results...
Boring, Boring Pes?
Yep, the main difference you'll notice immediately is that you have fewer chances to score goals. While this may seem unbelievable for a football game, it doesn't make PES any less enjoyable - it just makes it more addictive, as you work out new ways to beat it Some matches may be ugly, but a piece of skill or a clever passing move may unlock the opposition defence - and the reward of scoring a goal is so much greater.
You'll probably have a few frustrating 0-0 results before you start pinging them in from all angles, because PES5 is physically demanding, especially in midfield. Konami has increased the emphasis on personal one on-one player battles, which means you havi to fight to retain possession - guarding the ball, getting foot-ins, closing players down quicker and intercepting passes. Early games can often degenerate into a series of niggly fouls; the referee seemingly stopping the action every few seconds for any infringement, be it a stray leg, little trip, barge from behind or sliding tackle. The Al has been improved, so that even on a three-star average difficulty versus the CPU, youl have to keep tapping the joypad buttons constantly to evade their advances. Not onlj that but passes now go astray increasingly often ("Not to him! Him'."'), and the ball bobbles and bounces more than Jordan cycling down the Odessa steps.
Heads Up
So after reading the last few paragraphs, you may be wondering why PES5 is a tclassic. Well, just because the game is more snanding, doesn't mean it's any less enjoyable - it just requires you to, as Bobby Robson would say, "unlearn what you have learned".
For example, one of my favourite moves in the old PES was a fast run down the wing, then a double-tap cross to whip the ball into the box for my forward to head into the back of the net, usually seven times out of ten. This has been curtailed somewhat, so that in PES5 it now probably only works, oh, once every third visit of Halley's comet.
OK this may be a slight exaggeration, but the point is you're going to have to work at learning new tricks; inspired new ways of scoring those wonder goals that have you punching the air and gloating in the face of your unfortunate opponent.
A key to this is utilising your skilled players, such as Zidane, Beckham, Ronaldinho and Rooney, whose individual brilliance could be the spark you need to produce a wondrous finish or an inspired through-ball that creates the killer shooting opportunity. Using a quick change of pace, you can skip past opposition players, or even nutmeg them, before blasting home a 30-yard goal - especially if your player has the excellent new star attribute of 'middle shooting'. This is aimed at personalities such as Scholes or Lampard, who can burst into the space on the edge of the box and unleash vicious shots.
Suddenly, after a day or two, you'll start to truly appreciate PES5 - the little nuances of gameplay, the fantastic fluid animation, and the way the ball spins and moves realistically in the air - something that other football games still have yet to master. Again, it feels like real football - and even more so in the new game.
There's also some important additions, with officially-licensed Arsenal and Chelsea teams and stadia, a Memorial Mode that enables you to load in multiple option files M so you can keep a tally of match stats between mates, an improved Master League (a cut-down Football Manager to the uninitiated) and of course, proper online options with (yes!) two-on-two multiplayer. Look, I've said enough - play our exclusive demo and see what I mean. If you're a fan of football, you need this beautiful game.
Download Pro Evolution Soccer 5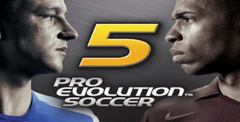 System requirements:
PC compatible
Operating systems: Windows 10/Windows 8/Windows 7/2000/Vista/WinXP
Game Reviews
PES4 is so good, even Will Porter plays it. And he's a QPR fan. Yes, after years of resistance, Will has actually started joining in. I'm sure I even heard him say bugger the other day, when I scored against him for the seventh time with a beautifully-weighted lob. The fact is - and I know I've said it countless times before - PES is the best arcade football game-ever. I find that you can quickly dismiss any gamer's opinion if they say they prefer playing FIFA with a derisory snort and a rolling of the eyes, because they're so obviously wrong. The great news for us true football addicts in the know is that the latest incarnation is currently being coded in Tokyo - and PC has the exclusive first news and screenshots.
Terry & Thierry
Chelsea's cup-winning central defender and England International John Terry has already been signed up to be the face of PES5, but he'll now be joined by last year's cover star Arsenal's Thierry Henry - presumably in a rather cool face-to-face arrangement. As for the game, Konami promises that there'll also be additions to the official Italian, Dutch and Spanish league licences, although the company can't say (won't say) if that will include any from the English Premiership just yet.
However, we can confirm a host of new player moves, animations and game enhancements. The first is the weather conditions (now including snow - woohoo!) that will change during the match, and noticeably affect players' statistics - stamina, being the most obvious - and movement of the ball. You'll also have access to improved tactics and formations that will give you greater control over your team - such as, for example, the ability to set up a floating' player behind your two centre-forwards. Not literally, obviously.
However, the biggest changes come with the introduction of tighter close control for more intense one-on-ones. This means more aggressive foot-ins to steal the ball, better blocking and shielding, quicker knock-ons and faster turns on the ball. All of this will apparently offer you a faster, more intuitive experience, as you'll be able to read far better from the improved animations what the opposition is about to do, and react accordingly.
Other exciting innovations include more accurate heading, better through-balls and more powerful net-bursting shots. Plus, as promised to PC last year by the producer Shingo Seabass' Takatsuka, the PC will have proper online implementation that will include the ability to set up leagues, world player rankings and international cup competitions.
As PES5 is launching on last-gen consoles as well, we're not expecting state-of-the-art visuals, but you can be sure that they'll be a vast improvement on the clunky PS2 and Xbox 640x480 fuzz-o-vision, with sparkly resolutions taking advantage of top-spec cards and monitors. We're pretty moist at the thought of a new PES, and with it due to hit the shops around November, young Porter will have just enough time to polish up his skills. Look out world...
Similar Games
Viewing games 1 to 10