Shove It - The Warehouse Game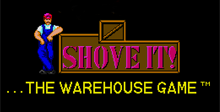 Levels: 160
Theme: Puzzle
Players: 1
Difficulty: Average
Ever wanted to get a fast car, lots of money, and your best girl by your side? Now all you need to do is to get 160 different floors filled with boxes organized in order to complete the owners offer.
Download Shove It - The Warehouse Game
Game Reviews
Get ready to Shove It! with Dreamworks' first title for the Genesis. Your challenge, as Stevedore the warehouse man, is to solve a series of complicated puzzles. The tricky part is you've got to do it by shoving a bunch of boxes into specific locations in each room. Overall, you've got to put 160 different warehouses on 16 different levels into order. With each level the difficulty of the puzzle increases. Play by yourself or match your wits against another warehouseman. The game keeps track of how many moves it takes you to solve the puzzle, so you can see who's the smartest and most efficient at Shoving It! And don't worry if you get tired out by moving all of those heavy boxes. The game lets each warehouseman take a break between warehouses to dream about wealth, cars, and their beautiful girlfriends.
Sega Genesis/Mega Drive Screenshots
This is one of those classic drive you mad puzzles, The Task sounds simple, Move the boxs to the right place and thats it!, If only it was that easy, It grows into more of a mind bender with each level passed 160 to be precise!, This really gets the grey matter sparking i would say if you like your puzzles taxing then you'll love this.

Done it at last, I have played this as a kid and thought i would never do it!, Well i am now prowd i have done it!, The easy look of this game will end at level 6+ because you really need to think about every move before you make it!, It's still worth a replay because after 160 levels you can not remember the key to each level afterwards!, Well worth the headache, And blue lanuage at myself at points in this game....