Sun Haven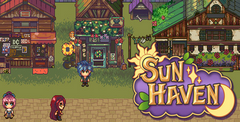 Download Sun Haven and escape to a magical world where you can farm, build relationships, and embark on epic adventures! Discover a bustling town filled with secrets, and create your own personal paradise. Start your new life and play now!
Any cutesy-style farming game is always going to grab my attention and that is why Sun Haven here is so appealing to me. The farming aspect is great and all, but this is a farming-style game that does also have a multiplayer component to it too which is pretty awesome. Add to this a fantasy setting with dragons, monsters, and epic quests and you have a game that feels like it was pretty much tailor-made for me!
Welcome To Sun Haven
The story of Sun Haven sees you just moving to this town and you want to try and make a good life for yourself all the while helping others and making friends as you go. There are romances to be had, quests to go on, monsters to fight, and more. I have played a million farming-style games before and they all have this basic formula when it comes to a story, but the added fantasy/monster twist is what really makes this stand out.
Living Your Best Life
I have said the word "farming" a lot, but as well as growing and tending to crops in the magical town of Sun Haven, you will also get to do other stuff too. You can go fishing, fight monsters, there is mining and smithing. There is also a pretty deep building aspect where you can build and repair various shops in the town and the building aspect is great as there are plenty of design choices for you.
The Monster World
One of the things that really makes Sun Haven seem appealing to me is that you are not just stuck in this one town. There are two other neighboring towns that you can travel to as well. There is Nel'Vari which is a magical elf town that is in the forest. There is also Withergate which is a monster city that is always in darkness and has quite the wild nightlife! Each place has its own theme and style and going to these places will make you have to act differently. I love the sound of this and the way that they have designed the game so that you can play it with a sword and just fight everything or you can be non-violent and try to be nice is pretty damn cool. I know that I want to try and do a playthrough of both styles. There are many quests that you can go on, a skill tree, and a ton of other stuff that is going to keep you busy too.
Playing The Players
The fantasy setting also lends itself to a fantastic amount of character customization. You have seven different character races in the game and no matter which one you pick, you have plenty of customization options to make your character unique.
This is especially important if you are playing this with friends as there can be eight of you in one game so standing out is what you really want to do.
8
There are certainly a ton of farming games on the market these days, but I think that Sun Haven does more than enough to stand out. The game is just jam-packed with magic and whimsy and it is near impossible not to get invested in something like this. If you enjoy farming games and love fantasy stories, you cannot go wrong with this be sure to check it out.
Pros:
The whole premise of the game is fantastic
I love the cutesy style
Lots of monsters and interesting characters to talk to, fight, and romance
The game is actually far deeper than you would think
Cons:
The game is only in early access
You have to be into farming games to enjoy this
Download Sun Haven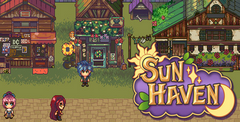 System requirements:
PC compatible
Operating systems: Windows 10/Windows 8/Windows 7/2000/Vista/WinXP
See Also
Viewing games 1 to 7