Test Drive II: The Duel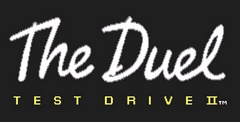 Click the "Install Game" button to initiate the free file download and get compact download launcher. Locate the executable file in your local folder and begin the launcher to install your desired game.
Manufacturer: Ballistic
Machine: SNES
Difficulty: Moderate
Available: September 1992
Number of levels: 5
Theme: Driving
Harder on the highway
You thought racing was a bunch of professionals going the same direction in a big circle, right? Well, you have not seen anything yet, pal! The guys over at Ballistic have put you in the finest high performance machines available (price is no object) and sent you speeding across highways filled with many innocent people on motorbikes and in cars.
As if this was not dangerous enough, they also added a competitor who will chase you (or pass you, if you let him) through this high density traffic! Now, you're thinking, "Cool, all I have to do is drive like a maniac through traffic with a guy on my tail who wants to beat me". That is true, but just to add reality they have our friends, the highway patrol, trying desperately to enforce the law. The next time you get the urge to go 180 m.p.h. on the interstate, just relax, sit at home and pop in The Duel: Test Drive II. Fasten your seat belt for furious fun!
Download Test Drive II: The Duel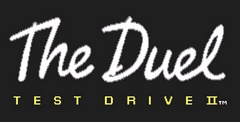 System requirements:
PC compatible
Operating systems: Windows 10/Windows 8/Windows 7/2000/Vista/WinXP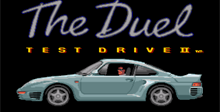 System requirements:
PC compatible
Operating systems: Windows 10/Windows 8/Windows 7/2000/Vista/WinXP
Game modes: Single game mode
Player controls:
Up, Down, Left, Right - Arrow keys
Start - Enter (Pause, Menu select, Skip intro, Inventory)
"A" Gamepad button - Ctrl (usually Jump or Change weapon)
"B" button - Space (Jump, Fire, Menu select)
"C" button - Left Shift (Item select)
Use the F12 key to toggle mouse capture / release when using the mouse as a controller.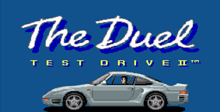 System requirements:
PC compatible
Operating systems: Windows 10/Windows 8/Windows 7/2000/Vista/WinXP
Pentium II (or equivalent) 266MHz (500MHz recommended), RAM: 64MB (128MB recommended), DirectX v8.0a or later must be installed
Game Reviews
The knuckles turn white. The sweat turns cold. The heart turns cartwheels. That's what you can expect behind the wheel of the #1 racing title in history, The Duel/Test Drive II now for Sega, Genesis!
Squeeze into the cockpit of the hyper-fast Ferrari F40 - a twin turbo V8 with 478 horses ready to snap your neck. Boil asphalt in the Porsche 959 - the legendary road rocket that'll do 0-60 in a stunning 3.6 seconds. Leave the launching pad in the Lamborghini Diablo - an awesome exotic with a mind-boggling top speed of 202 mph.
Race head-to-head against the computer or the clock. Blast through tight tunnels, bone-dry deserts and twisting mountain roads. Streak past confused cops and scenic cities. Jam down the highway to hot music tracks.
The Duel/Test Drive II from Ballistic. If you're scared, take the bus.
Get ready to go on the joyride of a lifetime. Here's your chance to try out three of the hottest cars ever designed on the face of the planet. Feel the raw power as you get behind the wheel of the infamous Ferrari F-40. Thrill to the high-end technology of the Porsche 959, one of the most advanced cars in the world. If you're into brutal acceleration and the style that could only come from Italy than unleash the Diablo.
People say:
3
This game does possess features not usually found in racers (like out running the cops), but the overall presentation is rendered in a less than average manner. The roadway is drawn poorly, the other cars lack smooth scaling and the sound effects are equally bad. An overall lack of action adds to this cart's troubles.
5
I would believe that the Genesis is capable of being able to handle a good racing game but this one seems to be lacking the excitement. You have to sense the speed and to have some fear of taking a curve too fast. Test Drive is fun but with these exotic cars the game should be thrilling and it isn't quite there.
4
I am totally disappointed. The choice of cars is good but how can you leave out great cars like the Vector and the Koenig Testarossa? The graphics are choppy and the game play needs work. Even the sounds have been trimmed back and fall short of the computer version. Cool idea but not quite there.
4
Too little to late, I say. Give me a game with all of the hot cars like the Vector and other missing monster machines. On top of that The Duel seems to fight through each scene to keep the graphics from disrupting. The sound effects are lacking realism, something racing fans love and desire.
Your fantasy of a Porsche 959, a Ferrari F40, or a Lamborghini Diablo is now a reality with Accolade's PC megahit, The Duel: Test Drive II for the Genesis!
The Duel is a first-person perspective, one- person racing simulation that pits you against a hard drivin' computer racer. You begin by choosing a car. Then you pick one of three tracks.
You get five lives to complete the selected track. Crash, run out of gas or blow your engine and you lose a life and receive a time penalty. The objective is to complete the track with the best overall time. Therefore, it's more important to drive safely.
ProTip: Hit the brakes as soon as you see the gas station sign or you'll overshoot it.
These cars aren't sparse on features. Important elements nicely laid out on the dashboard are the speedometer, tachometer, radar detector, and the trip meter.
Here's a shortcut Rev up to top speed on the road. Then run onto the side of the mad in the flat stretches. You can still drive the course at 90% top speed without having to deal with sharp turns or oncoming traffic!
Save time in "S" curves by downshifting, and releasing the gas. Don't hit the brakes as you enter the turns. Let your car coast through. Then punch the gas still in top gear.
The Duel is extremely faithful to its PC origins. However, its graphics and sound are rather simplistic compared to some of the other racing titles available for the Genesis. The controls are easy to leam. But like real life, working the manual transmission requires a lot of practice. If you're looking for a well-rounded racing simulator, The Duel: Test Drive II won't steer you wrong.
Forget racing around and around a circular track. This new driving game puts you on real roads as you race across the interstates. Choose from the hottest cars available and tear up highways while being pursued by a competiting car. For an added touch of realism, the friendly highway patrol are always around trying to enforce the law. So keep your eyes and reflexes sharp as you whiz across the country!
People say:
5.0
To this game's credit, the feel of the action is good, but all of the supporting features, from the background scrolling to the look of opposing cars is shallow. Test Drive 2 isn't really bad in any sense, but nothing in the cart provided me with a real sense of speed, thrills or action. You drive and sometimes you die. Big deal.
6.0
As a sequel it's usually expected that a cart will contain some ingenious new feature or improved quality. While this game does not lack in graphics or control there is nothing exceptional for driver fans here. The player never gets the feeling of the road or the thrill of a race. Overall its an average game.
5.0
I was eager to see what could be done with this game on the Super NES. Unfortunately I'm very disappointed by this cart. The game play is good and controls well, but it never actually feels like you're going 200 M.P.H. The graphics are kind of wimpy and could have been a lot more detailed for the Super NES.
6.0
Test Drive 2 has fairly good control for a first-person driving game, but it lacks intensity. It just provide a feeling of ripping around corners or barely missing oncoming cars. In fact, there are very few obstacles to overcome, except your own driving skills. The police rarely stop you, and opposition is random.
A couple of years ago, Accolade introduced Test Drive. It was fun, but it had some obvious limitations. These limitations didn't hurt sales, however - Test Drive quickly became Accolade's bestseller, and one of the hottest-sell-ing games in computerland.
But the game needed work, and Accolade responded. Available now is Test Drive II: The Duel. The scenery is much more varied than the lone mountain road of the original game, and the action is smoother as well. Furthermore, you can race against either the clock or another (computer-controlled) car. Instead of just driving, you're actually racing along these picturesque roads.
The original Test Drive also suffered from a fairly small number of available cars. Test Drive II considerably improves on the scenery, but it actually offers fewer cars: only a Porsche 959 and a Ferrari F40. In a very promising move, however, Accolade is releasing some expansion packages. The Supercars adds five incredibly fast (and incredibly expensive) cars to your software garage, and California Challenge gives you a completely new set of roads to drive. Add both packages, and you have a lot of driving ahead.
The Supercars disk, the first in a series, lets you choose from a 1988 Lotus Turbo Esprit (160 mph maximum), a Ferrari Testarossa (185 mph), a Porsche 911 RUF(211 mph), a 1988 Lamborghini Coun-tach 5000S (179 mph, with a V-12 engine), and a 1989 Corvette ZR1 (185 mph). Just pick the car you want and head out to the highway. Be sure to try racing against a computer-controlled opponent. He's a friendly opponent, and won't get too far ahead of you. But he's extremely tough to beat.
Test Drive II has 12 difficulty levels. Six factors vary according to the level you select. For instance, on the first four levels, your car shifts gears automatically so you can concentrate on accelerating and steering. Your opponent's maximum speed ranges from 90 mph on level 1 to 200 mph on level 12, and the police car's speed ranges from 120 mph to 200 mph. The density of traffic on the road is 50 percent on level 1 and 100 percent on level 12 (try avoiding buses and trucks while you're doing 180 mph!), and the speed of the traffic also varies. The number of points you score increases significantly on the higher levels.
You can control your car with the keyboard, but a joystick is far better. You can accelerate, turn, and brake with the joystick, and the fire button shifts gears. Each car has a unique stick shift (as in real life), and the joystick lets you see how these work. California Challenge is the first in a series of projected scenery disks for Test Drive II. Like the scenery disks available for SubLogic's Flight Simulator and Jet programs, California Challenge is an alternative to the scenery in the original package. It installs easily on both floppy and hard disk systems.
What a difference it makes to have new scenes! Instead of the nondescript, unnamed mountain road of the original Test Drive, or even the more varied scenery of Test Drive 2, you now have real roads to drive. (Well, more or less real.) You start at the California-Oregon border, with a "Welcome to California" sign straight ahead. Then it's down through the redwood forests and the Trees of Mystery, and on to Eureka and the elevations approaching Rock-port. Near San Francisco you see the Golden Gate Bridge, and then you're off toward Carmel and Monterey. Redwoods appear again near Big Sur, and the Los Angeles freeway is realistically frightening. Get to Mexico, and you've finished.
Then, of course, you can start another trip. Hop inside a new car, notch up the difficulty level, and try again. By the time you've managed a full-speed run on level 12 from Oregon to Mexico, avoiding the cops and never running out of gas or crashing, you can consider yourself a master. And by then, there should be new scenery disks available for you to conquer.
Sega Genesis/Mega Drive Screenshots
SNES/Super Nintendo/Super Famicom Screenshots
See Also
Viewing games 1 to 11
If you had this game for SNES try out the much faster SEGA version!, It might not have the bug splats on the windscreen or a rubbish rain affect but it is much more fun to play!....