The Sims 2: University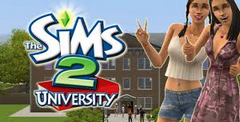 Click the "Install Game" button to initiate the file download and get compact download launcher. Locate the executable file in your local folder and begin the launcher to install your desired game.
The Sims games are never complete without the expansions they add over the years. These add-on contents are the ones that make the game really stand out. And they also make each Sims game unique. We're going to be talking here about The Sims 2: University, the very first expansion pack for The Sims 2.
When you think about simulation games, most likely the first name that jumps to mind is The Sims. A game series based solely on simulating daily lives of normal people, and some not-so-normal activities as well. Also, it helps that the name of the game is also the genre. But anyway, let's get on with the expansion pack.
Content
The Sims 2 experience was already excellent compared to the original The Sims game. Tons of new content, ways to play the game and objects, not to mention the enhanced visuals and things to do. But when The Sims 2: University came out, it helped take things to the next level and made the game an overall more challenging and entertaining experience.
This expansion pack centers its attention on adding more to the young lifestyle and the whole university experience. Of course, it does it in the more movie version of the university and not so much based on the real deal.
This expansion adds the new Young Adult phase, in which a Sim goes from a young person to maturity, and you can do that through university, and maybe some roundabouts too.
New Possibilities
There are three different universities your Sim can apply to and different fields of study to choose from. Keep in mind this also means that your Sim also will have to study a lot, pass tests, follow the rules and earn points to graduate. But University's not all about studying right?
Your Sim now can have different new aspirations, for instance being in a band, graduating and more. Playing some jokes and getting into trouble's also a good part of university life now available. And just like any good teen flick, there's also relationships, sports, different teams and new hobbies available.
They even included a new type of Sim, the Zombie. A reward after finishing the career in paranormal studies, you can use the Resurrect-O-Nomitron to summon the Grim Reaper and bring back a Sim from the dead. But you'll have to pay a fee, the more you pay the better your zombie turns out.
New Buildings, objects and more
Of course, when you're attending university you don't always get to live at home, and that's why they even added new building types to adapt to the new game style. So they added buildings like fraternities, where your Sims will interact with other members and participate in different activities. Residences, so your Sim can have a place to live during its studies, and community lots and community college, where your Sim can work and learn new abilities.
There are new objects like mobile phones, musical instruments, MP3 players and mobile game consoles. But keep in mind that you'll have to save some money to pay for your studies too. That's why there are new ways of getting money such as:
Getting a scholarship through good grades
New job opportunities for the young adults
Getting multiple halftime jobs
Playing gigs, writing a novel or painting
Overall review
The Sims 2: University is a huge expansion pack for an already great game. It adds tons of new content and features as well as giving the game more objectives and reasons to play it. The only downside would be that it might be too long and take a long time. Of course, it is not really boring, since there's a lot of cool new things to do while going through university. It's not like the real experience if that's what you were looking for, but it sure is fun.
Download The Sims 2: University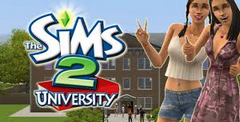 System requirements:
PC compatible
Operating systems: Windows 10/Windows 8/Windows 7/2000/Vista/WinXP
Game Reviews
It Was hardly the world's biggest gamble to suggest that EA would soon be churning out Sims 2 add-on packs, and the only real surprise is that it has taken this long. Given The Sims' new-found aging ability, the subject matter is appropriate enough, and the University expansion sees 'young adults' attempting to acquire an education in the face of the inevitable distractions. At an English university this would involve a heady combination of grinding poverty, petty crime, random sexual encounters and narcotic excesses resulting in borderline psychosis. Cunningly manage to cheat in your finals, and you could even walk away with a degree (albeit of little use).
Given that The Sims 2: University is based on an American campus, our com-fed students live in luxury houses replete with widescreen TVs, pumping hi-fis, games consoles, pinball tables and even Jacuzzis. Having more in common with MTV Cribs than the squalid rat-infested hovels, coat-hanger aerials and Sensible Soccer tournaments of our squandered education, it also looks considerably more fun. So whether it's orchestrating the Frat Boy toga parties, or attempting to maintain peace between Heather, Tiffany and Brittany, it provides an insight into a world we will never know. Naturally, the saccharine Sims approach is still in place, and what you effectively get is a sanitised version of the John Belushi film, Animal House.
Spit Roast
A number of gameplay advances have been made, however, with the introduction of proper NPCs who can be influenced by any of your core group of Sims. For instance, you can kick back with a beer while you get some loser to do your course work. This of course gives you more time to invite the local girls' dorm over for a spit roast, or simply a straightforward barbecue.
At some stage, your charges will have to buckle down and get some work done, but encouragingly, success isn't limited to boffins and eggheads. More sociable Sims may be able to influence tutors, and the more dishonest can simply cheat. With 11 majors to choose from, the ultimate goal is to graduate and follow one of four career paths, inevitably resulting in a well-paid, soul-destroying job, some casually held right-wing views and a new car every two years.
Before the dream dies though, there are plenty of hi-jinks to be had at Sims University, incorporating the trademark surrealist humour associated with the series. It's not a quantum leap from the source material, but the subtle gameplay advances and new environments will give fans a new lease of life. Ultimately though, watching a bunch of spoilt brats enjoying themselves often feels more like retribution than entertainment.
Similar Games
Viewing games 1 to 9