The Three Stooges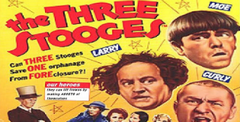 Click the "Install Game" button to initiate the free file download and get compact download launcher. Locate the executable file in your local folder and begin the launcher to install your desired game.
Type: Act/Quest
Levels of Play: 30
Release: 09/01/1989
Difficulty: Easy
Nyuk, nyuk, nyuk...
Those loveable and laughable 3 Stooges are back for more in this video game version of the popular computer game.
Guide each of the stooges through a variety of obstacle courses and reflex testers to gather money and pay off the mean old land lord who holds the mortgage on the orphanage!
Superb animated intermissions from the movies, as well as the digitized voices of Moe, Larry and Curly make the 3 Stooges as fun to watch as it is to play!
People say:
6
3 Stooges is one game made up of several 'mini-games', none of which are complex or action-packed. Most are simple obstacle courses, with pay checks cashed depending on how well you do in each. Not a lot of excitement, but the graphics and sounds are absolutely incredible and worth a look.
8
3 Stooges is oriented to an older crowd that can appreciate the slapstick humor. For us older gamers this game is a riot, with non-stop laughs and entertainment. The digitized graphics are exceptional and the sound effects are the best in any Nintendo game released.
6
There's not much game here, but there are some interesting scenes that unfortunately don't change from round to round. The voice effects, of course, are what you notice first. The stooges do look and sound like the stooges but the game is just too shallow to hold up to repeated play.
7
3 Stooges is O.K., but it's not a great game. The full screen graphics are very detailed and humorous, but the rest of the game graphics are poorly done. It seems like most of the attention was put on the graphic pictures and sounds and none on the game characters or play.
Download The Three Stooges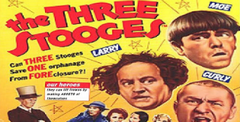 System requirements:
PC compatible
Operating systems: Windows 10/Windows 8/Windows 7/2000/Vista/WinXP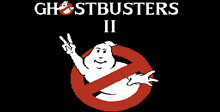 System requirements:
PC compatible
Operating systems: Windows 10/Windows 8/Windows 7/2000/Vista/WinXP
P-200, 32 MB RAM
Game Reviews
This breakthrough comedy hit stars television and movie legends Curly, Larry and Moe. Players choose from ten games within a game and relive scenes from their favorite Three Stooges episode. You can actually hear your favorite Stooges wisecrack and experience the punching, slapping and pie throwing mania that only the Stooges can provide.
Occasionally you see a computer game that seems destined for Nintendo. The Three Stooges was a great PC game, but some movements were nearly impossible to master. The Nintendo version includes some difficult moves, too, but at least you don't have to throw down your controller to reach for the keyboard in the middle of the game.
As The Three Stooges begins, it seems that Mr. Fleecem, the nogood banker of Stoogeville, is threatening to evict Ma from the orphanage she runs. She has only 30 days to pay off the note to Fleecem. Enter our heroes, Larry, Curly, and Moe. They have big hearts — if empty heads — and volunteer to raise the money.
To earn money to pay off the note, the Stooges take a string of odd jobs. But you can bet something always goes wrong. Curly enters an oyster-stew-eating contest, but the oysters have a different idea. Their catering job turns into a giant pie-throwing contest.
They become hospital interns, but turn the corridors into a midget race car track. And when they put Curly into the boxing ring with Killer Kilduff—betting on Curly's ability to become an unbeatable maniac when he hears "Pop Goes the Weasel" — Larry accidentally breaks the violin on which they were planning to play the tune. There are lots of other ways to earn (and lose) money as well.
The Nintendo version's graphics aren't as strong as the computer version's, but they're not bad. A couple of animated sequences have been cut, but most amers who have played both versions will be pleased with the translation. And it's still a game you can play over and over, since the sequence of events will rarely be the same.
Although The Three Stooges includes moments from the Stooges' finest shows — including Dutiful But Dumb, Hoi Polloi, Men in Black, and Punch Drunk — it seems doubtful that many young Nintendo fans are very familiar with the comedy trio. The success of the game will probably depend on word of mouth from the lucky players who first buy it.
NES/Famicom/Dendy Screenshots
See Also
Viewing games 1 to 2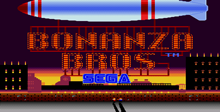 Bonanza Brothers
As either Mobo or Robo, you must collect all the treasures before leaving the ten buildings, and shoot any security guards that get in your way.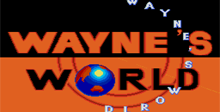 Wayne's World
Once you start on the adventure in Wayne's World, you won't want to quit because it's party time.