Tiger Woods 99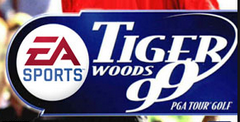 Click the "Install Game" button to initiate the file download and get compact download launcher. Locate the executable file in your local folder and begin the launcher to install your desired game.
a game by
EA Sports
Platforms:

Playstation,

PSX

Editor Rating:

6.7

/

10

, based on

5

reviews
User Rating:

8.0

/

10

-

2

votes
Rate this game:
See also:
Tiger Woods Pga Games
Overview
A couple of years back, an amateur golfer burst onto the PGA scene and took the public by storm. That golfer went out and won a major tour, and it looked like a legend was in the making. Nike hurried to sign him to a huge endorsement deal and EA Sports followed suit, securing the exclusive rights to his name for use in video games. Here we are, almost two years later, and Tiger Woods has been nothing but a disappointment on the PGA tour. Tigermania has gone from a loud roar to a quiet purr. EA Sports is hoping that it hasn't completely died, so they can make a little money on their investment with Tiger Woods 99.
EA Sports has a history of golf games on the PSX. They have released versions of the popular PGA Tour series since 1996.Tiger Woods 99 is really PGA Tour 99, so everything you have come to expect from the PGA Tour series can be found here. Thankfully, the developers have not just sat back and made some minor improvements. This game is a complete overhaul from last year. This biggest change is in the game speed, which was severely lacking in the past. So does a shot of Tiger make this game great? Read on.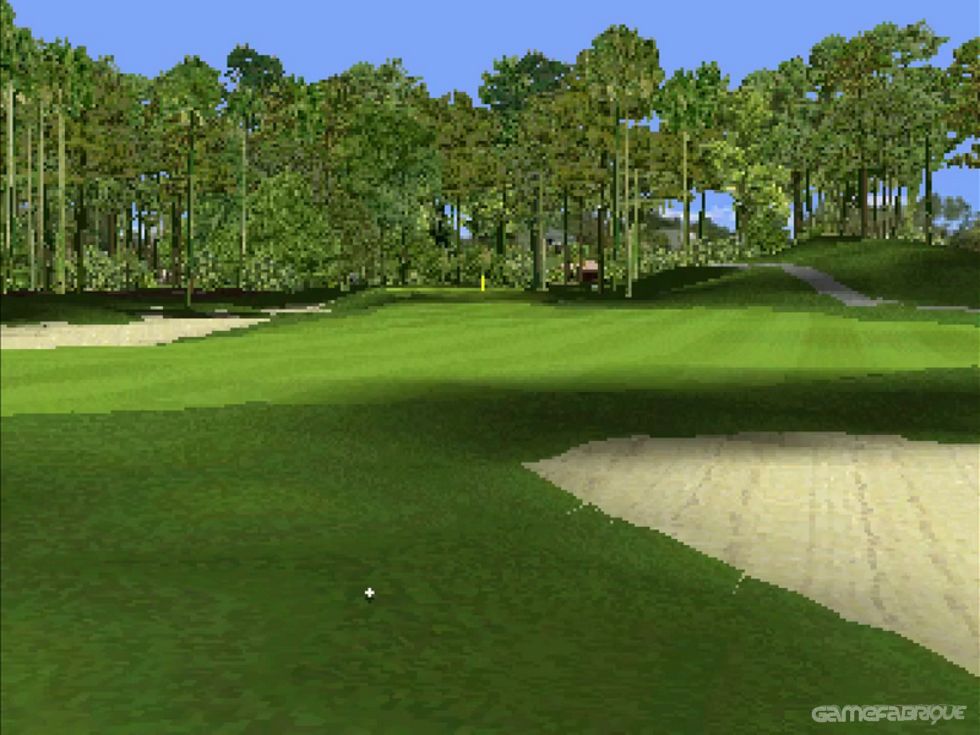 Gameplay
I have a word of caution for people who play both PC and console games. Do not play this game on the PC and expect it to be anything like the PSX version. Trust me. I made the mistake of playing the 3Dfx version of this game on my PC and then started playing the PSX version. I have always believed that the PSX could still compete with the PC, but my eyes have now been opened to the fact that the PSX is getting very dated. I know that it isn't fair to compare the two platforms since they are totally different, but I just want to warn the people out there who have played the PC version not to expect the same.
Considering the many games available for the PSX, golf games have been very under-represented. I am not really sure why, but you are basically stuck with PGA Tour 98, Hot Shots Golf or Fox Sports Golf 99. For golf lovers like myself, this is not nearly enough choices, considering PGA Tour was very slow and Fox Sports Golf just sucked. Hot Shots is still the best golf game out there, but Tiger Woods 99 does add something new to the genre and improves on last year's PGA Tour in many ways.
So aside from the name, what has changed? The biggest and most noticeable change has to be the speed of the game. The speed of PGA Tour 98 is best described as pouring molasses. The load times were awful and it took nearly an hour to play a mere 18 holes. You just did not have any other choice if you wanted to play realistic golf. Well, the folks at EA Sports have listened to the public and have completely reworked the gameplay and camera system. Now 18 holes can be played in under 30 minutes. The load times are significantly reduced to the point where the only loading takes place between holes; this loading is tolerable.
The reason that the game plays so much faster is because of the camera work. The camera follows the ball after watch shot. This means that when the ball comes to a stop, it is already in position for the next shot. On other golf games, you will hit the ball and watch the flight from the location where you hit the shot. When the ball comes to a rest, the game has to redraw the screen completely from the new position. In this game, the scenery is streaming from the CD in real time and the camera is directly behind the ball. When it hits its final resting spot, the scenery is already drawn so all that needs to be drawn is the golfer. It may sound a little complicated, but it is very evident when playing the game.
As with all the PGA Tour games of the past, Tiger Woods is packed with options and gameplay modes. You can play stroke play, skins, tournament and a new tour mode. I really enjoyed playing the tour mode most. It is a four-round cumulative tournament, meaning that you will play four rounds of 18 holes and you have a cumulative score at the end. This was a true test of your skill because anyone can have a good round of golf, but can you play consistently? With the improved game speed, you can play a complete tour in less than two hours, which also makes it appealing.
The PGA Tour games have traditionally been heavy on simulation and realistic style of play. Tiger Woods 99 introduced some arcade elements into the game. For example, if you are playing as Tiger Woods and you hit a shot with extra power and good accuracy, Tiger will flash fire and smash the ball. The ball will go a little further than normal and have a fire trailer behind it. It does not really affect the outcome of the game, but it gives the game more of an arcade feel. The actual ball physics and gameplay are pretty realistic and do feel like a sim, so golf purists should still be satisfied.
I did have a couple of complaints with the game. My first complaint was with the putting. The putting can be frustrating, to the point of wanting to quit and never play again. I can't tell you how many times I left the ball less than one foot from the hole. It almost seemed like the hole would move back just enough to make me leave every putt short. It didn't matter how hard I hit the ball; it always seemed to be not quite hard enough. Just thinking about it right now makes my blood start to boil. This probably cast me an average of 4 strokes per 18 holes. That is a big difference. The worst part is that no matter how much I tried to compensate for it, it was either not enough or way too much.
My other complaint was the way you controlled the spin of the ball off a shot. Normally, you control the spin of the ball by the position you hit it. For some reason, you don't select the spin of the ball until after you hit it. What??? This means that if you know you hit the ball too hard, you can just make sure to add back spin to keep it from rolling too far. On the other hand, if you know you hit the ball too soft, you can add top spin to allow the ball to roll. I just did not understand this.
Graphics
Okay, I am not playing on a PC, I am not playing on a PC, I am not... Now that I have accepted this fact, I guess the graphics are pretty good. This game really shows that the PSX hardware is getting dated, but they do get the job done. One thing I did not like was that there was some slowdown and it affected the swing meter. Part of playing golf is that it takes practice to get used to the speed of the swing meter. When the game has slowdown, it changes the speed of the swing meter so it can be difficult to get used to the speed.
Bottom Line
Since I really enjoy playing golf games, I did like this game. The more I played it and learned to compensate for some of the quirks, the more I liked it, even though I was never able to compensate completely for all the quirks. I think the mix of arcade and simulation kept things somewhat fresh, and if you are looking for the PGA Tour license, you really don't have anywhere else to turn. I still think Hot Shots Golf is a much more enjoyable game, but if you are looking for a new golf experience, check Tiger Woods 99 out.
Download Tiger Woods 99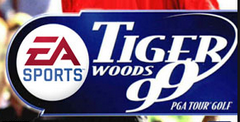 System requirements:
PC compatible
Operating systems: Windows 10/Windows 8/Windows 7/2000/Vista/WinXP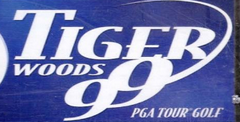 System requirements:
PC compatible
Operating systems: Windows 10/Windows 8/Windows 7/2000/Vista/WinXP
Game Reviews
People say:
7
Tiger Woods 99 is basically a PC-style golf sim pumped up with "hip" music, flashy arcade elements and the one and only Tiger himself. While Mr. Woods remains as stoic as ever, elements around him are "wacky" and arcade-like. For example, hit the ball with full force and he turns electric with power. Magically steer it in midair by applying directional spin. All this while listening to Tiger's own scratch-mix soundtrack (sounds like Living Color--remember them?). To the game's credit, the pace is quite a bit faster than your average golf game (excluding Hot Shots). If you choose to use the spin control you can compensate for bad shots by steering the ball toward the green. It's cheap, but effective and adds a new twist to a boring genre (in my opinion). The innovative "ball cam" is nice but shows off the game's choppy frame-rate more than anything else. It's not a hindrance though. It just looks a little herky-jerky at times. Overall the lack of "classic" golf game detail and the infusion of cool quick-play elements is a nice change. It's fun to nail full-power shots for 300+ yard drives. Quickly line up the next shot and go again. It's like speed golf or something. Just remember to turn off Tiger's dry, monotone comments. I'd still rather play Hot Shots, but Tiger Woods 99 is not far behind.
6
This sim offers more play modes than you could ever want and packs an arcade feel (you can even guide the ball in midair). But when it comes down to its interface and presentation, Tiger Woods is nowhere near as slick and fun as Hot Shots Golf. The clunky graphics and choppy frame-rate certainly don't help matters, either. The standard swing meter works fine, although I never got used to the optional analog meter.
4
While Tiger Woods 99 isn't quite as bad as I expected it to be (watching Dean play was about as exciting as watching weeds grow), it's still not a game I'd ever consider sinking any money into. I don't care if it has all the features in the world, if it's sluggish, boring and devoid of any fun, then what's the point? The frame-rate stinks, the ball physics are poor...do I need to go on? If you want a good golf game, go with Hot Shots Golf.
7
It's great to see that EA has gotten back on the right track with their golf franchise, and with none other than Tiger Woods. The sim aspects of TW are topnotch and the graphics have received a major revamp. My main gripe is that there's no ambient sound if you turn off the "hip" background music. It seems pretty sparse when playing through tournaments where you expect some atmosphere. A solid title, but it needs refinement.
Earlier this year EA Sports landed the biggest name in golf to headline its popular PlayStation series, and now it's plugging away to crank out a game worthy of that name. While key elements like load time, course pix-elization, and overall speed were far too unfinished to judge in this early version, Tiger Woods '99 seems like it's lined up to belt a whopping drive down the fairway.
Sony's masterful Hot Shots Golf makes for tough competition, but Tiger has the "cool" factor, offering eight PGA pros like Mark O'Meara. Tom Kits, Lee Janzen. and of course Woods himself (no create-a-player, though). A respectable five courses Summerlin, Las Colinas, Southwind, Sawgrass, and Scottsdale--should give you plenty of territory to cover. EA's also promising to deliver "lightning fast" gameplay that will reportedly let you blaze through 18 holes in half an hour.
On the innovative side. Tiger supplies a tight new swing meter and the option to tee off by twirling the analog stick like a club. A slick new look button also lets you fluidly peer down the course in real time to fine-tune your aim. If everything comes together as planned, Tiger should rank as one of the premiere PlayStation golf games this holiday season.
Like its real-life namesake. Tiger Woods '99 sometimes succeeds smartly... and sometimes shanks off-course. The latest in EA Sports' PGA Tour Golf series unveils slick features, innovative controls, and entertaining gameplay--if you can put up with the slow frame rate and disappointing graphics.
It's Not in the Game
Starting with the bad news, EA Sports continues to struggle with one of the most basic elements of video games: the frame rate. Like Triple Play '99 and NHL '99 before it. Tigers frame rate is just plain stuttery and slow. Fortunately, as with NHL '99. it doesn't interfere catastrophically, but it's very disappointing to see EA Sports continuing to neglect such a key element of gaming.
Tiger gets a lot right, however, starting with the sweet lineup of features. Golfers can play as one of eight PGA pros like Mark O'Meara, Craig Stadler, and, of course, Tiger Woods (unfortunately, there's no create-a-golfer option, which bites). Along with standard modes like Stroke. Skins, and Fourball, players can get into season action with the awesome Tour mode, which mimics a mini PGA season on the game's five courses.
The controls also rock. A new analog swing makes the game less about timing and calculation and more about sweet touch as you waggle the joystick on the Dual Shock controller crank the ball. Of course, the standard three-dick swing returns, accompanied by cool extras like peeking down the course in real time to aim your shot or adding draw, fade, backspin, or topspin to your shot as the ball whistles through the air.
At the Tee
Graphically, Tiger sports fluid animations and killer camera angles that follow the ball off the tee and down the fairway in real time. Unfortunately, the effects spoiled by bad pixelization throughout the courses and a weird shimmer around the golfers as they move.
As for sounds, Tigers better with everything but the background noises turned off. There's no commentator to call the action, and who wants to listen to weak hip-hop tunes while golfing?
Hot Shots Still Tops
If you're willing to tolerate Tigers sizable flaws,.the tight controls and cool features combine for gripping gameplay, especially at the challenging Pro level. But unless :playing with the pros really matters, to you, Hot Shots Golf remains at the top of the PlayStation leaderboard.
ProTips:
If you go for the "on Are" shot (hit max power and accuracy dead-on on the swing meter), be sure you've aimed your shot correctly to allow for the extra distance, or you'll end up In the rough.
When you earn the Tiger Charge with three subpar holes, take advantage of the momen turn boost by going for riskier shots.
When putting, use the cross-hatched lines in the turf to line up the target.
Graphics
Tigers graphics are really uneven: Awesome camera work trails the ball in real time, but the sputtering frame rate spoils the effect. The golfers'.animations sizzle, but their poorly defined shapes shimmer oddly, and the scenery's plagued with too much pixelization.
Sound
Tigers sounds stumble, too. The lame hip-hop beats are totally unsuited to golf, and the lack of a commentator is a real downer. If you turn it all off and just listen to the background effects, though, you'll have a pleasant day on the course.
Control
Solid controls shine through the game's other flaws to. make Tiger a fun round of golf. The standard three-click swings work smoothly, and the new analog swing (which uses the joysticks on the Dual Shock controller) offers an intriguing yet refreshing challenge.
Fun Factor
While Hot Shots Golf still reigns supreme on the PlayStation, Tiger Woods '99 is a solid second choice, especially if you like playing with the PGA pros. Its strong features and controls help the gameplay shine through the lousy frame rate and flawed graphics and sounds.
The most over-hyped golfer in history is swinging his way onto the PlayStation, and he's bringing his legendary game and fist-pumping celebrations with him. Tiger Woods '99 enables you to play as or against 15 of the top PGA professionals (Tiger, Mark O'Meara, Brad Faxon, and others) on five celebrated courses, including TPC at Sawgrass and at Summerlin. You can practice hitting 300-yard tee-shots on the driving range or even perfect your short game on the chipping and putting greens. The 3D engine promises real-time moving cameras that'll tail the ball in flight and galleries of spectators who will either follow and cheer you when you're on a hot streak, or disappear as you fall behind. If Tiger Woods '99 can play as well as its endorser, it might just be the golf game of the year.
Similar Games
Viewing games 1 to 4