Trader Life Simulator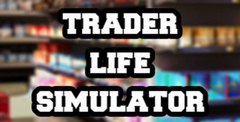 Click the "Install Game" button to initiate the free file download and get compact download launcher. Locate the executable file in your local folder and begin the launcher to install your desired game.
Life as a trader can be a pretty fun experience if you manage to find the right niche. However, in popular release Trader Life Simulator you will soon realise that finding that niche can be a touch harder than it might appear on the surface. This popular release in 2021 has received a lot of positive attention, with developer DNA Army Gaming having been acclaimed for the sheer amount of love and passion they have put into the project. How good, though, is Trader Life Simulator? Is it something you buy at full-price, or from the bargain bin?
Build your own little commerce empire
In this game, you have a pretty simple premise – build a business and succeed. You can build your own supermarket and then work towards developing the supermarket to be the best that it can be.
Pick from over 100 products that your shop can sell, manage the economics behind supply and demand, and then invest in other companies as your profits roll in.
Spend time developing relationships with others, formulate trade agreements, and basically build the kind of pipeline that allows your shop to thrive whilst you get your feet up on the table and benefit from the profits. It would be fair to say, then, that Trader Life Simulator has a pretty solid idea. Better yet, the concept is carried off excellently by the developers, and it leaves you with a very satisfying indie title that can be great for whittling away the hours.
Solid trading game with some limited issues
Of course, given the size of the team that developed Trader Life Simulator there are a few issues you need to be aware of. For one, it is very hard to work with the money system – it can take a lot of work to get to grips with the in-game economy. At first, this can make starting up a real slog (as it would be in real life), where you need to be very smart. Even a small mistake can leave you entirely on the backfoot for many hours to come.
There are some issues, too, with how the game handles. For one, the car handling is wonky at best. It's also hard to get around sometimes due to just how floaty everything can feel. After a while, though, you start to get used to these intriguing little quirks and thus you might find it possible to get to grips its movement.
8
The main issue probably comes down to a lack of content once you get your store up and running and succeeding. Fill in the trade and make sure you have a pipeline in place, and you soon run out of things to do. For those who love commerce-minded games, though, Trader Life Simulator is probably worth a few days of your time.
Pros:
Intriguing trade simulator with some important realism features
Enjoyable and engaging for those who live the art of trading
Cons:
Movement can feel flighty and hard to get to grips with at times
Hard to keep things going and remaining fresh after a few days playing
Download Trader Life Simulator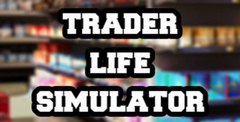 System requirements:
PC compatible
Operating systems: Windows 10/Windows 8/Windows 7/2000/Vista/WinXP
Game Reviews
Admittedly, when I first heard of Trader Life Simulator, I thought this would be a title revolving around the day-to-day duties of a Wall Street floor trader. However, we're going old school when referring to that term, where a trader is a person that runs a shop. Yes, we've seen this kind of game before in multiple formats, but this one dives into the traditional brick-and-mortar store life.
Trader Life Simulator puts you into the first-person perspective of owning and managing a supermarket, incorporating all aspects of operations from simple stocking to the complex economics of survival. But as mentioned above, there are plenty of themed titles to compete with the game. What will make Trader Life Simulator so special?
A Trader's Life for Me
Like many of these simulators, Trader Life Simulator aims to angle a profound realism into the game's mechanics. In this case, it's all about the realities of running a supermarket, albeit more in a traditional sense than found today. You can start the game with two different environments, the city or the village, each bringing unique trading challenges.
So what makes Trader Life Simulator interesting? One of the primary immersion factors is that the entire game takes place in the first person, where there's a more direct approach to gameplay. Players will have to interact with the environment up close to complete their tasks, starting from building up an empty shop. You'll order in inventory, stock up, and expand according to customer demands to be the best trader in the land.
There's even the incorporation of logistics. Players will drive around town sourcing goods, drop cash off at the bank, and face the rollercoaster of challenges in a traditional retail environment, despite some of the clunkiness in controls and interactions. There's an aura of calmness about Trader Life Simulator.
Retail can be stressful, but one of the intriguing factors surrounding the game is that you can play at your own pace. It may not provide the urgent challenge some players seek. Still, something is entertaining about building a shop to stand the test of time and seeing your bank account grow so you can afford some of life's luxuries. It's a pleasant world to de-stress and tests your might as a supermarket sales guru.
It's All Too Real
There are so many simulators with similar mechanics on the market that it's tough to decide which would tickle your fancy. And there aren't many outstanding features that would force players to pick Trader Life Simulator over Bakery Shop Simulator or Pawn Shop Simulator. However, there's likely little regret if you choose this title over others.
7
Trader Life Simulator is a pleasant experience, ensuring players enjoy gameplay without too much strain. It's easy to learn, there's diverse gameplay, and bugs are minimal. Any simulation fan would agree that it's worth a few hours of your time, but again, it's not going to be a must-have on the life sim genre canon.
Round-Up - Pros & Cons
Pros:
A well-designed simulator for running a supermarket
Diversified gameplay keeps players intrigued
Two different environments to run shops
Cons:
The interaction controls can be clunky
No fundamental standout features compared to other retail simulators
Saving mechanics are a bit annoying
Similar Games
Viewing games 1 to 8