Farm&Fix 2020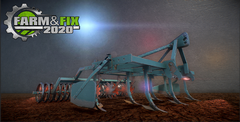 Download Farm and Fix 2020 and experience the life of a modern farmer in this immersive simulation game. Repair and maintain your farm, cultivate crops, and tend to livestock as you strive to build a successful agricultural business. Are you ready to get your hands dirty? Play now!
Farming games have been in vogue for decades now. Some offer a relaxed cartoon vibe where you can simply grow your crop, shoot the breeze with townsfolk and grow a thriving community. Whereas the others are hyper realistic interpretations of real-world farming and the various trials and tribulations of a worker in this profession. Complete with combine harvesters and John Deere tractors in abundance. Farm and Fix 2020 is a game that falls into the latter category and aims to offer a farming experience that is true to reality.
This game plays like other farming simulator games such as the Farming Simulator series, Farmer's Dynasty and Farm Together. Plus, it also has similarities to games like Harvest Moon, Stardew Valley and My Time At Portia. This game wants to be an authentic farming experience for all but does it bring in an impressive yield? We find out in our preview of Farm and Fix 2020.
An Honest Livin'
Now, just to clarify, this game is still yet to hit the shelves at time of writing, so we don't have the whole story here. However, from what we have seen, we think that the Farming Simulator series should be worried. While the FS team didn't produce a 2020 annual release due to next gen hardware, the Farm and Fix team have been hard at work and have come up with a product that just might usurp FS as the top farming simulator on the market.
Firstly, the graphics on offer here are simply staggering. The visual quality is sublime to the point that you think you are watching footage of a farmer going about their day. The lighting, the character models, the environment and the vehicle models are all perfectly sculpted to represent true to life assets of a farm and this can only mean that Farm and Fix will be one of the most immersive experiences of this nature yet.
Then in terms of gameplay, we can gather from the trailer that this will involve farming as you would imagine. However, you will also have the ability to build and fix up farms, making this more of a retail, farm flipping kind of experience. It adds a new layer of intrigue to a rather tired formula and we are excited to see how this format looks in practice.
The Verdict
Overall, we would say that Farm and Fix 2020 is a game that has all the potential to galvanise a rather predictable gaming genre. We acknowledge that it is a very niche area of gaming and won't be for everyone.
7
However, we reckon the building and retail aspects of this game could be enough to draw a few more casual gamers. So, if you like games of this nature or want something new to try, we would say keep this one on your radar.
Pros:
The visuals on offer are staggeringly realistic
The building and retail aspects will add a new layer to the format
Cons:
The game is aimed at a very niche audience and due to this, wont be for everyone
Download Farm&Fix 2020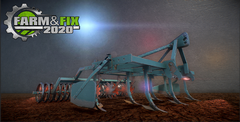 System requirements:
PC compatible
Operating systems: Windows 10/Windows 8/Windows 7/2000/Vista/WinXP
See Also
Viewing games 1 to 8