Warhammer 40,000: Dawn of War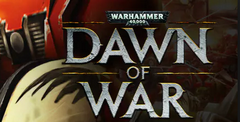 As Gamers we expect certain things from our game developers. Of id Software we ask only that it provides us with a new 3D engine every five years or so, one so advanced it will power another half-decade of first-person action. Of LucasArts we vainly hope that at least one of the trio of Star Wars games in a particular year will fulfil our Force-fed fantasies, while from the latest no-name Eastern European codeshop we expect not very much at all.
From Relic, creator of the wondrously epic Homeworld and the indulgent, whacked-out Impossible Creatures, we've come to expect games of distinction and individuality, and although Dawn Of War has a few problems, lack of identity isn't one of them. Against the morass of other RTS titles that demand your attention, Dawn Of War certainly stands out.
Partly, the game's unique appeal comes from the Warhammer 40,000 setting, which to the uninitiated could be likened to a kind of Lord Of The Rings in space, only darker and far more brutal. It's these qualities that Relic has endeavoured to capture, rather than the impassive atmosphere of the more static tabletop Warhammer 40K wargame. Warhammer fans will not be disappointed however, for in distilling the comprehensive 40K rule system, Dawn Of War achieves a potent and frantic level of gameplay.
Back To Basics
Aside from the graphics - more on which later - Dawn Of War doesn't stray too far from established RTS precepts. Each level invariably begins with a handful of units stationed around your stronghold and a clear aim to harvest enough resources to fund the future conflict. However, instead of wood, gold or oil, the currency of import is Requisition -capture certain Strategic Points or mission objectives and the Requisition rate goes up. If the enemy takes back these locations, it decreases and your ability to bring expensive units to the battlefield is somewhat diminished. Additionally you have limits on how many units you can field, either squads or support vehicles, which can be increased by upgrading certain buildings and conducting research. To all intents and purposes however, it's the same game mechanic that drove C&C over a decade ago: build a base, collect a mass of troops and dash them against the enemy until victorious. Load next level, repeat.
Tartarus Sauce
While there are four playable races for Skirmish and multiplayer games, only the Space Marines are available during the single-player campaign. Here, you play the commander of the renowned Blood Ravens, sent to the planet Tartarus to put a stop to an Ork invasion. As it turns out, the swarming Orks are just a diversion and over the course of the first few missions, it's revealed that the real enemy are the demonic forces of Chaos.
As a simple mechanic to dripfeed new units to you the storyline works well, even if it is a bit obvious and heavy-handed. The voices and dialogue are excellent however, with the Orks sporting the nowstandard English thug accent, while the Marine vocals are of the booming thou art' variety -all in keeping with the fantasy setting. The cut-scenes, which show off the 3D engine s capacity to render impressive close-up detail (for an RTS at least) also help propel the game along at a healthy pace, but the problem with the single-player game is the gameplay itself.
Here's the rub: aside from a couple of early missions where the enemy is on the offensive, each mission and the means to complete it are invariably the same as the last. While there is an impressive variety of units on offer and a great deal of tactical flexibility required to beat off human enemies, the Al-assisted foes are not so subtle - wall yourself in, build up insane levels of resources and then burst out and wipe away all before you in a staged advance. Works every time.
Candid Camera
Ultimately, it's the visuals rather than the strategy that will endear Warhammer to the interactive generation, and it isn't stretching things to proclaim Dawn Of War one of the best-looking strategy games we've ever played. High detail models of Space Marines, Chaos Demons, Ork Killa Kans and Eldar Farseers stride around in all their high-polygon finery. Every unit looks spot-on, but it's the animation that really cherries the cake. Take the lumbering Dreadnoughts for example, which will pick up an enemy troop, impale and either slice the body in two, or whisk it until it's drained of blood and throw the corpse aside.
Many strategy games offer the option to zoom in on the action, with little or no benefit. Here the camera is an essential aid in appreciating the carnage Relic has choreographed. In one memorable encounter, a unit of Space Marines was being cut to pieces by Eldar Banshees (close-combat specialists) and as the last Marine fell to his knees, his victor lowered her sword, pulled out a Shuriken Pistol and submitted the last rites. It was a wonderfully dramatic moment and just one of many in a battle that can easily be missed as the camera zooms across the map.
Total Waaagh
Without wanting to appear shallow, Dawn Of War is initially a game that's far more impressive to look at than it is to play. The scripted Al in the single-player modes doesn't hold much of a challenge on the regular difficulty setting, while the unchanging mission objectives let down the variety of foes and units on offer. Perhaps if aspects like elevation, changing weather conditions or buildings you could occupy had been incorporated, it might have added another layer of strategy to the game.
That said, what Dawn Of War does it does very well: it's fast, simple and glorious to look at, with an aesthetic to the gameplay that follows in the grand tradition of C&C, Warcraft and StarCraft. Were you a fan of those games it's difficult to envisage you being disappointed, certainly if you intend to play the game online.
If, however, you prefer a more considered approach to tactics and strategy and a singleplayer campaign that will take more than a couple of days to exhaust, then perhaps it would be best to try something else. Dawn Of War is distinct and individual, it looks amazing, but it's no Total War.
Download Warhammer 40,000: Dawn of War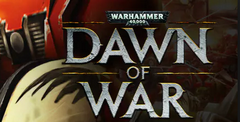 System requirements:
PC compatible
Operating systems: Windows 10/Windows 8/Windows 7/2000/Vista/WinXP
Game Reviews
The Latest edition of the Warhammer 40,000 rulebook is a weighty tome; 288 pages of background info, racial statistics, to-hit modifiers and all manner of vehicle, weapon and spell stats - enough to send those unfamiliar with Games Workshop's tabletop battle system running for the hills.
Of course, this excludes the small library of supplementary Codex manuals -one each for the main combatants, the many dozens of novels and, of course, the monthly hot-fixes applied via the ever-present White Dwarf magazine. It wouldn't be stretching the truth to say that, apart from Tolkien's, George Lucas's and our own, few worlds have been so mapped, written about and fought over as those which play host to humanity's struggle in the 41st millennium.
Yet as you may already be aware, distilling this wealth of information into something more interactive has been a thankless task for a number of games developers over the years; most, if not all of the more memorable efforts being direct translations of the tabletop hobby. But these titles have never fully realised the universe in which they're set. This is because, in faithfully minimising the exhaustive rules for a smaller playing field, they've generally ended up as convenient revisions of the real thing, their exclusive benefit being that you don't have to invest time and money in a lead army to play them.
Theatre Of Blood
In transposing the strategy of Warhammer 40,000 from tabletop to desktop, Dawn Of War developer Relic has approached things differently and focused more on the iconic imagery that punctuates the rulebook, rather than the rules themselves.
Moving from a turn-based model to the antithesis of real-time - meaning whole chapters have been ruthlessly culled - is a brave step sure to irk the purists. However, after we finally managed to distract ourselves from painting the miniature figures to actually play Dawn Of War, we reckon even the most battle-hardened tabletop trialists would be lying if they weren't impressed by the visuals. Here, for the first time we get to witness the true brutality of the 40K universe.
You gawp in wonder at squads of Space Marines unloading their bolters into ranks of advancing Orks, dreadnoughts with power saws slicing through crowds of melee troops and whirlwind missile launchers peppering the landscape. Before, you needed dice and a tape measure to appreciate the camage.
However, not only is Dawn Of War the most visually impressive game ever with the Warhammer moniker, it's certainly the most violent. Indeed, few first-person shooters offer as much in-yer-face gore -when you slow down the action, it's almost balletic as arteries are opened, drenching the screen in arcs of claret.
Marine Biology
In terms of the gameplay on offer, Dawn Of War isn't quite as distinctive. Resource management is kept to a minimum, with points earned through capturing and holding victory locations. The more locations you hold, the quicker your points rack up and the more units and structures you can bring into play. That aside, the mechanics of the game will be familiar if you've played a RTS in the last few years. Warcraft III is the closest in scope and setting, as upgrades to current units and ever more devastating units become available as your field base expands with new and upgraded buildings.
I Wanna Be A Marine
But of course, this being Warhammer, it's the units themselves rather the manner in which they come into play that's most important - and we have to say that we've rarely enjoyed such a diverse spread.
Of course, the Space Marines are the main attraction (being the stars of the single-player campaign). Then there are the regular troops that can be upgraded to include devastator missile launchers, plasma rifles, heavy bolters and flamers; as well as the close-combat assault marines with their jetpacks that enable troops to leapfrog from the rear to get straight into the action.
Later on come the awe-inspiring Terminators - lumbering marines in power armour that can decimate anything that gets in their way. Then there are the vehicles: dreadnoughts, rhino APCs, land speeders, whirlwinds and predator tanks - all as detailed as if they'd come straight from a glass display cabinet.
Relic certainly hasn't skimped on the three extra races that become playable in the multiplayer game either, with the Ork, Eldar and Chaos forces each as detailed and offering the same depth in unit variety as the headlining act. The crude machinery of the Ork hordes is perfectly at odds with the sleek gravity-defying tanks and striding dreadnaughts of the Eldar forces. Then there are the sinister and murderous Chaos legions, spearheaded by cannon fodder Cultists and supported by Demons and Space Marines now twisted and turned against the Imperium.
Who's The Greatest?
It's difficult to single out any of the four races as having an obvious advantage on the field of battle. While the Eldar have the speed and the Imperials excel at close combat, each side has the ability to counter whatever the enemy is able to side against them. On paper, the Orks are weakest, a disadvantage made up for by their versatility and the numerical advantages they bring to bear. Meanwhile, the Chaos forces, though lacking the close-combat punch of the Space Marines, can at least callously employ Cultists to act as a buffer while they ready their awesome array of long-range firepower.
Although the preview build played here only features a handful of nearcomplete single-player missions, there are hints that Relic has a number of surprises in store. The full storyline is still under wraps, but there are a number of units available in the solo campaign that won't be allowed into the multiplayer arena - squads of Imperial Guards being just one example we spotted.
Currently, the Al in places appears simplistic, inconsistently so - a clear indication that this aspect is still being worked on. However, it's disappointing that you can't occupy any buildings, cover instead coming from craters and trees. The recent Ground Control II handled this aspect brilliantly, allowing you to select which direction you wanted your troops to cover. It's a system Relic could have borrowed from to add an extra dimension to the combat.
That said, the impact and pace of Dawn Of War is far more immediate and frenetic. The finished version promises to be a fast-paced, ultra-violent RTS, sure to widen the appeal of what is perhaps one of the most underrated science fiction realms ever conceived. Having played it extensively online and off, we're confident that Dawn Of War is going to be the first Warhammer game to truly capture the essence of what has made the tabletop hobby such a global success. To do so without referring to the extensive ruleset that's taken over 15 years to develop will be quite some achievement.
Paint Your Wagons
The Pink Marines Are Ready And Waiting
As lifelong Games Workshop devotees will know, the battles waged across bedroom carpets are only part of the enjoyment of the Warhammer battle experience. Indeed, you only have to brush past your local GW shop or flick through the pages of the latest White Dwarf magazine to see how much effort is put into making each unit presentable - indeed, for some people, more time is spent painting and building than fighting.
Thankfully, the colouring-in process is much simpler in Dawn Of War, you simply pick a few shades and in seconds you have a ready-painted army. What's more, you can also import your own banners - so if you can think of something suitable with which to adorn my pink Space Marines, feel free to drop me a line.
Here's A Real bargain if you're a Command & Conquer-style RTS fan, hankering for some good-looking, strategically untaxing mayhem.
Aged 18 months, Dawn Of War is still a looker, with its superbly detailed animations, excellent dialogue and voice-acting bringing the Warhammer universe to life like never before.
The gaineplay isn't quite so impressive, sticking to build and rush conventions, with only the territory-based resource gathering varying in any major way from the C&C mechanics of yore. Still, the pacey action and some beautifully imagined units make the repetition all worth while, as does the plot, which morphs from tepid to scorching in the first few levels. Dawn Of War is by no means a fan-boy game, and if you've never even heard of Warhammer 40,000 - more than possible if you didn't fritter away your youth loitering around Games Workshop - you'll still find it more of a blast than a satchel full of TNT.
Similar Games
Viewing games 1 to 5