Weedcraft INC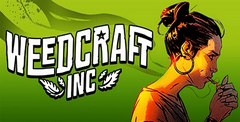 Click the "Install Game" button to initiate the free file download and get compact download launcher. Locate the executable file in your local folder and begin the launcher to install your desired game.
If you like empire building games such as Roller Coaster Tycoon, but want something a bit more serious, Weedcraft Inc is an interesting game that may catch your eye. This 2019 app developed by Devolver Digital.
This steam game is a relaxing, play at your own pace sort of game. You buy cannabis plants, care for them, and sell them.
A rapidly expanding world
As your ability to grow weed grows, the opportunities expand before you. You can expand to different cities, research growing cannabis and learning about how to do it better, avoid the cops, and generally live the life of a grower.
Despite being fairly relaxed, Weedcraft Inc also has a surprising level of detail, and requires a lot of attention to detail. Soil, humidity, and lighting can all play a part in the quality of your weed—but it's not just quality you have to think about. You also need to pay attention to your relationship with employees and even other drug dealers, because if you don't they can end up snitching you to the police.
Neutral stance on drugs
One of the more interesting aspects of the game is the "world view" on cannabis in this game. Most of the game focuses on illegally growing marijuana, so essentially you're always on the bad side of the law. The chief of police in this game is out to stop you, but many of the police on the force have extremely variable views on weed. Some may simply ask you not to do anything too noticeable, others are more black and white. Maintaining a balance with the police can be just as important as relationships in other aspects of the game. Your competitors are also surprisingly human, with their own backstories and reasons for doing what they do. The result is a very balanced portrait of drugs, and the struggles associated with them.
Named characters flesh out the storyline
One final unique aspect to this game is that you aren't playing a faceless, nameless character such as you might in other resource based games. Instead, you have a character with a backstory. The tutorial character for example is a young man whose father dies, and he is forced to turn to weed in order to care for his brother.
In another scenario you're playing a middle aged man who has done hard time for selling weed, and after getting out of jail can't get a legal job. No one wants to hire an ex-convict, so he has no other choice but to once again turn to weed. This truly adds another level to the game. It fleshes out the reasons people often turn to drugs, and brings a little bit of thought and detail to the game.
This is a great game that handles a difficult subject very well. It's important to look at the social reasons behind drugs, investigate both the legal and illegal side, and truly understand why these things happen in real life.
7
The game is a fun way to explore an often taboo subject, but is also just plain fun all on its own. It's one major con is that it can be very slow, especially initially, as you wait for plants to grow.
Pros
Relaxed gameplay
Interesting storyline
Cons
Game play can be slow
May make some uncomfortable
Download Weedcraft INC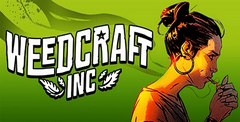 System requirements:
PC compatible
Operating systems: Windows 10/Windows 8/Windows 7/2000/Vista/WinXP
Similar Games
Viewing games 1 to 8