Where in the World is Carmen Sandiego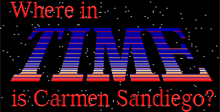 Click the "Install Game" button to initiate the file download and get compact download launcher. Locate the executable file in your local folder and begin the launcher to install your desired game.
Manufacturer: Sega
Machine: Sega Master System
From the casebook of Clay "Red Eye" Walnum, Private Investigator:
At 5:00 a.m., Friday morning, July 29, I sat in my dingy office, laying waste to a breakfast of cold pepperoni pizza and hot chocolate, when my computer's message light flashed. I leaped from my chair, spilling hot chocolate on the latest issue of Detective's Monthly, and grasped the printed sheet that was even now ejecting from the printer.
Sandiego's gang had been at it again. According to the message, a female suspect had been seen in Moroni, Comoros, in possession of a sultan's stolen perfume bottle.
This was my chance for the big time! Nailing one of Carmen Sandiego's people would make me front-page news. Shoving the pizza off my desk and onto the floor, I located my phone and called Transoceanic Airways, making a reservation on the first flight to Comoros.
Even though Africa was stiflingly hot, I didn't waste time. As soon as I touched down at Moroni Airport, I made my way into the city to question the witnesses. My first stop was the embassy, where I was informed by the ambassador that he had seen the suspect leave in a convertible. She had said something about bringing a message to the president.
I made notes and moved on to the library. A mousey woman informed me that the suspect, carrying a tennis racket, had checked out books on the Etruscans. Flipping through my Detective's Almanac, I quickly determined that the Etruscans had come from Italy. Further, Italy's government was a republic with a president. Ah, hah! Rome!
Before getting back to the airport, I found a phone booth and dialed up my crime computer. I already knew the suspect was female, drove a convertible and liked tennis. That might be enough evidence to get me an arrest warrant. To my disappointment, I was informed that two people fit the description I had so far: Carmen Sandiego and Lady Agatha. Denied a warrant, I continued on to the airport.
Immediately upon landing in Rome, I was the victim of a vicious attack by a thug with a pistol. I escaped with both my health and the certain conviction that I was indeed on the right track.
After recovering from a bout of jangled nerves (guns, especially when fired in my direction, have that effect upon me), I visited the palace. A guard then informed me that the woman I was pursuing had left in a vehicle flying a golden-lion flag. Rats! I had missed her again. No matter, I was getting closer, especially after learning from the librarian that my suspect had checked out all the books on Veddah artifacts. That knowledge, coupled with my trusty Detective's Almanac (which has two pages of full-color flags), pointed me to Sri Lanka.
In Sri Lanka I learned that the suspect, who had been wearing a fancy ring, had been especially curious about the ancient Franks. She also claimed she was a textile buyer interested in fashions. A quick check in my Detective's Almanac and I knew she was on her way to Paris, France.
In a state of acute anticipation, I dialed up the crime computer and added the ring to the suspect's description. Clutching an arrest warrant for Lady Agatha in my sweaty paw, I climbed aboard a France-bound jet.
I knew immediately my chase was near its end. The moment I disembarked from the jet, I was caught up in a whirlwind of action. Lady Agatha had lain in wait for me, hoping to gun me into history and make good her escape. Of course, she was no match for me. Soon she was in the custody of the local police.
"What are you doing?"
The sound of my wife's voice yanked me back to the real world. France vanished, replaced by the familiar surroundings of my living room.
"I'm playing a game called Where in the World Is Carmen Sandiego", I explained. "It's pretty neat. Not only is it fun, but it's also educational". She picked up the box. "An educational video game? Geez, don't tell the kids". As if on cue, the kids tumbled into the room, grabbed the controls and got to work solving the Sandiego gang's next caper. I sat back, grinning, knowing that the kids were about to learn a great deal about the world.
"Yeah", I whispered, winking. "Don't tell the kids".
Download Where in the World is Carmen Sandiego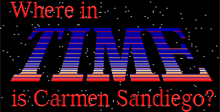 System requirements:
PC compatible
Operating systems: Windows 10/Windows 8/Windows 7/2000/Vista/WinXP
Game modes: Single game mode
Player controls:
Up, Down, Left, Right - Arrow keys
Start - Enter (Pause, Menu select, Skip intro, Inventory)
"A" Gamepad button - Ctrl (usually Jump or Change weapon)
"B" button - Space (Jump, Fire, Menu select)
"C" button - Left Shift (Item select)
Use the F12 key to toggle mouse capture / release when using the mouse as a controller.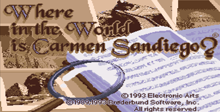 System requirements:
PC compatible
Operating systems: Windows 10/Windows 8/Windows 7/2000/Vista/WinXP
Pentium II (or equivalent) 266MHz (500MHz recommended), RAM: 64MB (128MB recommended), DirectX v8.0a or later must be installed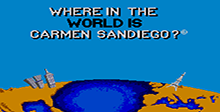 System requirements:
PC compatible
Operating systems: Windows 10/Windows 8/Windows 7/2000/Vista/WinXP
Game Reviews
You've been around the world with Carmen on the Genesis, now you can travel to exotic places on the SNES. Where in the World is exactly like its PC and Genesis predecessors. You jet clues from three different sources, trying to glean enough information to file a Warrant and convict a suspect so that you can climb up the detective ladder. You must also trail your suspect around the world. The catch: You only have a set amount of time.
The great graphics include lots of little entertaining touches, considering the non-action game play. As for sound and music, they're adequate, if minimal.
If you need a little geography lesson, Carmen Sandiego will put you on the right track. That's edutainment!
Sleuths of the Genesis persuasion may have assumed that their stalking days were over when they successfully tracked Carmen Sandiego through time. Not! Carmen's resurfaced! This time she's going to lead detective wannabees on a wild chase in her latest globetrotting crime spree, Where in the World Is Carmen Sandiego?
Join the Jet Set
Electronic Arts first intro'd Carmen to Genesis fans with Where in Time Is Ca men Sandiego? Where in the World is based on another title in the same popular PC games series. Although the games are educational (don't tell), they pack enough punch to make learning fun.
In Where in Time, amateur detectives searched across time and space to track down Carmen, or one of her band of roving V.I.L.E. henchmen. Your task in Where in the World is the same, but your sleuthing is confined to modern times. You search the Earth's nooks and crannies for the elusive culprit (psst... and learn about geography in the process).
When you reach each geographical location, you view a photo-quality digitized screen of the locale, and search three different spots for clues. Clues help you solve the case in two different ways. First off, they enable you to track your globetrotting suspects as they wander across the planet. With a little help from the World Almanac and the New American Desk Encyclopedia, you can figure out where in the world the suspect has gone and head there yourself via a global map and your handy jet.
ProTip: You must track the thief within a particular time frame. As you jet set across the planet, remember where you're coming from. If you go to the wrong location, you'll need to quickly backtrack.
Clues also help you build an accurate description of the suspect (Sex, Eye Color, Hair Color, Hobby, Feature, and Vehicle). When you feel you have enough info to ID the villain, feed the data into your Acme Comlink computer. The computer searches its dossiers and issues a Warrant for the arrest of the subject. You can't nab the thief unless you have the correct Warrant.
Don't try to get all five pieces of the Warrant Data. Three is usually enough to nab the correct suspect.
Once you catch up with Carmen or a member of her crafty gang, the local police will arrest the culprit if you've done your job and you have the right Warrant. As you solve more cases, you earn promotions from the Acme Detective agency and take on more complicated work. You also receive a security code that enables you to continue sleuthing at your new advanced rank.
Déjà Vu
Where in the World features a similar interface to Where in Time. However, it's a little more complicated, and somehow not as satisfying as Where in Time's nifty Time Machine and wacky historical happenings. The game play, though, is essentially the same. While neither of Carmen's products are gonna satisfy gamers who yearn for action, both are a great way to wile away a few hours, exercise a few brain cells, and, sshhhh, maybe even learn a few things in the process.
Sega Genesis/Mega Drive Screenshots
SNES/Super Nintendo/Super Famicom Screenshots
Sega Master System Screenshots
Other Games by Brøderbund