Zompiercer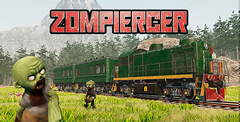 In another zombie apocalypse story, Zompiecer is a trip by train throughout the chaos of the end of the world. This is a new concept in a universe full of various options. This is a full scenario of guns, explosions, wagons, and a lot of brain thirsty zombies. Still in development, but it is a game with a lot of interesting possibilities in the future. Let´s check out some more about this non-dead train travel gaming experience.
About the game
This is a first-person shooter, where you start in the middle of your sleep to find that the world you know is gone. Hordes of zombies have invaded your place and now you have to fight your way to survive. To do that, you have to take shelter in a train wagon, and slowly turn it to a railed mobile fortress to survive the waves of zombies that come after you. The train wagons will become some sort of wheeled storehouse for all the objects you can pick up in the story. Also, you can find some tools and equipment for the road and keep the wagon running. In this first phase, you can find four scenarios and six-seven hours of zombie killing. More scenarios gonna be added the next year. As an Early Access version, Zompiercer still can't be totally analyzed. The developers are getting some feedback from the first users about enemies, train improvements, and gameplay. Still, there are some pesky bugs through the game, but the developers DDDimanN, are doing a lot of work to fix it.
What´s new
Although the zombie apocalypse world of videogame offers a very big catalog of options, this is new and fresh for the fans of the zombie survival stories. It´s not a Sandbox like Dead Island or a Survival like Resident Evil and it's far from that in various aspects, but it is an innovative way to tell this story. If you expect a close to real-life graphics and gore, this is not your game. However, it can get some pretty nice screams out of you.
Review
It isn't a state of the art game, but you can get some hours of fun. The bad news is there are a ton of bugs and glitches all around the game. Some times ever that will save your life in the gameplay. Other times it would be nothing but cold dead pain. The good news is the game still being developed ante getting some serious work to fix it. Anyway, if you are looking for zombies and fun, this can be your choice.
Graphics. Not the very best animations, pretty bad on some occasions. The enemy modeling is pretty much the same for all the zombies. That's a little boring, but a house hidden fella can get you out in the wheels in no time, no matter the face. Anyway, some views of the countryside are beautiful, lacks a lot of details. Definitely, not the best point of Zompiercer.
Gameplay. Although, the combat mechanics are pretty nice and instinctive. You're going to have to stretch your resources, and the looting is essential to create more weapons and upgrades. That's a good point because you can explore more of the scenarios, getting a much bigger experience of the story. And that means a whole lot more of fighting enemies.
Sound. Our enemies don't have a variated sounds for us other than guttural moans, but the soundtrack of the game get you in the mood. Still, not the very best of the game.
Download Zompiercer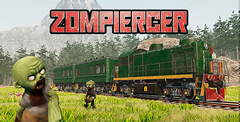 System requirements:
PC compatible
Operating systems: Windows 10/Windows 8/Windows 7/2000/Vista/WinXP
Similar Games
Viewing games 1 to 8