Bonkers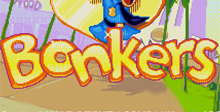 Assigned to the Toon Town beat, Bonkers met Lucky Piquet, a human officer who not only became his partner, but his best friend as well. Together they worked hard to keep the peace until an unidentified thief made off with three priceless treasures from the Toon Town Museum: the Sorcerer's Hat, the Mermaid's Voice, and the Magic Lamp.
Now it's up to you to help Bonkers T. Bobcat retrieve these stolen items from the mysterious evil villain. Bonkers will traverse various stages such as a haunted mansion, some Hollywood studios, downtown streets, and an ocean liner. In order to defeat his enemies, Bonkers must bounce off the top of them or throw a bomb at them. It's cruel, but they're bad guys. There are plenty of other surprises waiting to be uncovered!
THE GOOD
Great graphics all over the game as well as excellent sound effects. Most of all, the game play is good.
THE BAD
The only bad thing about this game is that it is a bit on the easy side. It needed more challenges.
THE UGLY
Check out the Boss of the Ocean Liner stage. Boy, he is really ugly!
MANUFACTURER - CAPCOM
DIFFICULTY - MODERATE
THEME - ACTION
NUMBER OF PLAYERS - 1
Game Reviews
Disney's 'toon star, Bonkers, headlines this game designed especially for beginners. A cop on the Toontown beat, Bonkers tracks down a thief who's nabbed three priceless treasures from the Toontown Museum.
ProTip: To defeat the first boss, stock up on bombs, then blast him whenever he appears.
The game play and controls couldn't be easier. As Bonkers, players hop-n-bop or toss bombs at enemies. In every stage, Bonkers can grab shields and mystery cash bags to up his bomb count. The challenge increases slightly when you face the end-stage bosses, but it's easy to figure out their patterns and do 'em in.
Capcom's put in the usual beautiful Disney graphics and standard platform tunes. This game certainly won't send sweat trickling down the brows of intermediate or advanced gamers, but it's a nice first challenge for novice players.
Sega Genesis/Mega Drive Screenshots
SNES/Super Nintendo/Super Famicom Screenshots