Book of Yog Idle RPG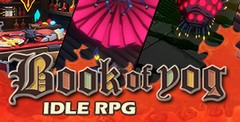 Click the "Install Game" button to initiate the free file download and get compact download launcher. Locate the executable file in your local folder and begin the launcher to install your desired game.
I know that when you see the free to play tag on Book of Yog Idle RPG it may set alarm bells ringing, but this is a game that I think shows a great deal of promise. There is no release date for when they expect the game to be finished, but from what they have said, this is going to be kind of a "service" that will receive frequent updates, around once every three weeks they are saying. It has a cool fantasy setting and the whole idea of an idle RPG is one that I do find rather interesting.
The Blade Pioneers
Ok, so full disclosure here people, I have been following this game for a while now and I am still no closer to figuring out what exactly is going on with Book of Yog Idle RPG and its story. What I do know is that we are the commander of a group that is called The Blade Pioneers and new members will be added as we progress through the game. The enemies are part of this force that is called The Black Tide and we need to make sure that the St.Nigar Great Wall is protected from them.
Play The Game, Watch The Show
What really drew me to this game was the art. This looks amazing and it has a cell-shaded style to the graphics so it looks like a Saturday morning cartoon. Book of Yog Idle RPG has some very interesting character designs as well, you are able to add plenty of new people to your party and they each have their own style. The super-hot, but also very badass Lucy is my favorite. From what we have seen so far, the animation here is fantastic and that helps give the game its cartoon look.
Being Bone Idle!
The gameplay of Book of Yog Idle RPG is that of an idle RPG. You can play the game, mess around with your party, change characters and improve things, and so on, but much of the resource gathering and stuff like that can be done while you are not actually playing the game. I know this sounds weird, but the idea is that it gives you more time to enjoy the game when you are actually playing it rather than just grinding.
RPG Is More Than Just A Gimmick
This is a fully-fledged RPG. It has over 30 characters that you can recruit, there are many different moves, abilities, and items that you can use, there is a skill tree style progression system and there are many different areas that you can go to and explore.
There are six different classes as well and finding the right balance in your team is going to be the key to getting far in the game. It looks like a lot of fun and far more involved for an idle RPG than I was expecting.
8
I know that it is perhaps too early to start judging Book of Yog Idle RPG, but I do think this is showing a great deal of promise. I like the idea of setting my team up and having them go and do stuff that is usually a chore to do in an RPG when I am not playing the game. The visual presentation alone is enough to get me excited about this and want to play it so I am 100 percent going to keep an eye on this.
Pros:
I like the way this game looks
It has a very high-level of polish to it
There are tons of characters you can add to your party
I like the idle system
Cons:
We do not know exactly how much the in-game currency is going to be yet
It may be a tad too involved for some people who want a more passive idle RPG
Download Book of Yog Idle RPG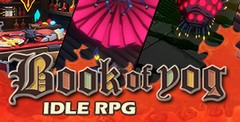 System requirements:
PC compatible
Operating systems: Windows 10/Windows 8/Windows 7/2000/Vista/WinXP
Game Reviews
Welcome to the world of Book of Yog Idle RPG, where you can recruit heroes, build a team, and explore an idle ARPG with an in-depth strategic system. As the Commander of the Arkrance Strike Force, it's up to you to recruit the unique heroes of the Black Guard and form your own team to slay the vicious monsters emanating from the Black Tide.
With an interesting and relaxing idle system, this game is perfect for those who like to progress even when they're offline. And if you're a fan of RPGs, you'll love the dozens of heroes waiting for you to recruit, each with its own unique class system and talent trees. So sit back, relax, and join me on a journey through the world of Book of Yog Idle RPG.
Chilling and Grinding
Book of Yog Idle RPG is a game that is easy to pick up and play but has a surprising amount of depth. The idle system allows players to progress even when they are not playing, making it a great game to play in between other tasks. The game offers dozens of heroes to recruit, each with its own unique skill trees and talents.
There are six classes to choose from, including warriors, tanks, rangers, assassins, mages, and the support class. The game also offers a rich strategic system that allows players to customize their items, skills, talents, and characters freely, creating their perfect hero. While some may compare it to Genshin Impact, Book of Yog stands out with its idle gameplay and strategic elements.
Straight to the Eye
Book of Yog Idle RPG is a game that stands out with its charming and colorful visuals. The character designs are cute and engaging, and the game world is full of detail and character. The user interface is intuitive and easy to navigate, making it a breeze to manage your team and progress through the game.
The game offers a variety of settings, from the wilderness to battlefields and dungeons, and each offers unique visuals that keep the game fresh and exciting.
And let's not forget the adorable anime-style characters that players can collect throughout the game. These "waifus" are a staple of gacha games like Faith Grand Order and are sure to delight fans of the genre.
The Good, The Bad, and The Yogly
Book of Yog Idle RPG offers a lot of great features, including a deep and engaging gameplay system, charming visuals, and a variety of settings to explore. However, there are a few downsides to the game.
While the game has many heroes to recruit, some may find the initial roster of 30 heroes in early access a bit limited. Additionally, the RNG system may be frustrating for some players, as it can be unpredictable and may not always provide the rewards you are hoping for.
8
Book of Yog Idle RPG is a surprisingly addictive idle game that plays for you while you dedicate your full attention to other more demanding games. In other words, the perfect companion for die-hard RPG fans.
Pros
Interesting and engaging idle RPG gameplay mechanics
A large roster of unique and customizable heroes to recruit
Cute and charming anime-style visuals
Cons
Heavy reliance on gacha mechanics for unlocking heroes and other rewards
Repetitive gameplay loop can become monotonous over time
Some elements of the game may require a significant time investment to fully explore and enjoy
See Also
Viewing games 1 to 8