Crash Bandicoot 4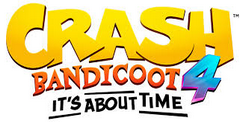 Click the "Install Game" button to initiate the free file download and get compact download launcher. Locate the executable file in your local folder and begin the launcher to install your desired game.
Crash Bandicoot 4: It's About Time is the eighth game in the main Crash Bandicoot franchise, and takes the series back to its roots with difficult platforming set in gorgeous fantasy worlds. In the game's story, iconic villains from previous Crash Bandicoot games team up to conquer all of reality, with only Crash and his friends able to stop them. Although the game's visuals are bright and modern, the gameplay has been reeled in, more closely resembling the original Crash Bandicoot trilogy from the late 1990s. With an abundance of game modes, including a lengthy campaign, cooperative play, and some hectic multiplayer options, Crash Bandicoot 4: It's About Time offers a refreshing yet familiar platforming adventure. While it might be a bit too tough for kids, fans of the original franchise will definitely enjoy this vibrant new quest.
Main Game Features
Solo, cooperative, and competitive multiplayer game modes
Over 60 unique levels
Five unique playable characters
Story
Crash Bandicoot 4: It's About Time is set after the events of Crash Bandicoot: Warped, changing major story elements from previous games in the franchise. In this sci-fi tale, Crash's greatest enemies develop a plan to escape their time-prison and rewrite the past. Using powerful rifts that span multiple universes, the villainous Cortex and N. Trophy recruit their allies as they attempt to take over all of space and time. In order to stop them, Crash must travel through various colorful worlds and collect four powerful artifacts known as the Quantum Masks. This search takes Crash to a variety of vivid locations across time, including a futuristic wasteland, a hazardous marsh, and even the age of the dinosaurs. Tasked with saving all of existence from his arch enemies, Crash and his friends embark on another wild and challenging journey.
Gameplay
There are a variety of ways to enjoy Crash Bandicoot 4: It's About Time, including classic single-player, pass-and-play co-op, and a multiplayer mode called Bandicoot Battle. While the main campaign makes up most of the game's content, Bandicoot Battle lets you enjoy levels while competing against friends. This mode is playable with up to four players and contains two distinct modes, Checkpoint Race and Crate Combo. Both modes will challenge your platforming skills as you speed through stages with precision.
The core campaign of Crash Bandicoot 4: It's About Time features over 60 levels, including classic side-scrolling platforming stages, boss fights, "flashback" levels, and more. In most levels, you'll simply jump and spin through pitfalls and obstacles, attempting to reach the end. These levels are played as either Crash or his sister Coco, with both characters having the same abilities. Each level contains a handful of collectible gems, which when found, unlock a variety of cosmetic skins for your character. There are two modes to try in the main campaign, Retro and Modern, providing a slightly different experience. Retro mode is a bit more challenging, calling back to the classic Crash Bandicoot games, while Modern mode offers a slightly more forgiving experience. Some excellent character cameos, interesting enemies, and solid stage design make this a consistently surprising and refreshing adventure.
Conclusion
For players who grew up enjoying the classic Crash Bandicoot titles, Crash Bandicoot 4: It's About Time offers both warm nostalgia and excellent game design. The levels are bright and full of life, featuring an impressive variety of cool enemies and environments. A lengthy list of collectibles, bonus skins, and extra game modes provides ample replayability, allowing you to enjoy the game for hours on end.
8
While some sections can be infuriatingly difficult, those who master the precise platforming will be greatly rewarded. Overall, Crash Bandicoot 4: It's About Time is a solid sequel and a step in the right direction for the franchise.
Pros:
Colorful and flashy stage design
Classic platforming gameplay
Lots of collectibles and side-missions
Cons:
Some levels are exceptionally hard
Story is forgettable
Too challenging for the target audience
Download Crash Bandicoot 4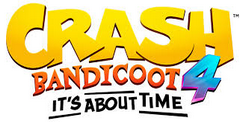 System requirements:
PC compatible
Operating systems: Windows 10/Windows 8/Windows 7/2000/Vista/WinXP
Game Reviews
This is one of the most exceptional cases of game titles we've ever seen, as it'is actually what everyone thought when they announced this one. Crash Bandicoot was once one of the most popular characters in the gaming world back in the day, it kinda was the PlayStation equivalent of Mario at some point. But it eventually opened up to Xbox and Nintendo, so it was no longer exclusive. In 2017 they released Crash Bandicoot N. Sane Trilogy, which already hinted at the main series comeback, but now after all these years, we finally got it - Crash Bandicoot 4. So, did it deliver to the expectation? Well, let's talk about it.
Back in time
To anyone that has ever played any of the marsupial games, time travel, and even different dimensions are no strange subject. But this new entry developed by Toys For Bob aimed at getting that same scene from the classic games instead of using more modern game formulas. It's great to see what they managed to pull off, as the game really does feel like those good old' Crash Bandicoot games, but much more modern.
Toys For Bob had a hard task, but they already managed to pull off the Nintendo Switch port of the N. Sane Trilogy. And they were the same people responsible for the Spyro Reignited Trilogy.
Modern nostalgia
One of the biggest risks when bringing back popular games from the past is just getting stuck in references to the old games while being just ok titles on themselves. This time they balanced referencing the old titles with making a game the original games could look up to.
The level design and world-building are simply amazing, it's easily the prettiest ever in a Crash Bandicoot game. Not just because of the beautiful graphics, but also thanks to the incredible art and all the love they put into it. You can tell that this is what the original developers aimed for, but were limited due to technical constraints. Of course, the characters are redesigners, but respectfully, keeping the core and basis loyal to the original models. It all fits perfectly into the beautiful world-building.
The plot
Crash Bandicoot has never been known for having deep storylines with incredible character development and whatnot. It is mostly focused on having an incredible gameplay experience for the player. But still, being a direct continuation of the original trilogy after all these years, they had to put some context in there, and they had some explaining to do about what's going on as well.
But for the main plot of the game they just opted for a more traditional take on video games where the series' villains team up to destroy multiple dimensions and you have to save the world. It's really going back to the basics of video games, and it works out just perfectly.
9.5
Crash Bandicoot 4: It's About Time is certainly a masterclass when it comes to bringing back old franchises into a more modern game world. It features all the elements the players knew and loved from the original games and gave them a completely new life. The visuals are stunning, the world design is incredible, the animations are top-notch, the gameplay is fun. There are many unlockables and even game modes, and there's so much humor that you can tell the developers loved making this game.
Pros
Incredible graphics
Stunning animations
Great sense of humor
Excellent gameplay
Manages nostalgia perfectly
You could say it's even better than the originals
Cons
The plot can be a little too basic
Playstation 4 Screenshots
See Also
Viewing games 1 to 8