Family Dog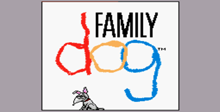 a game by
Imagineering Inc.
Genre:
Adventure/RPG
Platform:
SNES
Editor Rating:

5

/

10

, based on

3

reviews
User Rating:

4.0

/

10

-

1

vote
Rate this game:
It's a dog's life -- day after day, just gettin' by. Wishing that you could jump right up and bite the hand that teases you? In Family Dog, you play an adorable mutt who's terrorized by his young master, Billy. You're not out to save the world -- just survive. But the crackpot kid and a host of household nasties make life awfully ruff in this comical, side-scrolling, action game from T.H.Q.
Give that Dog a Bone
You have to search the house for puppy-style power-ups, including Dog Biscuits for barking power and Bones for extra life. As you go, bark away the enemies and obstacles to rack up points. Make it through every room in the house, and lucky you, the family goes on vacation, taking their awful son with them. Unfortunately, they send you to a nasty kennel, where you're in for the ultimate fight for survival.
ProTip: Hidden shelves in the Living Room hold life Bones and extra Barks. To find them, jump as high as you can on the first couch, then leap right toward the flying book.
You'll have a ball watching this high-jumping puppy. His comical moves and facial expressions will keep you in stitches. Unfortunately, there just aren't enough of the entertaining animations to keep gamers wagging their tails.
What can you do when your bark is truly worse than your bite? You bark a lot, and it's no feeble bow-wow-wow for the hero of this show. This puppy lets out a resounding, "Rowf!" Throughout, the music and sound fit well with the humorous (though sparse) animation and graphics.
The controls are simple, but they can be imprecise when jumping onto small objects. Though some levels are too difficult for a beginner to tackle, experienced gamers will have no problem.
More! More!
Family Dog's clever graphics and sound make this game a comical romp. Though a larger repertoire of animation, graphics, and sound effects would have improved the game, this dog's a bone-a-fido hero.
In the bonus round don't run in the direction that Billy throws the ball. Ti catch it, run the opposite way through the house.
When the dog starts sniffing the ground, dig into the carpet to find a treat.
Download Family Dog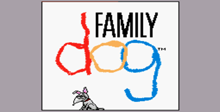 System requirements:
PC compatible
Operating systems: Windows 10/Windows 8/Windows 7/2000/Vista/WinXP
Pentium II (or equivalent) 266MHz (500MHz recommended), RAM: 64MB (128MB recommended), DirectX v8.0a or later must be installed
Game Reviews
The trend of cartoons being developed for video game systems has become popular in recent years and this latest entry by T.H.Q. joins many hits such as T.M.N.T. and Mickey Mouse.
Family Dog is about - well - a family dog who must put up with the everyday abuse from Billy, the son in the family. Billy hides in the house trying to get the poor dog with his slingshot, popgun, and a vacuum cleaner. As the troubles are placed on the dog, the family sends him to a kennel where vicious German Shepherds are waiting to "pal around" with him.
Run away quickly from Billy in the living room as he tries to put the family dog through more trouble shooting at him with one of his toys. Be sure to jump the blocks.
Try to survive in this latest dog-eat-dog world created by THQ. Family Dog features you as the household pet, fending off the abuse of Billy and the rest of the family. Use the canine icons to help dodge Billy's slingshot and popgun. He'll also send the vacuum cleaner after you! You won't find solace in the kennel, however: vicious German Shepherds are eager to make your acquaintance! Give the doq a bone!
People say:
4.0
This is another one of the carts that just isn't quite there. If the controls would have been tightened up then Family Dog would have been a good game for the younger players. The concept is very good and the graphics are appropriately done but it falls short in execution. The cartoon tie-in is a good idea.
6.0
I think Family Dog is a good game for the kids. It took a bit longer than normal to get used to the controller movements but, after a while the game becomes very enjoyable and a lot of fun to play. The levels could have been harder but considering the target audience they are probably OK. Too easy for my liking.
4.0
The graphics are very cute and kids may relate to the cartoon-like quality of the game. The control is very poor and it keeps the cart from really being fun. There are a lot of cute animations and the dog's antics are really funny. The game is too simple and offers little or no challenge. Kids may be disappointed by it.
5.0
Family Dog is a good attempt at bringing a cute cartoon to the video screen, but somehow the fun was left behind. Throughout the game, you can conquer each level with a minimum of effort! You can run through each level almost nonstop! Yea. Kids won't enjoy the control, and veteran gamers will dislike the action.
SNES/Super Nintendo/Super Famicom Screenshots
Similar Games
Viewing games 1 to 8