Rockin' Kats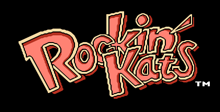 Click the "Install Game" button to initiate the free file download and get compact download launcher. Locate the executable file in your local folder and begin the launcher to install your desired game.
Manufacturer: Atlus
Version: Nintendo Entertainment System
Rockin' Kats...there's a cool name for a video game. Think about it. What kind of imagery comes to mind when you hear a title like Granada, Gaiares or Sagaia. At least it's obvious that Rockin' Kats is not a flight simulator or a military-strategy contest.
The game kicks off with a great idea. The screen shows you a TV set, and you can "change channels" to start at any of four different areas. There's also a shopping channel where you can buy power-ups and a "bonus channel" that lets you gamble for 1-Ups and more money.
Unfortunately, it's not long after choosing a channel that you'll discover what you may have feared all along: Rockin' Kats is another cartoon run- jump-and-punch game for the NES. Watch the background scroll by, beat the boss characters, rescue the helpless female - all the standard video game cliches are present and accounted for.
Not that the game is all bad. In fact, there's a lot to like about Rockin' Kats. The hero, Willy, is a colorful character, and the aforementioned level-select screen is a novel idea. The graphics and sounds are also adequate. The "Western channel", for example, includes tumbleweeds, cacti and whistling musical quotes from one of the most famous spaghetti Western soundtracks of all time: The Good, The Bad & The Ugly. But it's just not enough to make this one stand out from the crowd of Super Mario clones, and there are too many players who are starting to shy away from these contests because they believe that "if you play one, you've played them all".
Personally, I don't subscribe to that particular theory, but I will admit that it's getting a lot tougher to introduce people to this type of game.
The one thing that does lift Rockin' Kats above the level of the average "guy game" is the weird weapon Willy uses to dispatch his enemies. It's called a "punch gun", a handheld pistol with a huge boxing glove that extends from the barrel when you pull the trigger. It's mostly used for clobbering bad guys, but it can do a lot more than that. If you use it to punch an immovable object, the recoil sends Willy flying in the opposite direction, which is a neat way to wipe out opponents who are approaching from behind. Similarly, if you punch the ground, Willy jumps much higher than usual. The punch gun's giant fist can also catch certain objects and throw them at bad guys.
Most interesting of all, Willy can use this amazing weapon as a type of grappling hook that will let him swing from lamp posts, flagpoles and building ledges. Our feline friend is safe from his enemies' attacks as he spins around this way, and there are many places in the game where you will have to use this feature in order to fling Willy across a pitfall.
Though Rockin' Kats is definitely aimed at a younger crowd, it doesn't underestimate the gaming skills of a generation that's already jaded from years of playing Super Mario Bros. Today's kids like a challenge. Remember, most of them have control-pad abilities that are much more advanced than those of the average adult, and Rockin' Kats has enough challenge and variety to keep a preteen busy for quite a while.
Download Rockin' Kats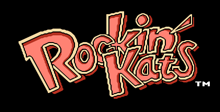 System requirements:
PC compatible
Operating systems: Windows 10/Windows 8/Windows 7/2000/Vista/WinXP
P-200, 32 MB RAM
Game Reviews
Help Willie, the coolest cat alive, save his girl - Jill from the clutches of the underground crime leader Mugsy. Armed with his Super Punch gun, Willie must punch, swing, dodge and jump his way through 6 levels, ranging from the Streets of New York to an amusement park, out in the Wild West and even up in the skies! Grab the coins along the way and use them in the shops to buy extra energy. Buy your way into the Bonus rounds where, if you are good, you can double your money or get extra lives!
NES/Famicom/Dendy Screenshots
See Also
Viewing games 1 to 11