Teenage Mutant Ninja Turtles: The Hyperstone Heist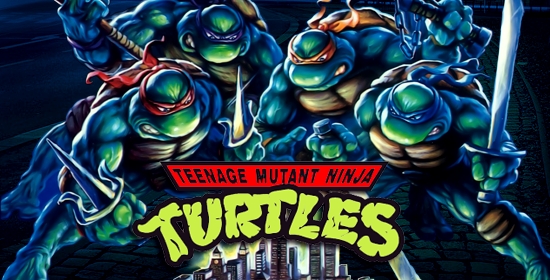 Everyone's favorite amphibious mutants are back in the latest Teenage Mutant Ninja Turtle adventure: The Hyperstone Heist. In this installment you once again fight Shredder and his minions of thugs and foot soldiers. This time, however, the masked maniac has stolen the Statue of Liberty and Manhattan as well. It's up to the teenage foursome to get back the Hyperstone and retrieve the stolen artifacts.
The game play is similar to the Super NES version with a few minor differences. There is plenty of martial arts mayhem and special moves for each turtle and each ninja has his own skills and fighting style. The game can be played in either comic or television mode, delighting those familiar with the heroes graphic novels. This true test of ninja skills will leave you shell-shocked. Energize on pizza and teach Shredder not to mess with Turtle power!
Download Teenage Mutant Ninja Turtles: The Hyperstone Heist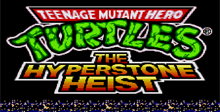 System requirements:
PC compatible
Operating systems: Windows 10/Windows 8/Windows 7/2000/Vista/WinXP
Game modes: Single game mode
Player controls:
Up, Down, Left, Right - Arrow keys
Start - Enter (Pause, Menu select, Skip intro, Inventory)
"A" Gamepad button - Ctrl (usually Jump or Change weapon)
"B" button - Space (Jump, Fire, Menu select)
"C" button - Left Shift (Item select)
Use the F12 key to toggle mouse capture / release when using the mouse as a controller.
Game Reviews
Shredder's back, and this time he's not only stolen the Statue of Liberty, but Manhattan itself! Who can stop him and his Foot soldiers? The Turtles can! In The Hyperstone Heist, Donatello, Leonardo, Michelangelo and Raphael must return to save New York. Shredder's not just going to turn himself in, however, and there's five intense levels to complete. Get ready to stomp on the Foot Clan - Turtle style!
People say:
8
This game plays like a Genesis version of the Turtles game we reviewed a few issues ago on the Super NES. Although the game play is good and the levels are long, the two conspire to make this effort repetitive even on the easier settings. I have nothing against the execution - it's a great game just wanted diversity.
8
Hey, where is the software scaling of the enemies coming out of the screen? While it would take a bit more work, the wizards at Konami can do anything. At least I thought so. The game plays quite well and the graphics arb quite detailed. The only problem I could find is the usual complaint - the game is too easy!
8
There are quite a few things missing from this version that made the Super NES version so good. You can't hurl the enemies towards the screen and the game play has less to offer in terms of moves. Don't get me wrong, this is still one of the better Genesis carts around. The game is also far too easy in the 2 player mode.
7
It doesn't compare to the arcade, and even on Normal Mode it js incredibly easy. On Easy Mode, take a nap. The graphics are very good, with decent animation and very little breakup until later stages. The sounds really need work and with better music and effects, it would be coo!. It needs more levels, too.
Cowabunga, dudes! Konami takes on the Genesis and pulls out all the stops with Teenage Mutant Ninja Turtles: The Hyperstone Heist, a 16-bit graphic and game playing work of art. Every aspect of this game is top-notch, from the startup animation to the final end Boss. This game is an action/adventure video game piece de resistance!
Start Spreading the News
The Turtles' archvillain, Shredder, has latched his slimy hands onto the Hyperstone from Dimension X, and he's using it to shrink the Big Apple into apple fritters! It's up to Michaelangelo, Donatello, Leonardo, and Raphael to do what they do best -- track down Shredder and return New York City to its rightful size. One or two players choose Turtles and embark on a five-level, side-scrolling action extravaganza.
You'll immediately notice the Hyperstone Heist's beautiful graphics and crisp animation. The programmers pillaged the Genesis' graphic vaults to present large, colorful, highly detailed characters, and silky smooth onscreen action.
The backgrounds of each of the five levels are also extremely detailed. They cleverly use shadows and gradations to add depth to the scenery. You fight through the sewers and streets of New York City, a mysterious ghost ship anchored in N.Y. harbor, Shredder's secret hideout, and a gauntlet of villains. Ultimately, you face Shredder for the final showdown in the Technodrome.
ProTips:
Use jump attacks to knock down large gangs with a single blow.
In two-player mode, fight back-to-back to cover each other's behind.
Playing for Kicks
This gamefeatures great, fully-animated, fighting action controlled by combinations of the Attack, Jump, and Dash buttons. Each Turtle fights in a different style depending upon his specific weapon. Each one also possesses special power techniques, such as Leonardo's Bamboo Split and Donatello's Hurricane Attack. In especially tight situations, each Turtle can initiate a Deadly Attack, which enables them to instantly defeat all the enemies around them. Unfortunately, using an Attack sucks up two valuable life units. The Boys need to save their Deadly Attacks for the huge Bosses at the end of each level, such as the Krang's Robot, Leatherneck, and Rock-steady.
Wear down Leatherneck with repeated combinations of a jump attack and several hits. Then, jump back before he can chomp on you.
The knife-tossing yellow Foot soldier always throws his blades directly at the spot where you're standing. So, jump up as soon as he makes his move.
Pizza Time!
Unfortunately, only 10 life units stand between your character and Turtle soup. However, find a Pizza to instantly rejuvenate your life bar. Moreover, you receive an additional Turtle life for the first 100 villains you defeat, and for every 200 thereafter. Additional help is available from the Options Menu, which enables you to set the difficulty level and set up to five Turtle lives and five Continues per game.
Shell-Shocked
Teenage Mutant Ninja Turtles: The Hyperstone Heist brings excellent arcade-quality graphics, sound, and game play to your home unit. The variety of options guarantees fun and challenge for gamers of all ages and abilities. Although, the story line and the objective are simple, there are plenty of moves and challenges to make you spin in your shell. The Turtles make a big splash for Konami in their Genesis debut!
Those heroes in a half shell -- Raphael, Michaelangelo, Donatello, and Leonardo -- are back to help Konami initiate its foray into the Sega seas in Teenage Mutant Ninja Turtles: The Hyperstone Heist.
The Turtles Tale
The evil Uroku Saki (a.k.a. the Shredder) has captured the mystic Hyperstone, an ancient orb that gives him the power to shrink New York City and everything else on Earth. This Genesis game will focus most of its action in New York. There will be five stages with up to three substages each. One player can be a solo Turtle on the hunt, or two players can team up for simultaneous amphibian ninja action. Player Two can join in anytime.
You'll slice and dice your way through familiar territory that looks Genesis great. The quartet starts their search in the famous sewers of New York. Then, they're off to sea for a battle on an eerie wraith-like ship. Next, they must sneak into Shredder's hideout, which features a danger-filled Japanese garden. Then the guys get wet and wild as they fight across treacherous waterfalls. Finally, it's time to get down in the Drome, the Technodrome that is.
Your crummy competition features the usual suspects and some brand new foes that even Turtles comic book fans have never seen. Some of the villainous favorites are back to help Shredder shred you -- Krang, Bebop, Rocksteady, Leatherhead, the Stone Warriors, and the Foot Clan. Don't worry you'll get help from Master Splinter.
Hyped on the Hyperstone
With the Teenage Mutant Ninja Turtles and Konami set to jump into the Genesis, there's no telling how far out The Hyperstone Heist will get. It ought to be a shelluva game!
Sega Genesis/Mega Drive Screenshots
See Also
Viewing games 1 to 11
This is a quite good beat "um" up if you like Streets of rage / Bare knuckle you'll love this!, And i hated the cartoon series i always thought it was creepy that a bunch of turtles could find April the news reported sexualy attractive!.