FIFA 98: Road to World Cup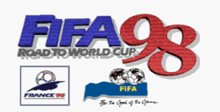 Overview
If you have been holding out on buying a soccer simulation for the Playstation because you couldn't find one that has it all, your waiting is over. FIFA 98 RTWC by Electronic Arts is by far the best soccer game that I have played on a console. Everything that you could do on the field and off, can be done in this game. EA has outdone themselves in putting together a very comprehensive and realistic World Cup experience.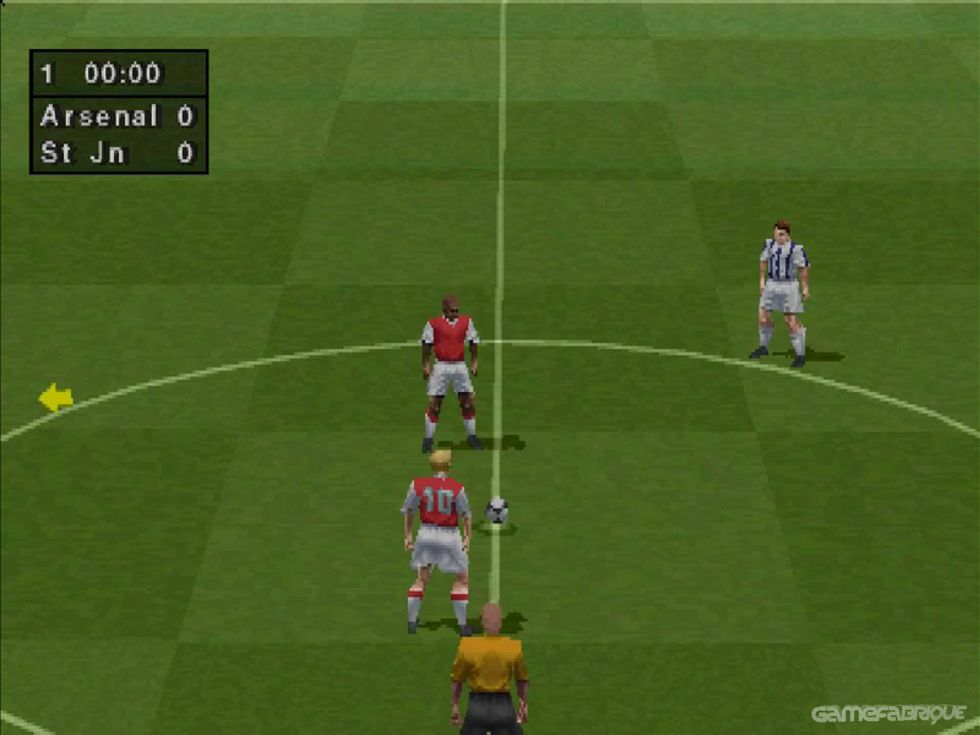 Gameplay
FIFA 98 RTWC allows you to take your pick of 172 international teams and fight it out to capture one of the prized 32 positions of the final round of the World Cup. Actually there are only 30 spots up for grabs because 2 positions are reserved for the host nation (France) and last years winner of the World Cup. FIFA 98 RTWC gives you 5 basic game play options:
"Friendly"—These games do not affect World Cup standings but are good practice matches and extremely helpful in trying to perfect your strategy, as well learning to master some of the more difficult skilled moves.

"Road To World Cup"—This allows you to go through all of the qualifying rounds and hopefully end up in the World Cup.

"League Play"—You control up to 8 teams and play out an entire league schedule.

"Training"—This is a great way to sharpen up on all of your gameplay skills by selecting both offensive and defensive drills. A nice feature here is that you can determine how many offensive and defensive players will take part in these drills.

"Penalty Shootout"—If none of the above suits your fancy, you can choose this option which simulates the sudden death shot out where each team takes 5 penalty shots on goal.
For all of the above options, you have the ability to take the teams that are already created for you or you can completely customize your own squad, by editing player and team attributes or calling up players from reserve squads onto a national team.
For those of you who desire complete control, you will really get into this feature allowing you to recruit players. Beware, however, that they do take into account the monetary value for each player, so you can't just recruit everyone.
The gameplay of FIFA 98 RTWC gives you complete control. There are almost too many combination of moves, passes and shots that each player can perform. It's a little confusing at first, but after some experimentation you start to get familiar with most of the moves. EA did a good job of creating a game that you can start playing immediately (and even win some games) with only the knowledge of a couple of some basic moves. Yet the more you play, the more you start to pick up some of the more advanced moves. After a couple of games on the easiest skill level, I found that I was beating most teams. But on World Cup level, my world was rocked pretty bad. The defense becomes so overwhelming that if you don't pass the ball every second or two, one of the opponents will strip you of the ball. It was then that I realized that I needed to become more proficient with some of the advanced moves, like give-and-go passing, headers, and avoiding slide tackles by passing the ball to yourself. I needed to start mastering some of the games more advanced moves if I wanted to get away with a victory. Eventually I was able to squeak by, only losing by 1 or 2 goals instead of 4 and 5 goals.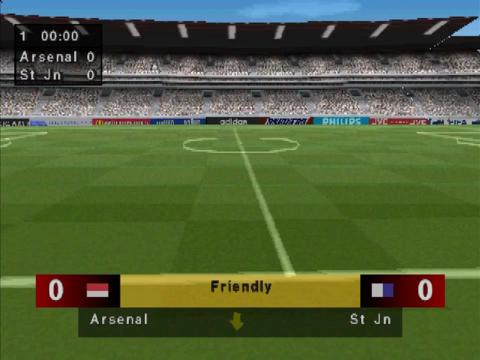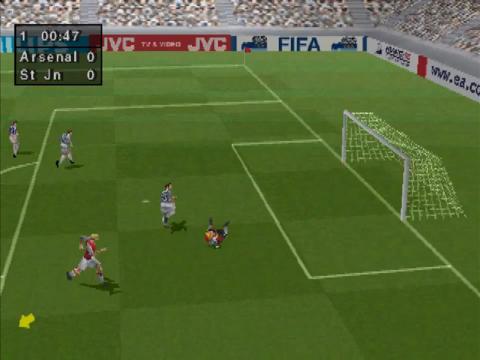 While you are on offense, you have many actions that you can take. You can sprint to try and beat the defender, pass directly to a team-mate, or double tap to perform a through pass that places the ball just beyond your team member, so that he may catch up to the ball while in full sprint. This is often essential while trying to beat the last defender on your way to the goal. You can also perform lob passes to teammates or even to yourself. This is an effective move to avoid opponents' slide tackles. Another nice feature is the ability to fake or juke your opponent. So if you are trying to best a defender, you can fake to the right and go left. Even shooting on goal allows you many options. FIFA RTWC allows you the option of executing a quick low shot, a chip shot, or regular shot. Using the D-pad, you can target any part of the goal on your shot or allow the computer to select where the shot will go. If you opt to pass to a teammate instead of taking the shot yourself, the receiving player has several other options. While the ball is in the air, you opt to attempt a header shot on goal, bicycle kick shot on goal, or even lob it over the goalies head.
As strange as it seems, some times the slow lob shot scored pretty effectively. The goalie would go up and some how the ball would just sneak through between the top of the net and his hands.
On the defensive side of the ball, EA has given you several more options. In many games you are given the option of tackling. EA Sports has given you the option of executing a conservative, aggressive or severe tackle. While these are fun to do, you risk getting called for the red card. It's bad enough to get the yellow card at times but the red card will keep you out for a game. Going after the true realism of the game, EA also has allowed for the possibility of injuring yourself on a severe tackle. This could keep you on the disabled list for more than a couple of games. Keep on eye on your star players here. You will miss them in the big games against Brazil or Argentina.
The FIFA license allows EA Sports to include a huge number of clubs from around the world and each is stocked with real players. Each player is evaluated in 17 categories of real-life performance. The detail even goes down to the point where even their facial features are captured. This in itself is amazing. In addition they have faithful recreated 16 true-to-life stadiums from around the world, where your teams can compete. John Motson and Andy Grey handle the announcing for each game.
Graphics
FIFA 98 RTWC boasts extraordinary graphics. From the panoramic stadiums views, to the players, each is uniquely drawn so you can distinguish them from a distance. The movements of the players are fluid and life-like. The range of motion is painstakingly represented from merely running to shooting, performing 360 degree turns, passing, throw-ins, as well as corner, goal, and penalty kicks. Toss in the after the goal celebration and from a distance you would almost swear that you were watching an actual game on TV. FIFA 98 RTWC displays some truly stunning 3D graphics.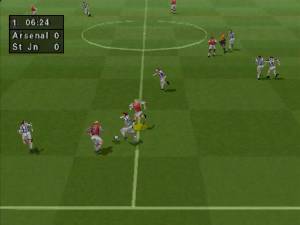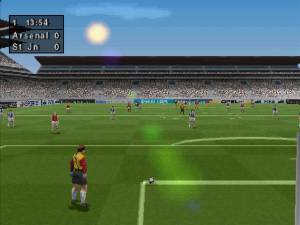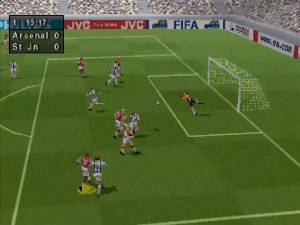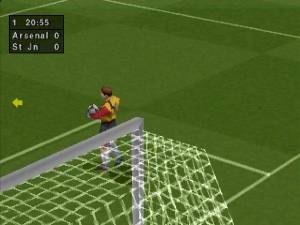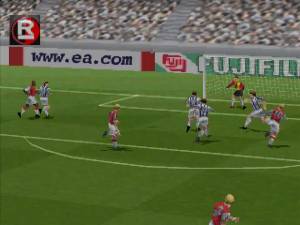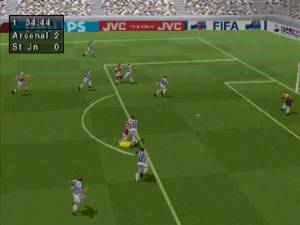 Bottom Line
The more that I play this game, the more that I like it. EA Sports has put together a great package with FIFA RTWC 98. Everything is top notch, from the game play and graphics, to the overall realism and atmosphere of the game. Toss in that with three levels of difficulty, you should never get too frustrated. In fact, increasing the difficulty kept me from getting bored. The amateur level was considerably easy, but the professional and World Cup levels will definitely keep you challenged for a long time. If you love soccer, you will love this game.
Download FIFA 98: Road to World Cup
SNES/Super Nintendo/Super Famicom Screenshots
Other games by
Electronic Arts