FIFA Street 3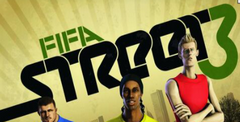 Download FIFA Street 3 and master the art of street soccer! Unleash your creativity, perform stylish tricks, and compete in high-energy matches. Experience soccer like never before and play now!
If you've been a fan of the long running and fully licensed football series FIFA, then we wager that you are at least somewhat area of it's street football counterpart. Since it's exodus, FIFA Street has been a series that has aimed to offer the thrills and spills of freestyle football, along with a much more arcade like feel to the FIFA franchise. A feat that this series had mastered on not one, but two occasions to this point, so when FIFA Street 3 came to be, the question on everyone's lips was 'is this game going to be more of the same?' Or was this game going to pale in comparison. This game plays much like the conventional FIFA titles as well as FIFA Street and FIFA Street 2. However, the game also has similarities to games like NBA Street, NFL Street and to some extent Super Mario Strikers. However, you may be wondering, does this game live up to the successes of their predecessors. We find out in our review of FIFA Street 3.
A Tired Concept
When the first FIFA Street title came to be, the mass appeal for the title game through the new concept the game offered, the cavalcade of Brazilian tricksters in the line-up like Rivaldo and Ronaldinho to name a few. Plus the career mode that seen you grow your team from Premier League rejects to global phenomenon's was truly scintillating, at least for a few hours. The second game managed to carry on this trend all be it to a lesser extent but the third sadly just can't keep up appearances. I guess we should have known when Peter Crouch was one of the cover stars. The gameplay is basically the same as we have come to expect from the series, the same lavish trickery doesn't have the same effect the third time around and then to add insult to injury. The game takes away the money earning aspect of the story mode. Instead the player will complete challenges to unlock players. It sounds fine on paper, but when you realise that this just means more games, staler gameplay and more repetitive experiences, you become aware that this was a regrettable decision.
Tries to Mix it Up
The game does try to offer new and interesting features despite the familiar format and in some respects, it succeeds. The game adds features like playground picks which adds a certainly level of reliability to the games. It's like picking teams for a game of jumpers for goalposts and the novelty isn't lost on us at all.
The Verdict
Plus the game offers online functionality, something that the predecessors just couldn't on the same scale. It's nice that you could match up with other tricky individuals and have it off in a no holds barred matchup.
However, when the gameplay is so stale and predictable, the ability to share that kind of experience with others just seems a little cruel and a waste of everyone's time.
6
Overall, FIFA Street 3 is a predictable and tired iteration in the series. It does have some new ideas but sadly not anywhere near enough. Not to mention the fact that it does away with some great ones from past games. The core concept is still there so there is still some fun to be had but it gets old really quick. We wish this game would have dared to shake things up a little more. However, it played things safe and safe decisions leads to average games.
Pros:
Wide range of real-world players
Some new game modes
Online functionality
Cons:
Fails to change lacking aspects and changes some that needed to stay
The gameplay is tired and predictable
Download FIFA Street 3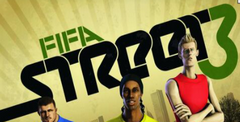 System requirements:
PC compatible
Operating systems: Windows 10/Windows 8/Windows 7/2000/Vista/WinXP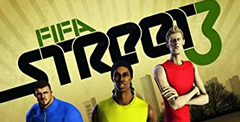 System requirements:
PC compatible
Operating systems: Windows 10/Windows 8/Windows 7/2000/Vista/WinXP
Playstation 3 Screenshots
Similar Games
Viewing games 1 to 8