God of War III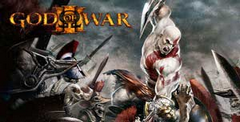 Download God of War III and witness the epic finale of Kratos' quest for vengeance! Battle the gods of Olympus, conquer impossible challenges, and change the fate of the world. Experience the legendary action and play now!
God of War III is the fifth game in the God of War action/adventure franchise and the third game in the main console series. Like the previous two titles, God of War III follows the story of Kratos, a soldier in the Spartan army who is betrayed by the Greek gods. Angered by his fate, Kratos travels throughout the wondrous and dangerous world of Greek mythology attempting to end Zeus' reign. God of War III features bloody and satisfying combat, interesting puzzles, and some truly amazing spectacle. Whether you're a fan of the God of War series or not, God of War III is a fantastic game that deserves to be experienced.
Main Game Features
Brutal combat with a new magic system
Dozens of bosses and unique enemies
High-resolution graphics and impressive scale
Story
God of War III picks up immediately after the end of God of War II, with Kratos and the titan Gaia scaling Mount Olympus. Hellbent on revenge for Zeus' misgivings, Kratos fiercely battles against all that stands in his way. After an exciting fight against Poseidon and a failed attempt on Zeus' life, Kratos falls off the mountain and plummets into the Underworld. Despite this setback, Kratos vows to have his revenge and slowly begins the trek back to the top of Mount Olympus. Even when compared to the past two God of War games, God of War III has some exceptionally cool characters, bosses, and moments. Many of the most popular Greek gods like Poseidon, Aphrodite, and Hades are big players in the story, as Kratos attempts to kill each one of them. Your adventure takes you far across the fictional world of Greek mythology, extending the lore and universe within. Kratos' journey sees him locating Pandora's Box, exploring a dangerous labyrinth, and battling against countless foes. There's an impressive amount of drama and great closure to Kratos' story, resulting in a satisfying trilogy.
Gameplay
Apart from a few improvements, enhancements, and new mechanics, the gameplay in God of War III is very similar to past games. Playing as Kratos, you'll swing and smash through hundreds of enemies utilizing your wrist-bound blades. Levels are mostly linear, but there are plenty of hidden secrets scattered around to reward exploration. Chests often contain power-ups such as phoenix feathers and gorgon eyes, which improve your magic and health. As you progress through the adventure, you'll also discover new weapons that can be used for both combat and Puzzle-solving. Each weapon also has a dedicated magic attack, offering a bit of strategy.
Although the gameplay is exceptionally strong and the story is impressive, it's the flashy graphics and set-piece moments that really tie God of War III together. Right from the opening moments of the game, the sense of scale is truly impressive, as Kratos is dwarfed by the gigantic Titans around him.
The high-resolution graphics offer clean and evocative environments, as well as exciting action encounters. God of War III is just as fun to watch as it is to play, thanks to its smart use of mythology and undeniably cool visuals.
9
God of War III is a great game for players who want to smash through tons of enemies, spill loads of blood, and feel more powerful every step of the way. That said, there's still plenty of nuance and variety to the game, evident in its complex narrative, interesting puzzle sections, and unique combat mechanics. Even when played on the lowest difficulty, you'll have to use your wits, as this is one of the most challenging God of War games yet. However, if you have the skill to see it through, God of War III will likely become one of your favorite third-person action games.
Pros
Excellent storytelling and world-building
Bonus challenge mode
Awesome powers and items
Cons
Puzzles can be confusing at times
Occasionally frustrating combat
Download God of War III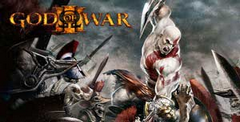 Minimal System Requirements:
CPU: Intel i5-2500k (4 core 3.3 GHz) or AMD Ryzen 3 1200 (4 core 3.1 GHz)
RAM: 8 GB
OS: Windows 10 (64-bit)
Graphics: NVIDIA GTX 960 or AMD R9 290X
HDD: 70 GB
VRAM: 4 GB
System Requirements:
CPU: Intel i5-6600k (4 core 3.5 GHz) or AMD Ryzen 5 2400 G (4 core 3.6 GHz)
RAM: 10 GB
OS: Windows 10 (64-bit)
Graphics: NVIDIA GTX 1060 or AMD RX 570
HDD: 70 GB
VRAM: 6 GB
System requirements:
PC compatible
Operating systems: Windows 10/Windows 8/Windows 7/2000/Vista/WinXP
Game Reviews
As one of the most beloved action series of all time, the God of War series has become mainstream again due to modern releases. The games that set up the current titles, though, are comfortably some of the best on previous PlayStation consoles. For example, God Of War III was, at the time, seen as a technological and gameplay marvel.
Building on all that came in the first two titles, God Of War III managed to provide a frightful conclusion to the end of a dramatic, often traumatic, story. A story of corruption, betrayal, and taking destiny into your own hands - God Of War III is the climax of one of the most exciting game series ever made on PlayStation. How does it hold up today, though?
An exhilarating adventure through cataclysm
God Of War III takes place not long after the end of God of War II. Our 'protagonist' is Kratos, a man who served Ares, the God of War, and managed to slay his own family during his bloodlust. Swearing to never serve Ares again, Kratos eventually paired up with other Gods to remove him from the table and become the God of War himself.
Still not freed from his visions, though, Kratos set about on a destructive journey where he aimed to wipe out the entire Pantheon of Greek Mythology. The third title starts as Kratos heads to face off against Poseidon, riding atop Gaia, one of the Titans who wish to also destroy the Pantheon. What takes place is one of the most exhilarating set-piece action games on the PlayStation 3.
God Of War III takes many of its cues from its clearest inspiration, Devil May Cry. By the third title, though, the gameplay is smooth and the action feels outstanding even today. Slaughtering the armies of the Pantheon – and anyone else who stands in your way – is an incredibly enjoyable experience. So, too, is watching Kratos move further and further towards his ultimate goal of wiping out the Gods no matter the cost.
A spectacular action romp, even today (9/10)
While God Of War III might lack the emotional depth of its successors, when you put yourself in control of Kratos it is easy to understand his bloodlust. This is a grieving father and husband who has spent three games trying to atone for his mistakes, and who sees the Pantheon for the corrupt and destitute nightmare it really is.
9
While the games plot eventually leads to incredible destruction for more or less anyone who gets in his way, God Of War III provides an excellent action experience. Fighting your way through so many different challenges, and facing off against so many names of legend, is a truly delightful experience. Played today, the only real limits to God Of War III include the visuals and control scheme. They can feel a touch dated compared to modern action titles, but in general it does as good a job as any of these titles to deliver a frenetic action-heavy experience you will not forget.
Pros
Incredible combat and action experience that feels fun from the start until the end
Rapidly moving plot ensures you never feel too much time passes before a plot twist
Hectic gameplay that ensures you always feel involved; God Of War III is never boring
Cons
Can feel a touch dated when compared to more modern action titles, though only slightly
Playstation 4 Screenshots
Playstation 3 Screenshots
See Also
Viewing games 1 to 10