Gone Home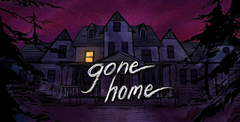 Download Gone Home and uncover the story of a family's past in this groundbreaking interactive experience. Explore a mysterious house, discover hidden secrets, and piece together a touching narrative. Enter the world of Gone Home and play now!
Gone Home is a first person adventure game in which you explore a spooky manor left behind by the main character's family whose life you will be able to take a peek into while playing this game. Walking around in this game feels like you've snuck into somebody's house when they weren't there and you just started poking around at things trying to figure out who they were. The game has a very creepy vibe to it, and some people have even said that while they were playing it, they thought it was a horror game. There's not really jump scares to the game, but there is a lightning storm outside that might scare you.
The Story
This game has a very short story. The story seems interesting at first, but about halfway through the game, it becomes clear that it's a cliche story about a girl discovering she is a lesbian. It's sad, and somewhat interesting, but it's underwhelming in my personal opinion.
The Exploration
Every time you pick something up in this game and piece the information on it with something else, it feels really good. The exploration in this game reminds me of The Last of Us, in that every little thing in the world is interconnected. However, while sometimes the exploration in the game answers my questions, often it will simply leave me with more. You will probably leave the experience of this game with questions that you will never be able to answer. If that's fine with you, carry on. On the bright side, the house is very spooky and is filled with little items and secrets that gives the world a very realistic feel.
Rating
This game just doesn't have what someone might expect going into it. It's way too short and the story just doesn't feel as satisfying as other games you might play for the story. Exploring the house in this game is easily the best part. It feels more like a horror game when you are afraid to turn the lights on in a room you've just entered. This game could be even better if they embraced this and made it even spookier, in my opinion.
5
This is the type of game I would only advise people who read this review and didn't find anything that would annoy them. Many wouldn't like to spend money on a game that only lasts a couple hours, while others may feel overwhelmed with questions about the game. I would definitely recommend looking for a deal before choosing this game.
Pros:
Beautifully designed, every room feels like someone lived in it
Very fun while it lasts
Cons:
This game is very short
Leaves you questioning the game more after playing it
The story itself isn't that great
Download Gone Home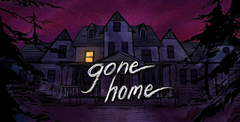 System requirements:
PC compatible
Operating systems: Windows 10/Windows 8/Windows 7/2000/Vista/WinXP
Similar Games
Viewing games 1 to 8