Gothic: Remake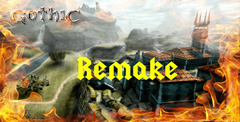 Click the "Install Game" button to initiate the free file download and get compact download launcher. Locate the executable file in your local folder and begin the launcher to install your desired game.
As the name states Gothic: Remake, is a newer version of the classic THQ title Gothic that was released in 2001. Now, over two decades later THQ Nordic has decided to revamp and reimagine a classic game. Without an official release date, the game has promised to provide a faithful replica as well as an expanded experience of the 2001 title. Confirmed to be available on PC, other platforms have not received confirmation at the moment. Even if little is known about the game, expectations are very high given the success of the original.
Fairy Tales Are For Adults
Two decades since THQ Nordic released one of its most successful cult titles, Gothic makes a reappearance in the gaming community. Retelling, the story of the Kingdom of Myrtana a place where war is commonplace and violence happens daily.
The people of Myrtana have fought and repelled every single threat to ever reach their kingdom, and now there are only the orcs left to fight. However, years of non-stop war have rendered Myrtana to the edge, now running out of resources, weapons, and manpower the Kingdom looks newer.
In an attempt to explore large quantities of the remaining magical ore available, King Rhobar II recruited a powerful wizard to create a protective magical barrier. This powerful spell runs astray and the mines become a vile place, filled with the most gruesome prisoners. The journey of the plates comes in the form of an unexpected prisoner, the "Nameless Hero", whose presence shifts the fate of the entire Kingdom.
Not All Heroes Are Born, Some Are Forged
With twenty years of technology, and a new engine behind it, Gothic: Remake is an entirely new game. A third-person camera and colorful world provide an immersive experience. Combat and controls will feel vaguely familiar to returning players. In addition to it, the playable teaser showcases that the game is beginner-friendly and enjoyable.
Tracing back to its origins Gothic: Remake relies heavily on world-building and character development. From the two-hour teaser called "The Colony" players are introduced to a variety of characters, monsters, and creatures with distinct intentions. Morality comes to play, and shines through the actions of the supporting cast, leaving you, the player, in control of facing the adventure as you wish.
Conclusion
THQ Nordic bets on a better version of their cult classic. Even if the information is scarce Gothic: Remake makes use of the best gaming has to offer. An entirely new engine, and expanded combat, as well as storyline place the game in a great position to rekindle the love between this cult classic and fans of the original.
8
While newcomers that have enjoyed Shadow of War, Shadow of Mordor, Lost Ark, Elder Scrolls Online will surely find an amazing experience with Gothic: Remake.
PROS
Beautiful Game
Expansion of an already rich and deep lore
Familiar and Faithful to the Original One
CONS
Combat feels unpolished at times
Lack of Information and Release Date
Script and Voice Acting aren't good
Motion Blur Feels Overdone
Download Gothic: Remake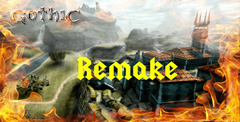 System requirements:
PC compatible
Operating systems: Windows 10/Windows 8/Windows 7/2000/Vista/WinXP
Game Reviews
Reviews, remakes, new versions, and updated versions, are getting more common every day in the video game world. We see remake after remake of older games, and even though it can get a bit tiring, especially when the game is actually pretty recent, sometimes these games actually need one. That's why THQ Nordic is bringing us Gothic Remake after Alkimia Interactive joined their lines. This young, Spain-based, developer team is young and they've brought together a team to bring back the 2001 classic to the modern gaming market. So, let's talk about this game!
About the game
In Gothic Remake players will be able to return to a completely improved version of The Colony, the location where the events of the title released in 2001 took place. THQ Nordic wants to make sure that this reimagining is very faithful to the original material, and therefore, the combat system will provide enough improvements to adapt its classic mechanics to modern times, and the same will happen with the game world. The main character in this adventure will be the Nameless Hero, a convict condemned for life who must survive in a world full of wild animals, creatures, and disreputable prisoners.
In Gothic we are a nobody, a prisoner with no job or benefit who is condemned to a peculiar banishment: a region isolated from the world by a powerful magical barrier. When our adventure begins, no one comes to us to ask us to save the planet, as is expected, since we will be busy enough with keeping our own skin more or less intact. Because we will not find a closed world, which provides us with dangers according to our skill level, as happens in other role-playing games. The bugs are not there waiting for us to kill them, providing us with the necessary experience to become stronger and continue killing more powerful bugs.
Even though you can explore the wilderness and find all kinds of different animals in their natural habitat, with very realistic behavior, you'll also find monsters and all kinds of dangerous creatures. However, the cities aren't safe either. Get used to the idea: you are not a hero. People will not gasp in amazement as you pass by, nor will they beg you to remedy their ills. You are a mere stranger, and that means wearing a sign on your forehead saying something like, "I'm a rookie. They can rob me and throw my carcass to the wolves."
Remakes vs Reviews
As we've mentioned, this is a pretty common trend in the video game industry nowadays, but it's much more annoying when it's just a remastered version. Especially when they do it with more recent games and they just enhance the resolution and the framerate. This is the case with games like The Last of Us, that's constantly getting new releases. Games like Resident Evil 4 have been available from literally over a dozen platforms. But just now it's finally getting a complete remake, and it's made again from zero like they are doing with the other Resident Evil games, and this treatment is amazingly well done. So we hope the same for this remake of Gothic Remake.
Review: 8.5/10
Gothic was already an incredible game, even if it's not the most popular currently. It felt a lot like playing an Elder Scrolls game with better graphics before Oblivion was released, of course. This remake is working really hard to upgrade everything and have it done from zero.
8.5
A most ambitious project, and it's all pointing out to a good result.
Pros
Excellent project
The story is great,
Solid Gameplay
Cons
The visuals are not constant
See Also
Viewing games 1 to 8