Knights of the Temple II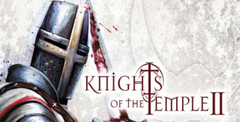 Click the "Install Game" button to initiate the file download and get compact download launcher. Locate the executable file in your local folder and begin the launcher to install your desired game.
Obsolescence is a concept that we PC users should be all too familiar with. New PCs are obsolete before they're even thought of, generations of graphics come and go like so many Beckham hairdos and tomorrow's technologies usually arrive around lunchtime last Tuesday. So how is it that we've somehow managed to let an entire genre slip through the net unnoticed? The hack n' slash genre is past it, geriatric, anachronistic. It should have taken itself out into the snow to perish years ago, making room in the igloo for another genre to flourish. The last really good example we had was Severance back in 2001, and even that was only saved by its nice shadowy bits.
As it happens, Knights Of The Temple isn't even a particularly great hack n' slash game. The selection of combos is poor, the Al basic and the environments repetitive. The best thing about it is the motion capture, which is high-quality stuff and makes for some fluid medieval exchanges, but otherwise the combat is the dreary button-mashing that plagues this whole crippled genre. And what's worse, you can't move and block at the same time, something I've always found unforgivable.
But I wouldn't care if this was the best goddamn hack n' slash game in the world, as this genre is defunct. It's tiresome, unchallenging and artistically bankrupt, and there's no reason in the world to patronise it when you've got the likes of Star Wars Jedi Academy, Soul Reaver 2 or even Dungeon Siege on the market.
Download Knights of the Temple II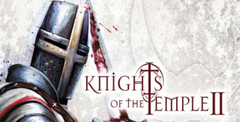 System requirements:
PC compatible
Operating systems: Windows 10/Windows 8/Windows 7/2000/Vista/WinXP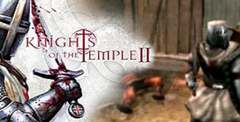 System requirements:
PC compatible
Operating systems: Windows 10/Windows 8/Windows 7/2000/Vista/WinXP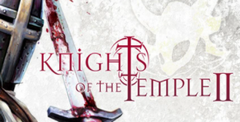 System requirements:
PC compatible
Operating systems: Windows 10/Windows 8/Windows 7/2000/Vista/WinXP
Game Reviews
Medieval, it would seem, is coming back into fashion - full platemail two-piece suits are now considered retro chic and crappy movies like Zl Knight's Tale and Black Knight smear themselves over our silver screens. That said, Cauldron has missed the medieval mark completely, instead concerning itself with awful, I mean really awful controls -keyboards are just not welcome here. Trying to play this game with a keyboard is like trying to perform open heart surgery with a baguette and spoons for hands, blindfolded.
Persevere, explore and allow the game to unfold however, and you'll find that the irritating gameplay failings repeat themselves indefinitely like a string of paper cut-out men, or some sort of wonderfully asinine kaleidoscope. Levels which don't ask you to fight streams of enemies with nary an ounce of variation in combat styles see you wandering around repetitive and boring areas, fulfilling arbitrary, trite quests and engaging in horribly translated dialogue (sacred bleu, le jeu est Francis). What's more, there are levels which do actually force you into hacking and slashing away like it was 1996 which drag on, offering no sense of satisfaction.
There's very little to recommend with this title, besides some pretty visuals and the concept of being a knight. No, this just won't do at all. I wouldn't play this and you shouldn't either.
Playstation 2 Screenshots
Similar Games
Viewing games 1 to 11