Pro Rugby Manager 2004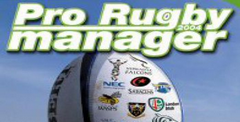 Download Pro Rugby Manager 2004 and lead your team to glory in this engaging sports management game! Develop strategies, recruit top talent, and compete against the best in the world of rugby. Take charge and play now!
ON November 22 2003, sporting history was made. And before Chester City's impressive 1-1 draw at Aidershot, there was the small matter of Jonny Wilkinson punting an egg over the bar to win the Rugby World Cup for England. The streets of Wimbledon and Richmond teemed with drunken, homoerotically charged toffs spewing all over the pavement after eight pints of 'wallop'. On the team's return to Blighty, previously disinterested females screamed their approval and the country rejoiced in unfamiliar glory. Six months on and England have been restored to their traditional mantle of plucky losers.
It's also taken approximately six months for the cash-in games to come trickling in, including Pro Rugby Manager 2004. Not that we're suggesting it's been thrown together with undue haste in the wake of England's victory, as this is anything but a shallow experience, despite being a little rough around the edges. The Spectrum-esque production values are arguably endearing, although the wispy font is erring on the side of unpleasant.
Here's Jonny!
As a vague overview. Pro Rugby Manager 2004 is attempting to do for rugger what Championship Manager has done for footy. The key difference here is that the matches are represented via real-time 3D graphics as opposed to words and blobs. And while you don't actively control the players in the manner of an action game, there's far more to a match than simply sitting back and watching your tactics flounder.
In fact, the matches keep you constantly involved as you bark a near-continuous stream of orders to your players, be it to work the ball out wide, advance the scrum or go for that glory-seeking drop goal. While this hands-on approach does add to the involvement, it's far from perfect as the pace of the game is often too quick to exert a u great deal of real control particularly given the somewhat irksome mouse- based system. There's even the option to give orders to individual players, but again this is a hit-and-miss affair, with your commands often going unnoticed. Off the pitch, it's a hardcore management sim, with an array of player attributes that will make even a hardened Champ Man fan flinch. The statistics are truly bewildering and presented in such a way as to prove almost useless to all but the most autistic of gamers. As well as team affairs, the game also enables you to dabble with the facilities, including improving the training ground, expanding the club shop and even overhauling the press room in the hope of attracting more fans.
Odd-Shaped Balls
It's all fairly hard going, and such an ugly game is unlikely to convert non-rugby fans in the manner of Wilkinson's drop kick. In fact, those without an in-depth knowledge of the sport will find themselves in difficulty, as it's just too impenetrable for casual fans, particularly at this price. Looks like they'll have to wait until the next World Cup.
Download Pro Rugby Manager 2004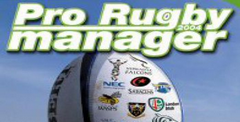 System requirements:
PC compatible
Operating systems: Windows 10/Windows 8/Windows 7/2000/Vista/WinXP
Similar Games
Viewing games 1 to 7