Quad Challenge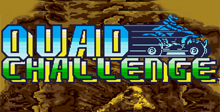 Screaming alk-terrain vehicles claw for traction on a snaky dirt track. Racing these beasts demands your sharpest animal instincts and lightning reflexes. Slam into rises and conquer huge jumps. Downshift and countersteer in tight corners. Coax knobby tires to grab for traction through hairpin turns. Control four-wheel drift and torque up to brain-warping speed!
QUAD CHALLENGE powershifts you across America's greatest dirt tracks. Select one of four ATVs - each with its own combo of speed and handling. Then blast your way through 9 grueling tracks against a friend, or play the Circuit Championship - a 16 track password race to glory.
Game Reviews
Hop on your ATV and get set for some really wild racing. Take to the air coming off the hills but watch out where you land. Split screen action allows two players to go head to head.
Pick different off road vehicles for better racing. Race head to head with a friend or just by yourself, still it will be hard!
Hop on your ATV and get ready for some high flying, fast moving racing. Play solo or against a friend. With the split screen each can watch his own screen!
Sega Genesis/Mega Drive Screenshots