Smashing Drive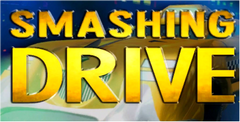 a game by
Gaelco, S.A.
Genre:
Racing
Platforms:

GameCube,

XBox

Editor Rating:

5.3

/

10

, based on

2

reviews
User Rating:

6.0

/

10

-

4

votes
Rate this game:
See also:
Racing Games
People say:
5
Take a look at the screenshot; I already know what you're thinking: "Oh great, another Crazy Taxi rip-off." And hey, who can blame ya? Smashing Drive, with its gaudy pedestrians and perpetual rush-hour traffic, does look a lot like CT, but the similarities here are only skin-deep. For one thing, SD isn't nearly as complex--you don't actually pick up or drop off any passengers. All you have to do is haul ass from point A to point B before the timer hits zero, a task that's easier said than done. More so than any previously released urban racer, SD's city streets are swarming with people, cars and other destructible smash fodder. And just because you're snaking through the crowds, collecting power-ups, knocking stuff over, jumping off ramps, terrorizing civilians and making a huge mess of everything, doesn't mean the game lacks finesse. You come to appreciate the responsiveness of the controls, and through repetition, you learn exactly when to slam that handbrake for the perfect hairpin turn. But wait, repetition? Yes, repetition. While it's true that all the alternate routes in SD make the game highly replayable, there are still only a handful of tracks that add up to a total estimated playing time of oh, let's say...15 minutes before you've seen just about everything. There's just no getting around the fact that SD is a no-frills port of a fun arcade game. Definitely one of Namco's weakest arcade-to-home conversions.
6
Are you absolutely dying to play a new SF Rush or Cruis'n title? If so, Namco's wacky, arcade-style racer will careen right up your alley. Check your realism at the curb--racing through burning buildings, movie theaters and shopping malls is lighthearted, silly fun. Though, as with most arcade ports, the single-player experience is over too quickly, with only 10 short stages. You'll get way more mileage out of the fun Versus mode. Also, it's not much of a showpiece for the power of the GameCube. Weird colors and simplistic objects lend it an N64-ish quality that isn't flattering. Overall, it makes one helluva rental, but only a moderately satisfying purchase.
5
Since it's a pretty straight arcade port. Smashing Drive is over in a blink. The tracks are full of cool shortcuts and power-ups, but it's too brief to make much of a one-player game. So unless you want to replay repeatedly and find all of the secrets, you'll find yourself bored after half an hour. Thankfully, Namco has added a Versus mode, and that's what saves this one. The heated competition to reach the goal adds a lot to the game. Add its garish, boxy graphics and some strange music (Euro-pop techno rock-opera insanity, like something you might overhear at a communist disco), and you have a strange package that's best rented.
Download Smashing Drive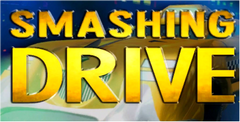 System requirements:
PC compatible
Operating systems: Windows 10/Windows 8/Windows 7/2000/Vista/WinXP
System requirements:
PC compatible
Operating systems: Windows 10/Windows 8/Windows 7/2000/Vista/WinXP
Game Reviews
People say:
5
Smashing Drive is like some weird exchange student who seems hopelessly out of touch with popular culture. Maybe back in its native Spain, this candy-colored San Francisco Rush knockoff is cutting-edge, but it's a real oddball compared to the sexy Xbox racers available stateside. Visually, it's really quite ugly--simplistic buildings, cars and people fill the screen, and it's obvious that the developers have an unhealthy love for the color orange. At least the tacky colors match the bizarre soundtrack. This collection of upbeat rock anthems (with lyrics) qualifies for the coveted "so bad it's good" distinction. With only 10 brief stages, the single-player experience shows its short-attention-span coin-op roots. You can drop a few quarters at the local arcade or half a Benjamin for the home version and still beat the game in one sitting. Thankfully, the competitive two-player mode invites serious replay, as almost every contest ends up in a dead heat. The multiplayer picks up the slack from the solo mode enough to make Smashing Drive a fun, disposable rental.
Similar Games
Viewing games 1 to 13