The Artful Escape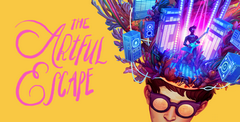 Click the "Install Game" button to initiate the free file download and get compact download launcher. Locate the executable file in your local folder and begin the launcher to install your desired game.
Musically stimulating and mind-bendingly psychedelic, the Artful Escape is exactly what it says on the tin. Giving players an escapist fever dream dripping in musical glee, the Artful Escape is definitely a trip.
Fans of the publisher's other big name titles such as Kentucky Route Zero, Journey, Outer Wild and What Remains of Edith Finch will be happy to know that the same amount of care, detail and emotional narrative that made those games so impactful is still present in the Artful Escape.
A Musical Story
The game follows the story of musical prodigy Francis Vendetti, a teenage guitarist who is the nephew of the in-story icon Johnson Vendetti. With big boots to fill, Francis struggles to craft his own unique image in the shadow of his famous uncle.
Players first start the Artful Escape in Colorado, the night before Francis steps on stage for his first performance. Francis potters around his town Calypso speaking to the locals, getting their advice on his upcoming show, and also receives some mysterious suggestions along the way too.
However, things don't stay in Francis' sleepy town for long. Before players know it, Francis soon finds himself in the fantastical realm of Glimmerdim, a musical and psychedelic wonderland that feels more like a trip than your average video game.
Escape From Reality
Francis' main quest quickly becomes to locate a jazz club that never stays in one location, and soon the player will be jumping from area to area, each decorated in a kaleidoscope of colour and creativity. It's here that the player can begin to try out Francis' musical abilities in the Cosmic Extraordinary. Here, Francis can use his guitar skills as powerful abilities to make his way through levels. Francis can pull out the ol' 6 string at any point, and can hover, slide and generally interact with the world in many different ways.
Players can also customize Francis in a number of ways too. As the boy is searching for his persona, players can pick his backstory, his aesthetic, his stage name, and even his home planet to slowly craft the world's greatest musical icon.
A World of Its Own
One of the most visually interesting parts of the Artful Escape is how the world reacts to the players actions. Each time Francis plays his guitar, the nearby creatures and environment begin to harmonise with him. Whether it's plantlife starting to dance to his tunes, or water features exploding in beautiful rhythm, the world feels totally alive.
To add to this, there are even some dialogue sequences where Francis can speak to characters through music, which creates some of the best visual experiences in the entire game. These sections are where the game truly shines, and it's where the game manages to balance its influences perfectly for an experience unlike any other game of 2020. It should come as little surprise then, that developer Beethoven & Dinosaur described the game as "a loving mish-mash of rock operas, adventure games, and guitar solos".
6
While not for everyone, you can't complain that the Artful Escape is unoriginal. The game is packed full of unique gameplay mechanics, story beats, visual cues and musical numbers to keep anyone entertained for its relatively short runtime. Whether you're a die hard music fan, or just like a bit of eye candy, the Artful Escape delivers on everything it promises and more. For a wild ride that you won't forget soon, try out the Artful Escape today.
PROS
Psychedelic adventure with musical embellishments
Fun, exciting story
A unique mix of rock opera, adventure, and musical games
CONS
Fairly short
Not much replayability
Animation style is a bit wooden
Download The Artful Escape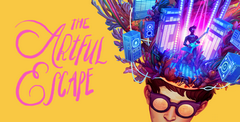 System requirements:
PC compatible
Operating systems: Windows 10/Windows 8/Windows 7/2000/Vista/WinXP
Game Reviews
When it comes to platform games, the importance of the setting can make or break the entire experience. That is why the development of Beethoven & Dinosaur title The Artful Escape looks to be so intriguing. The game, expected to arrive in mid-September 2021, has lots of people talking. The game has been seen as a highly exciting platformer that packages in some fresh ideas, but can it manage to escape the potential for controversy that can often follow such titles?
The game itself is built around the concept of playing as Francis Vendetti, who is the nephew of a folk music legend in Johnson Vendetti. Francis struggles to live up to the family name thanks to his uncles prodigious talents. Prior to taking part in his first major concert, The Artful Escape takes us on a journey as Francis leaves London to set out a clear personality for himself that separates him from his legendary uncle.
A potential platinum hit of a platformer game
The game will be a platformer, and early views and trailers paint a very intriguing concept and game. The game, though, will have you moved around as Francis across a music-inspired setting. You'll bring your guitar with you, using it to create numerous effects and distortions that will play a role in fighting back against bosses and enemies.
You will need to study the various creatures that you come across as part of The Artful Escape, too, learning new sound samples from them. This allows you to not only progress in-game, but develop a soundtrack for the game. It's a very interesting idea, and one that sets this title apart from other popular music-based platformers like Little One and Nice Finds.
A cult classic or a best seller?
With a release date set for the near future, it won't be long until we can finally try out The Artful Escape and see what the reality is. The idea of this game has been in development for many years, and is the brainchild of Johnny "Galvatron", a founding member of popular band The Galvatrons. With a history in games development and a keen gamer himself, Johnny worked on the concept during a band hiatus and fell into the process of creating The Artful Escape.
The title, being developed through the use of tools like Kickstarter and Unreal Dev Grants, has been a slow-burning process that has been in the making for over half a decade. What looks set to follow is a deeply intriguing game with a very distinctive style. While we won't know what to expect until the final release, this definitely looks like a title that could offer something very different indeed.
8
With so many years of waiting, though, fans just need to hope that the hype was worth the wait.
Pros:
Unique concept, blending together music with platform gaming
Fresh idea that has been the subject of many years of development
Cons:
Not enough detail yet on how the game will keep itself fresh
See Also
Viewing games 1 to 8