The Unliving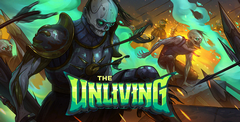 Click the "Install Game" button to initiate the file download and get compact download launcher. Locate the executable file in your local folder and begin the launcher to install your desired game.
The gimmick of The Unliving is that you play as a necromancer and that right there piqued my interest in the game. This is a rogue-lite style of game with an awesome pixelated art style that is dark, moody, and very detailed. There is certainly no shortage of games in this genre being released in 2021, but I do feel that this one here has a style that makes it rather unique and very, very cool.
The Fallen Necromancer
At first glance, I think it looks like The Unliving does not have that deep of a story. You are a necromancer who has been wronged and now you have returned from death with special powers to seek revenge on the church and the people that took your lands.
The memory of our "hero" is lacking and you will find things as you progress through the game that will fill in the blanks of his backstory and let you know what has led to this. For me, the whole premise of what is going on here is very cool and intriguing.
So Much Style!
I know that many (perhaps too many?) rogue-lite action RPGs go for this pixel, somewhat retro style of visuals, but The Unliving has its own style in that niche. Everything here is dark and dreary and I love it! There can be a ton of characters on the screen at the same time and some of the magical effects look spectacular. The animation of our lead character is awesome. It is the kind of thing you take for granted, but just standing still he looks so cool. Actually, the whole game as far as animation goes from the puny peasants to the large bosses has a ton of personality.
Dance, Magic Dance!
The gameplay of The Unliving is really cool. This has the usual things that you would expect in a rouge-lite action RPG. There is the randomly generated levels that have random enemy placements, random traps, random pickups, and so on. What makes this different is your necromancing abilities. You can just use magic and attacks as you will, but you can raise the dead back to life and they will serve you as an undead army. You can head into a village slay a bunch of peasants and add them to your ranks!
There are many different "classes" of person that you can add to your ranks with different abilities that can help you as you head to the boss in each area. Speaking of bosses, this game has some amazing boss fights that force you to change up your tactics and do crazy stuff on the fly.
8
I know that some people think that this genre has been done to death at this point and I will admit to you guys that sometimes I do get a bit burned out of reading the term "rogue-lite" in a game's description. However, sometimes a game comes along that puts a spin on things and that is what I feel The Unliving has done. It has a fantastic and dark premise that I find very appealing and the sprite work here is great. Add to that the whole playing as a necromancer and his abilities being the main thing in the game and you have something that is very cool.
Pros:
I think that the necromancer is a really cool character
Bringing people back to life to fight for you is cool
Some very imaginative boss battles!
The game has a very cool and awesome art style
Cons:
It may be a bit hard for some people
Not everyone is ready for "another" rogue-lite
Download The Unliving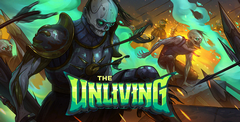 System requirements:
PC compatible
Operating systems: Windows 10/Windows 8/Windows 7/2000/Vista/WinXP
Similar Games
Viewing games 1 to 8