Toh Shin Den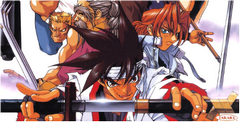 Click the "Install Game" button to initiate the free file download and get compact download launcher. Locate the executable file in your local folder and begin the launcher to install your desired game.
Toh Shin Den is a weapons fighting game for the PlayStation that comes out swinging with beautiful, texture-mapped polygons and heavy-hitting fighters. From the moment you fire up this game, you clearly see that Toh Shin Den is not just another Virtua Fighter clone. With original fighters, myriad moves, and a unique style of play, Toh Shin Den is superior to Virtua in some aspects, but a few rough spots keep it from being the perfect fighting game.
Virtua Who?
Toh Shin Den packs a major punch. According to Sony, the texture-mapped polygons display at a rate of 90,000 polygons per second-and it looks like it, too! The fighters are nicely detailed and move at a silky smooth rate. You couldn't ask for much more.
The one-on-one game is played on a flat ring, set against unique backgrounds for every combatant. You pick a hero from eight main fighters whose weapons include a Japanese katana sword, claw gloves, and even a whip. Four perspectives make the viewing sweet, and the visuals scale in and out with I the action.
The graphics for the most part are cool, with a couple of hitches. The fighters are free to rotate to the front or back of the playing field. Instead of just blocking a move or projectile, you can also sidestep around them to counterattack.
The only problem with this slick defensive move is that from some viewing angles, the fighters obstruct the front of the screen, making it impossible to see where a move is coming from.
Everybody Fight!
The controls were designed with both beginning and advanced players in mind. Novices can set special moves as a one-button feature in the Options menu and take advantage of the autoblocking setting.
Fighting pros, however, will appreciate the smooth, comfortable directional pad and action-button sequences otherwise required to bust specials. You won't find combos, but specials can be quickly chained together for multiple knockdowns.
There is one glaring control drawback: When a fighter jumps over their opponent, it takes a noticeable instant for them to turn around upon landing, which leaves them wide open for any series of moves from their opponent.
Champion Caliber
All in all, Toh Shin Den is a great fighting game. The texture-mapped polygon look is amazing, and the sidestepping feature brings something new to defense. With a little tweaking of the controls and fighting angles, this fighter could have been a perfect contender.
ProTips:
Rotate forward or backward to avoid attacks.
Shove the opponent out of the ring for an easy victory.
Each fighter has moves they can do when their life bar Is in the red. Beat the end bosses to find out what they are.
To fight Sho, the boss, play on Normal with a two-out-of-three match and beat Gaia without losing a round.
Download Toh Shin Den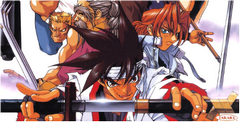 System requirements:
PC compatible
Operating systems: Windows 10/Windows 8/Windows 7/2000/Vista/WinXP
Game Reviews
Battle Arena Toshinden, Sony Computer Entertainment's first fighting game for the PlayStation, is already a proven hit, having conquered Japan last winter when Takara released it under the title Toh Shin Den. Toh Shin Den offers fierce one-on-one combat from eight fighters ranging from the whip-toting Sofia to the young samurai Eiji.
Toh Shin Den Tantalizes
Each fighter displays an impressive range of martial arts moves and combos, and each has their own signature moves. In addition, fighters carry their own unique weapon, sometimes one in each hand. You can sidestep projectiles, cartwheel away from attacks, and shove opponents off cliffs to their doom. Also at your command are last-ditch death moves, which aren't bloody but look very cool. In her death move, Sofia yells out "Call me Queen!" as she spins into you with devastating results.
Ready, Set, Toh!
Where the game appears ready to dominate is with its striking visuals. A quickly zooming camera whirls you through a vast texture-mapped 3D landscape, giving you a variety of views. The large characters move quickly and with virtually no slowdown, thanks to the PlayStation's ability to crank 360,000 polygons per second. This game should be almost as fun to watch as it is to play.
Anybody who's familiar with SFII should have no problem playing this game immediately. And anybody who loves fighting games should be excited about its imminent arrival. The U.$. game Battle Arena Toshinden will translate into some of the most eagerly awaited two-player fighting of 1995.
With the PlayStation recently released, there needs to be a title that can really show off what this wonder of a game system can do. HS Toshinden does exactly that!
Takara has gone all out for this one! Featuring eight characters and two Bosses. (Both Bosses are also playable) Unlike its obvious rival, Virtua Fighter, this title relies on very dynamic visuals, like fireballs, energy kicks and other improbable moves making HSTSD seem more like the fighting games that have been popular in the past combined with the technological feats displayed by VF. With side-stepping moves for full 3-D encompassment during battle, this game will go down in history as one of the coolest games to hit the PlayStation!
See Also
Viewing games 1 to 8