Marvel Nemesis: Rise of the Imperfects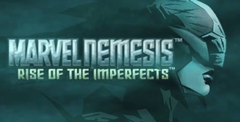 Download Marvel Nemesis: Rise of the Imperfects and unleash the power of your favorite superheroes! Battle against the Imperfects and save the world in this action-packed fighting game. Unleash your inner hero and play now!
It's hard to imagine the Marvel Universe without a unified idea of what it wanted to be and where it was going—but at the time of Marvel Nemesis: Rise of the Imperfects, Iron Man had yet to take the limelight, and the video games, just like the movies, were experimenting to see what worked. Partnered with EA, Marvel Nemesis is one of those resulting experiments—a mix of action/adventure beat-em' up like the standalone Spiderman movie tie-ins and also other 1v1 3D fighters like Mortal Kombat or Soul Caliber. This game was trying to be something all its own—and, though imperfect as the title suggests, it was.
Why Not Both?
Marvel Nemesis wasn't the first fighter game to cross genres as Mortal Kombat: Shaolin Monks had actually released only a week before in September of the same year: 2005. That game followed a similar philosophy of beat-em' up combat but did it, arguably, better.
That being said, Mortal Kombat had its entire history of well-developed 1v1 fighting mechanics so they could take the time to further evolve the action/adventure half of the game—whereas Marvel had to start from scratch on both. And, with that being said, Marvel did a pretty solid job. The combat really shines in the 1v1 boss battles but the fully interactive 3D environments to fight through make for a lot of autonomy with all the fights.
Just Make it Original
With a wholly original story written, Marvel Nemesis was trying to lay the groundwork for its very own anthology of games and comic tie-in. Because, in addition to the story, super-powered characters were designed solely for this property and most of them were inspired enough to the point where you couldn't always recognize the novel material. But, with that in mind, it's tough to start an enduring franchise, or know what will stick—just ask the DC movies. And speaking of DC movies, this game went for the darker side of the Marvel Universe. Both in design of characters, environment and in some ways the more adult story—it was definitely trying to stand out.
Start of Something New?
The problem with Marvel Nemesis: Rise of the Imperfects doesn't lie in originality, but rather in its inconsistent tone. Where its gameplay has some clunky, floaty, issues—so too does its story and new characters.
In the time it was made ¬Marvel was still coasting off the success of the original live-action Spiderman and X-Men movies (and the moderate success of Fantastic Four), so it makes sense that the games headliners are Spiderman, Wolverine, and The Thing; however, the light-hearted approach to those heroes don't necessarily vibe well with the game's darker tone and more ominous plot.
6
Overall, Marvel Nemesis is pretty fun game and worth a look. It's a passable beat em' up, and a passable 1v1 fighter that more than likely helped to lay the groundwork for other games with similar gameplay designs like the Naruto Shippuden: Ultimate Ninja Storm series—but its goal was to lay the groundwork for its own series—and, ultimately, it still resides in the past as one-of-a-kind.
Pros
Fun combat and great cast of characters
Original design of action/adventure and 1v1
Interactive 3D environments
Original story and characters
Cons
Clunky combat and movement
Though gritty, cliché story
Inconsistent tone with characters and gameplay
Download Marvel Nemesis: Rise of the Imperfects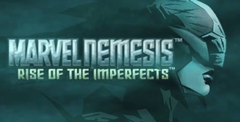 System requirements:
PC compatible
Operating systems: Windows 10/Windows 8/Windows 7/2000/Vista/WinXP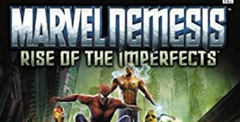 System requirements:
PC compatible
Operating systems: Windows 10/Windows 8/Windows 7/2000/Vista/WinXP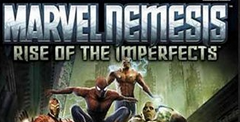 System requirements:
PC compatible
Operating systems: Windows 10/Windows 8/Windows 7/2000/Vista/WinXP
Game Reviews
Beloved Marvel superheroes like Wolverine and Iron Man duke it out with a bunch of no-name mutants (now starring in their own original comic book series) co-designed with EA. It's the dream matchup no one ever wanted.
Nemesis certainly looks sharp, with an inventive visual style that uses harsh lighting to make spandex-clad fighters seem serious. Fights move briskly, with free movement enhanced by super mobility moves mapped to the left trigger button: Spider-Man zips around on webs while newcomer Johnny Ohm zaps himself skyward with electricity.
But being pretty and fast only gets you so far in the fighting arena: An excess of exploding barrels and a lack of defensive options turned many a mighty brawl into a game of hyperkinetic mutant dodgeball. The game was enjoyable but didn't yet offer much in the way of technique. It's got the makings of a solid action experience, but Nemesis still needs a lot of work to be considered a serious fighting game.
Playstation 2 Screenshots