Virtual Skipper 3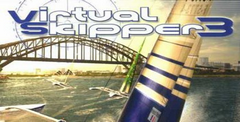 Click the "Install Game" button to initiate the file download and get compact download launcher. Locate the executable file in your local folder and begin the launcher to install your desired game.
Oh come on! A virtual sailing sim! How can you not love a world in which virtual sailing sims not only exist (complete with online regattas), but they flourish well enough to have made it to a third in the series? THIS, right here, is why the games industry exists. Forget about all your Lara World Cups and your FIFA Crofts. A no-holds-barred exploration of the world of the yachtsmateer is where you'll find me as happy as a sandboy. But then I always have enjoyed getting my hands round a mariner's package.
Yo Ho Ho...
You may have missed my previous effusiveness regarding the Virtual Skipper series, but basically I'm a fan. It's a singular market and no mistake, but it did exactly what it said on the tin and did it with panache, vim, verve and elan. There's a lot to be said for staying up until four in the morning indulging in watersports with a Brazilian sailor.
And you certainly can't accuse Virtual Skipper 3 of resting on its predecessor's laurels. Scanning the list of additions, you can't help but feel that our grand score of 79 per cent somehow went to the developer's head. Complete regattas, six accurately modelled environments, terrain editors, challenge modes, spectator options, online events with real human umpires, satellite maps - it's a positive smorgasbord of nautical goodness.
...And A Bottle Of Rum
Which would all be for nought if Nadeo didn't have the aesthetic skill to back up its passion. You're going to be hard pushed to find better water effects anywhere in the gaming world, but the rest of the graphics are equally as enticing. Your boat crews move around with almost military precision, the varying wind and weather effects all show in the realistic fluttering of your sails and the scenery is nothing short of superb. Sailing under Sydney Harbour Bridge at sunset is an experience to make any landlubber want to find his sea legs. Just hearing the sound of the wind buffeting and the waves crashing against your hull will have you emptying your lunch over the side of your desk if you're not careful.
OK, you're all looking at me like I'm mad but this is a growing genre. Not specifically sailing sims, but this whole concept of 'niche' pastimes making it into the virtual world. Not all of them get past the novelty factor (five minutes of pretending to be a horse-racing manager is probably enough for anyone), but not all of them treat their subject matter with as much care and attention as Virtual Skipper 3.
Find out for yourself next issue, when we'll be bringing you an exclusive playable demo. Yesterday a modest quarter-page review, today a gushing full-page preview, tomorrow the cover! Why are you laughing?
Download Virtual Skipper 3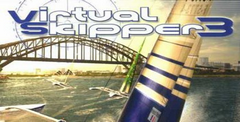 System requirements:
PC compatible
Operating systems: Windows 10/Windows 8/Windows 7/2000/Vista/WinXP
Game Reviews
As the champion of the underdog, seeing the Virtual Skipper series make it to version three fills me with pride. It's good to see that originality still has a place in this world. To bring you up to speed, Virtual Skipper 3 is a highly effective simulation of competitive sailing. It looks gorgeous, it plays with sublime ease and it's got a picture of Ellen MacArthur MBE on the box. You couldn't ask for more.
For all the loveliness of the game engine, though, there are a few rough edges on show that weren't there in the previous incarnation. The Al is pretty nonexistent, with opponent boats all following pre-determined routes. Also, the lack of a tutorial for novices - explaining basic sailing procedures - is a real omission, making progress through the challenges a case of trial and error. And then there's the bug that removes the crews from opponents' boats.
Sea Breeze
But all that gets forgotten the moment you take to the water, see the rustle of the breeze billowing your sails, feel the crash of the waves lapping at your hull and hear the laughter of your colleagues as they load up Pro Evo 3 for the 700th time that afternoon. Not that you care, of course. Next to being Angelina Jolie's wetsuit, fishing and being cremated on a Viking funeral pyre, sailing is the most fun you can have on the water and VS3 captures that perfectly.
Get What You Give
Which leads us to a caveat. If your interest in sailing is second only to your interest in the affairs of local French council elections, then let's be frank: VS3 will leave you as cold, wet and miserable as a day trip to Swansea. You get out of the game only as much as you're willing to put in. There's precious little in the way of reward structure at work. Races don't end with cheering crowds, fireworks and latex-clad lovelies proffering champagne. Just self-satisfaction and/or a few "GGs" (Good Games) from online competitors is about all you can expect.
It's a simulation at the end of the day, one dependent on enthusiasm from its audience to survive. A damn fine simulation mind you, but one that knows its market and is content to pander solely to it, picking up one or two inquisitive strays along the way.
For VS4, might I suggest a trip to the gaming factory and a rethink of the reward structure: a quick glance over the shoulder of several console sporting titles for an idea of how to attract and engage an audience wouldn't go amiss. For now though, it'll just be us crusty old seadogs messing.about in the ocean and having a grand old time of it.
Similar Games
Viewing games 1 to 6