Call of Duty: Warzone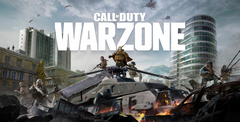 Download Call of Duty: Warzone and experience the intense battle royale action! Parachute into the vast Verdansk, gather weapons, and fight to be the last team standing. Are you ready to prove your skills on the battlefield? Play now!
Do you know what a Battle Royale is? Take one hundred and fifty players, bring them all together on a huge map, add vehicles, advanced weapons, and have the players kill each other. The game takes place in teams with two other players. Three soldiers jump out of a plane together and negotiate where to land.
Gameplay
Before the meat grinder begins, the user goes through a mandatory tutorial. Play for ten minutes and learn some essential tips. After the tutorial and after the round begins, the player will run, shoot, and kill while all users load in. This often takes a minute, and then the real meat begins.
The round begins with a cool video of three fighters jumping out of a plane. The longer you stay in the plane, the further away you are from the beginning of the map. Next, the jump takes place. After landing, there is time to quickly choose an adequate place on the map without a parachute. The goal of the player is to find weapons as quickly as possible. You can find them everywhere, but mostly in buildings. Collect the famous rifles from Modern Warfare, find armor to increase health levels. Get money for a series of kills. Money is a valuable resource that can help resurrect dead teammates.
You can use a headset to communicate or put markers on your map. Mark geographical objects and enemies. However, if you use a microphone, you can hear enemies wandering around worse, which increases surprise and the likelihood of death.
Details
The map gradually shrinks, forcing players to eventually collide in combat. A poisonous atmosphere spills outside the safe line; if the player walks there, he will die. The player must keep an eye on the map for a safe perimeter. Hunt down other teams and earn cash. Take transportation:
Several players can climb into a vehicle: some behind the wheel, some with weapons. After heavy damage the player falls to his knees, and crawls to safety. In this state, a teammate can heal the player. If a minute passes and no one comes to help, then death ensues. However, even after this there is a chance to revive - the player enters a space where one-on-one battles are staged. The player is given a weapon, often a pistol or shotgun, and the fight begins. Whoever wins, then you can go back to your team.
8
Powerful shooter with a battle royale mode and quality graphics. A shooter classic backed by a large fan community. Feel how cool it is to move around huge maps, search houses, choose tactical routes, cooperate with your team and kill opponents. If you've played Fortnite, you'll love Call of Duty: Warzone. Fortnite's core audience is children, while Call of Duty: Warzone is designed for adults.
Download Call of Duty: Warzone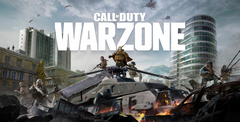 System requirements:
PC compatible
Operating systems: Windows 10/Windows 8/Windows 7/2000/Vista/WinXP
See Also
Viewing games 1 to 8