Call of Duty: World at War – Final Fronts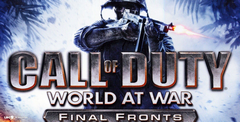 Download Call of Duty: World at War – Final Fronts and experience the intensity of WWII combat! Immerse yourself in brutal battles, forge alliances, and fight for victory in this cinematic campaign. Enlist and play now!
Shooting Nazis' is a blast, no matter the resolution. Call of Duty World at War Final Fronts is essentially the kid brother of the PS3 and Xbox 360 version of the game simply called, Call of Duty World at War. These games have so much in common, that if you didn't know better you'd think they're the same game.
Story
Call of Duty World at War Final Fronts has you fighting in World War 2 from two perspectives. One as a US Private named Joe Miller who is fighting the Japanese, and the other as a British soldier named, Lucas Gibson fighting the Nazis. The US story is more or less the same as it is in the PS3 version of the game, but some locations are different along with some missions. Locations and objectives are still reminiscent of the PS3 version of the game. The biggest change to the game's story is that the PS3 version of the game doesn't have a British perspective of the war, instead of Britsh, it's Russian.
This swap means that half of the game has a more generic World War 2 story like Medal of Honor and other Call of Duty games that came before COD WAW Final Fronts.
Gameplay
The gameplay is impressive for its time, keeping all the same mechanics as the more modern Call of Duty games for the PS3 and Xbox 360. The gameplay is simply more clunky. This is mainly a limitation due to the PS2 controller not have as precise joysticks. Nonetheless, the game feels like an old shooter doing it's best, we can't ask for much more. No smooth animations or head tilting or swaying while sprinting or crawling, you're just a sliding head in a warzone. Where this game shines is how the game gives a wide variety of tasks to accomplish. After all, there are only so many ways to shoot Nazis. Whether you're blowing up anti-air guns, clearing trenches, defending bunkers, or sniping. Each mission usually has a unique highlight. They also included a level where you control a tank which really mixes things up.
Graphics & Sound Design
The game takes a massive hit visually when compared to its big brother on the PS3, however, when compared to other shooters on the PS2 it looks decent at best. They did their best to fill each battleground with foliage and detailed obstacles. It doesn't partially age well since it can often look like a mess, unlike some 007 Games from the PS2 era who keep their levels clean and easier on the eyes. The main issue visually is the frame dropping. Stuttering and choppy framerate is the bane of any immersive experience. The sound design for this game is great though. No doubt it takes a lot of the same audio effects from its big brother, if you close your eyes this game sounds nearly identical, with only minor audio compression.
Content or Lack There Of
With only 13 missions which will average about 25 minutes each, not bad at all but certainly doesn't have much replayability. Especially with missing features like online multiplayer and World at War's famous Nazi Zombies mode. I don't blame them for not including online multiplayer since it was hardly used for the PS2, but no split-screen or zombies mode is a real disappointment. It would have given players the chance to play with friends and test their skills at surviving the undead.
6.5
Call of Duty World at War Final Fronts is a fine game that does a good job of delivering us the Call of Duty World at War experience despite the dated hardware it runs on. Wish it had more features but other than that it's simply a good game. Fair, but dwelling in his big brother's shadow.
Pros
Good audio
Good US side of the story
Good gameplay
Good mission & Level design
Slightly above-par graphics
Cons
Lacks content
Lacks split-screen
Poor visual performance/frame drops & stuttering
Generic Britsh side of the story
Download Call of Duty: World at War – Final Fronts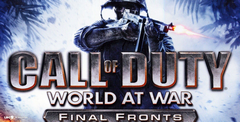 System requirements:
PC compatible
Operating systems: Windows 10/Windows 8/Windows 7/2000/Vista/WinXP
Playstation 2 Screenshots
See Also
Viewing games 1 to 6