Doctor Who The Eternity Clock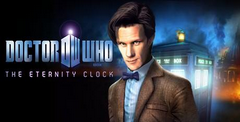 Click the "Install Game" button to initiate the file download and get compact download launcher. Locate the executable file in your local folder and begin the launcher to install your desired game.
For any fans of the series, Doctor Who: The Eternity Clock hits all the right notes when it comes to being a great game for enthusiasts. For non-fans, I could not exactly say the same thing, but there are still some interesting points to be made anyway. I, myself, am a fan of the series and quite literally jumped at the opportunity to give this game a try. Though Matt Smith, starring as the Doctor in his 11th (technically 12th) iteration, is not my favorite Doctor – Peter Capaldi steals that role for me – he and Alex Kingston, who plays River Song, do a wonderful job reprising their roles. This in itself is surprising for any video game made after a TV show and I was pleased to hear their voices in here too. Surprisingly, this title plays similarly to Rochard, a run and gun side-scroller, only this time you've got a sonic screw driver – no guns. Without trying to oversell it, let's take a look at what worked and what didn't for this game.
Travel the Stars
In true Doctor Who fashion, the overall story has the Doctor facing a world-ending dilemma and he's the only one that can stop it, along with River Song.
The writing, voice acting, and music are definitely the strongest parts of this title. Not only does the story have the wacky yet emotional tone of the TV series, but it manages to produce a unique story of its own. What makes this even better is that it is entirely lore friendly and fits perfectly into the Doctor Who universe. It has heart and is gripping at each turn and twist along the way. As I mentioned before, Matt Smith and Alex Kingston, voice their respective characters for this title, which makes it all the more enjoyable. I don't personally think it would have been bad without their reprisals, but there would have been something missing from the game if that were the case. Their performance truly makes the experience whole. Unfortunately, in terms of creating a game, it wasn't quite as solid.
Save the Universe & Repair the Tardis
The 2D platforming and puzzle style solving within the game wasn't really bad, it was just underwhelming from what advertisements had promised. The variation in gameplay between playing as the Doctor and as River keeps things fresh for the most part. Honestly, the parts where you play as the Doctor, though standard, had unique puzzles with some fun quips thrown in here and there. Plus, getting to use the sonic screwdriver is always a plus in my book. River's sections had some interesting ideas, especially regarding the stealth sections, but it ultimately wasn't executed well. River is still an good character and the writing somewhat makes up for this, but the stealth was clunky if nothing else. Enemies would either ignore you completely or see you when they shouldn't have.
Bottom Line
There is also one portion of the game where both characters have to work together to progress. The only problem is that you can only control one character and there's no two-player mode. It can be mind numbing waiting for the AI to figure out what to do. Finally, the graphics were pretty good – nothing really special about it.
6
The Eternity Clock is a positive entry in the Doctor Who series of video games (though the PS3 release was poorly designed). If you're a fan, its worth it for the lore of the universe, but if you aren't, there's not a lot of good gameplay choices that will have you sticking around.
Pros
Lore-friendly
Great sound design/voice acting
Well written and enjoyable
Cons
Gameplay drags on at points
Graphics are average
AI in 'co-op' sections frustrating
Download Doctor Who The Eternity Clock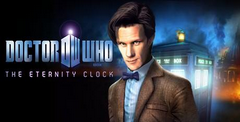 System requirements:
PC compatible
Operating systems: Windows 10/Windows 8/Windows 7/2000/Vista/WinXP
Playstation 3 Screenshots
Similar Games
Viewing games 1 to 8