Eldest Souls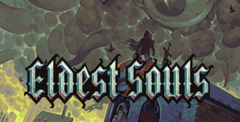 Eldest Souls is a souls-like video game full of difficult challenges to overcome. Armed with your trusty greatsword, you'll take on many a foe in this game that'll push your reflexes and endurance to the limits. Good luck. Now, let me tell you a bit more about what you can expect from this game.
The combat
The combat in Eldest Souls is incredibly challenging, and that's not an over-exaggeration. You may very well find yourself dying a lot if you're not careful, so take your time with the fights and try not the make too many mistakes.
In terms of specifics, know that the bosses are incredibly fast with their attacks, so you'll need to be able to read their movements and dodge anything coming your way at just the right time. The bosses all have a variety of attacks in their arsenal, too, so you'll need to be prepared to deal with all kinds of things.
The rewards
The bosses in this game are called Old Gods, and every new one will be tougher and more challenging than the last. However, should you manage to defeat them, you'll be rewarded with mighty new talents and abilities that you'll be able to take forward with you in your adventure. It won't be easy, but the time spent preparing for fights and learning from your mistakes will be worth it. There's nothing quite like beating a tough boss after spending ages trying to defeat it – the satisfaction is immense.
A world full of exciting lore
As you progress in the game, you'll come across a range of intriguing NPCs and quests that'll help deepen your understanding of the lore of Eldest Souls. Learn about the Old Gods and discover all sorts of things about their history and imprisonment. The rich narrative spread throughout the game really ties everything together and makes Eldest Souls feel complete and like so much more than just a simple action RPG.
Fantastic pixel art
One last thing to mention is the pixel art in this game, which is just phenomenal. The level of detail is amazing and it's clear that a lot of effort has been put into making this game look the way it does. Well done to the artists on such a fine job.
9
Eldest Souls shares many elements with Dark Souls but has plenty of unique elements that make it stand out as its own game. The encounters are all challenging but not too tough, and the beautiful 16-bit environments give the game a retro feel that many gamers know and love. If anything I've mentioned above has piqued your interest, then definitely be sure to download Eldest Souls and try it for yourself. I promise you won't regret it.
Pros:
Ability trees that can be customized to suit your play style
A wide variety of bosses to encounter throughout the game
Absolutely stunning pixel graphics
Cons:
The game is very challenging and can be frustrating if you die a lot
Some players may find a few of the environments unsettling and creepy
Download Eldest Souls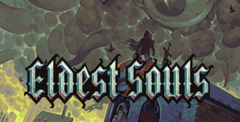 System requirements:
PC compatible
Operating systems: Windows 10/Windows 8/Windows 7/2000/Vista/WinXP
Similar Games
Viewing games 1 to 8