EverQuest 2: Desert of Flames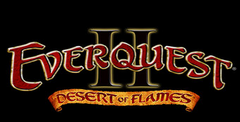 Click the "Install Game" button to initiate the file download and get compact download launcher. Locate the executable file in your local folder and begin the launcher to install your desired game.
a game by
Daybreak Game Company
Platform:
PC
User Rating:

9.0

/

10

-

2

votes
Rate this game:
See also:
RPGs, EverQuest
Poor Old Sony Given the massive debacle that was the Star Wars Galaxies Combat Upgrade, you'd think that its developer -Sony Online Entertainment (SOE) -would steer clear of using that phrase ever again. Not so. With the release of the Desert Of Flames expansion for the underrated EverQuest II-a game easily as enjoyable as WOW, but with half the calories... Sorry, I mean players - came an all-singing, all-dancing, all-existing player-base-annoying 'combat upgrade'. SOE must be cursed.
Apart from inflaming the high-maintenance players, Desert Of Flames brings plenty of good stuff to the table. High-level content, a level cap increase to 60. all-new dungeons and instanced zones, as well as a new continent to explore.
Some of its more hyped additions - climbable walls, for instance - are less impressive, being limited to specific areas only and don't really add anything essential to the core gameplay mechanic. Back with the pluses, the PvP arena combat brings some added excitement, in a similar vein to W/Ok/s Battlegrounds expansion, but minus the horrendous waiting times to take part. Team deathmatches, capture the flag, one-on-one duelling and more are available, while the option to play either as yourself or as a trainable pet fighter' works a lot better than it sounds. Think a grown-up version of Pokemon and you're on the right track.
Restricted Content
All in all, this is a pretty good expansion pack with a strong storyline and structure, although it does feel as though SOE has missed a trick here. The whole continent feels rather small (compared to the mammoth size of the original EverQuesfs expansions), and restricting content to level 50 and above (in terms of survivability - anyone can access DOF, but you'd be a fool to take a low leveller there) does nothing to address issues with EQirs now tiresome low level game.
It might have been a better option to provide a range of level content, giving new characters another area to start their virtual lives and really giving the background story added weight in the overall EverQuest II world. Nonetheless, Desert Of Flames is a solid expansion pack, with enough novelty to appeal should you be tough enough. And don't mind getting sand in your shoes.
Download EverQuest 2: Desert of Flames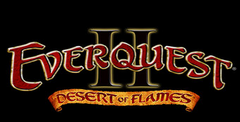 System requirements:
PC compatible
Operating systems: Windows 10/Windows 8/Windows 7/2000/Vista/WinXP
Game Reviews
Rivals Guild Wars and World of Warcraft may have been steadily garnering all the MMO headlines of late, but Sony Online Entertainment has been quietly putting phase two of the grand EverQuest II master plan into action. True fans will recognise the Desert of Ro, where EQII's first expansion Desert Of Flames takes place, from the original Everquest. In its first incarnation it was merely an open gaming space, but this time the whole area has been given a major overhaul and an Arabian Nights theme. This includes monsters such as mummies and spectres, beautiful desert scenery and also the odd magic carpet to get you from A to B. SOE has also tiered down some of the high-level content to make the game easier for solo players as well as small groups.
Arabian Fights
The expansion adds 12 new zones, in particular the new city of Maj'Dul, which lies nestled in the heart of the desert. Although you'll be able to attack the NPCs in this city, it's protected by a group of flying guards that will swoop down if you cause too much trouble. And since they become more powerful the more you kill them, it dissuades you from too much NPC killing, something that's been problematic in WOW. The city is also home to four different factions: the Court of Tears, the Court of Coins, the Court of Swords and the Court of Truth. All the Courts have their own unique missions and eventually you'll have to decide which one you want to ally with. The strength and support a Court gets from the players will ultimately have an impact on the city itself, and dictate the types of guards present, as well as the kind of relationship the Court has with its rivals.
Bit Of A Battle
PvP has become a real love-it-or-hate-it feature in World Of Warcraft, so it will be interesting to see how it fares in Desert Of Flames. The developer is being quite cautious in its implementation, and is only including PvP in certain areas. However, SOE is bringing in a rather clever idea by allowing players to assume the form of different races and creatures when they fight in PvP You'll have a base set of animals to start with, but you'll also be able to collect creatures throughout the game, Pokemon-style. This will enable you not only to test out how other creatures and professions fight, but also lower-level players will be able to compete with higher-level ones.
It looks as though Desert Of Flames is going to be more than just your average expansion pack. It not only adds the usual crop of spells, items and skills, but also changes the gameplay itself. The fact that SOE is addressing problems with the original game, while taking a long look at what's worked and what hasn't for its competitors, means DOF could well open up the world of EverQuest II for many new players.
Similar Games
Viewing games 1 to 8