GAI Stops Auto Right Version Simulator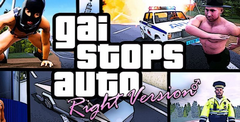 Click the "Install Game" button to initiate the free file download and get compact download launcher. Locate the executable file in your local folder and begin the launcher to install your desired game.
I have played a ton of weird games, but GAI Stops Auto Right Version Simulator could possibly be in contention for the title of the weirdest! What??? That was what I kept saying as I played my way through this clearly inspired gta style of game. Look, this is just an absolutely insane ride and a ride you have to go on and just let it play out. It is weird, it is funny and while it is not an amazing actual game, it sure as hell left an impression on me.
Stopping The Gachi Boys!
The premise of this game on one hand is pretty normal. You play as a 45 year old traffic officer who wants to do his part, uphold the law and make sure the streets are safe for people. However, GAI Stops Auto Right Version Simulator has a twist and it is one of the craziest twists that you will ever experience in a game.
There is this race of beings called the Gachi Boys, they are leather clad buff dudes who come to Earth every five years to dance and fight people…. thankfully our heroes father found the secret to fighting them and now this job lays with him, but he still has to do his traffic cop work as well. It is weird, like really freaking weird, but that is what I liked about it.
Dancing In The Street
No, I am not talking about the classic from Mick Jagger and David Bowie, but the gameplay of GAI Stops Auto Right Version Simulator. This is a 3rd person action game. You will be walking around the town, pulling over cars and you can decide how to deal with people. You can let them off, fine them and there is even a bribery system at play here. It is pretty standard stuff. Then the Gachi Boys will show up, start break dancing and force you to fight them.
The controls are a tad on the stiff side and the only time you are in any real danger is when they surround you or when the game glitches out on you. This is a game that is lacking a lot of polish and it is certainly rough around the edges, but even with that, I found myself captivated to keep on playing to see what would happen and if the story would get any weirder… spoiler alert, it sure as hell gets a lot weirder!
Using The Emotion Engine
Visually, GAI Stops Auto Right Version Simulator is also a bit rough around the edges, but I have to admit that I think that kind of adds to the charm of the game. It looks like a very early PlayStation 3 kind of game. The weirdest thing about the game's visuals are when the Gachi Boys will start dancing, but if a car or something else is in the way they just kind of clip right through it.
Sound wise what we have here is ok, there is a bit of voice acting in the game and the thick Russian accent is pretty cool and helps hit home just how weird this whole thing is.
7.5
Look, I am not going to sit here and tell you that GAI Stops Auto Right Version Simulator is a great or even a very good game. However, there are games that I think everyone needs to play as they are just so strange and obscure. It is still blowing my mind that this thing managed to get an official Steam release! If you love the strange and unusual (hey, Beetlejuice reference!) then give this game a whirl, just be warned that it is probably way weirder than you think!
Pros:
The plot of this game is nuts
The whole game is just nuts
It is pretty fun when you get danced on by a bunch of muscular dudes!
The cop stuff is kind of neat
Cons:
The gameplay is very rough and takes a while to get over
The visuals are also pretty damn rough too!
Download GAI Stops Auto Right Version Simulator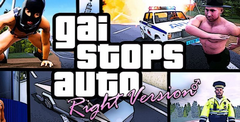 System requirements:
PC compatible
Operating systems: Windows 10/Windows 8/Windows 7/2000/Vista/WinXP
Similar Games
Viewing games 1 to 8